TNA Turning Point Results: Why the PPV Was Much Better Than Bound for Glory
November 14, 2011
Coming into the night, it was hard to convince myself that I should even watch TNA's Turning Point, but professional wrestling is an addictive and evil beast.
I ended up watching the pay-per-view start to finish, and you know what? It was a great night.
With very little real build up and a pretty weak card on paper, I honestly did not see why I should care.
However, the wrestlers made me care.
In the end, it was a night of great storytelling that not only matched my meager expectation but far exceeded them.
In fact, it was a much more enjoyable night than Bound for Glory which I had expected to be TNA's PPV of the year.
Why do I say that?
Because of a few simple reasons that I will explain through each match.
Robbie E def. Eric Young (new TV Champion)
This match is incomparable to BFG because it was a comedy match rather than a real wrestling contest. The match was weak, undercard work, but it had some solid comedy work on Eric Young's part.
I am glad that Robbie E got the title, as Eric Young made the title look horrible, but I have a feeling this is leading to a much worse ending with Ronnie (from Jersey Shore) being given the title. Luckily, this was over quick.
Grade: 5/10
BFG Equivalent: N/A

Mexican America and Sarita def. Ink Inc. and Toxine (retain Tag Championships)
Ah, the pre-show match actually gets air time. The match itself was fine and better than the previous match at Bound for Glory, but they both are a showing of how weak the tag division looks now.
The sooner Chris Sabin heals, the better.
Grade: 6/10
BFG Equivalent: 5/10
Austin Aries def. Kid Kash and Jesse Sorensen: This was a great match. Almost took match of the night due to amazing story telling. Austin Aries and Kid Kash played their heel roles to perfection as they beat down the rookie Sorensen.
While they were the meat of the match, the work by Sorensen should not be discounted as he played the underdog role well. It was just great work and even better the X Division title match at BFG.
Grade: 8.5/10
BFG Equivalent: 7.5/10

Rob Van Dam def. Christopher Daniels
This match was great. Possibly the best work RVD has done since coming to TNA. He and Daniels had a fast-paced and great match that shined through both men's dedication and veteran wherewithal.
This was better than the Styles/Daniels match and the RVD/Lynn match at BFG.
Grade: 8/10
BFG Equivalent: 7.5/10 (Lynn/RVD) and 7/10 (Styles/Daniels)
Crimson and Matt Morgan fight to a double-disqualification
This match was possibly the biggest surprise of the night. A brawl from the opening bell, these guys came out swinging. Sure, it wasn't a technical masterpiece.
This was a big-man match at its finest as these guys were unstoppable. I particularly thought the ending was a great move as both men took down the ref and kept fighting.
This was beyond a shadow of a doubt better than their triple threat match with Samoa Joe, and it makes me excited for the follow up.
Grade: 7.5/10
BFG Equivalent: 6.5/10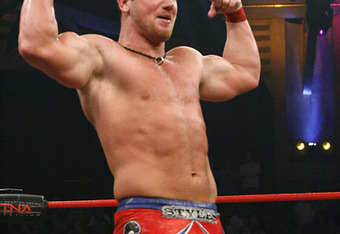 Abyss and Mr. Anderson def. Scott Steiner and Bully Ray
This was the only point where BFG trumps Turning Point. This can be best compared to the Anderson vs. Ray match at BFG, which was the match of the night.
This was a poorly orchestrated match especially with the crowd completely ruining proceedings. Luckily, the story after the match with Abyss truly becoming a monster was well done.
Grade: 5.5/10
BFG Equivalent: 9/10
Gail Kim def. Velvet Sky (new Knockouts Champion)
This was a solid match that needed more time. The nice thing was it actually was a match unlike the horrible thing we saw at BFG which was basically just a mess of overbooking.
Am I happy about Velvet Sky losing the title so soon? No, but it probably means a second reign is on the horizon for the Knockout down the road, as this one wasn't really what she deserved.
Grade: 6/10
BFG Equivalent: 1.5/10
Jeff Hardy def. Jeff Jarrett (three times in a row)
Hardy beat Jarrett three times. Normally, I would say this was ridiculous booking and was a waste of time; however, the match was actually some of if not the best storytelling of the whole night.
It got Hardy over a dominant face on the rise (probably leading to the main event against Roode down the road), and I honestly have never seen anything quite like it. We got Hogan vs. Flair at this spot at BFG. Need I say more?
Grade: 7/10
BFG Equivalent: 2.5/10
Bobby Roode def. AJ Styles (still TNA Champion)
What a match! Consider first that AJ Styles had a bad ankle yet he still went out there and performed. For 20 minutes, these guys performed a grueling brawl. By the end, I just couldn't believe how much of a monster AJ Styles is.
He botched a few moves, but he still pulled off crazy feats including his amazing springboard 450 Splash. In the end, Roode won by grabbing the tights, and all it meant was we are in for Round 2 down the road. I know I'm game.
This was far and away a more cohesive and satisfying main event than Angle vs. Roode at BFG.
Grade: 9/10 (Match of the Night)
BFG Equivalent: 7.5/10
In the end, tonight was about telling a great story through wrestling, while Bound for Glory was more about shock and awe. I was surprised and left with a good taste in my mouth at the end of Turning Point, while Bound for Glory still leaves me wanting so much more.
Thanks for reading!
Comment!