Cardinals Name Mike Matheny Manager: A Quick Bio on the New Head of the Redbirds
November 13, 2011
Jamie Squire/Getty Images
The St. Louis Cardinals sent out an official press release Sunday night that Mike Matheny would become the club's next manager, following the retirement of longtime manager Tony La Russa.
Jon Heyman of SI.com announced it on twitter.
@SIJonHeyman: cardinals announce mike matheny got the managing job. nice call. respected by everyone.
The official announcement will come on Monday, when Matheny will be introduced as manager at Busch Stadium.
The 41-year-old Matheny won the job over several worthy candidates, including third base coach Jose Oquendo and former Red Sox manager Terry Francona.
Matheny played catcher for four different teams between 1994 and 2006, posting a career batting average of .239. Though he was never stellar offensively, the strength of Matheny's game was always his defense.
He was widely considered one of the best defensive catchers in baseball, much as current Cardinals' catcher Yadier Molina is now. He won four Gold Gloves during his career, all between 2000 and 2005.
Matheny played five seasons in St. Louis and was on the 2004 NL Championship team that lost to the Red Sox in the World Series. As is characteristic of many great defensive catchers, Matheny was also considered adept at working with his pitchers. He caught many great hurlers, including Chris Carpenter, Roy Halladay, David Wells and Jason Schmidt.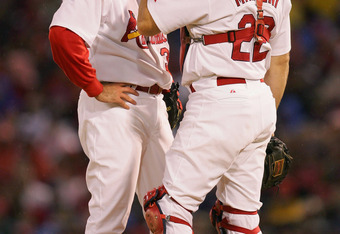 Ronald Martinez/Getty Images
Now he will be tasked with bringing the Cardinals back to the Fall Classic. St. Louis won this year's World Series in a thrilling seven games over the Texas Rangers.
What remains to be seen is what personnel Matheny will have to work with. The possibility of Albert Pujols signing elsewhere remains, but seems unlikely. Matheny will have a strong rotation, including Adam Wainwright, to go along with a good bullpen and a consistent lineup.
With pitching coach Dave Duncan remaining on the club, the Cardinals still have one of the greatest minds in the game in their dugout. Now it will be Matheny's turn to try to fill the shoes of La Russa, who is widely considered one of the best managers in baseball history.
It will be a tall task, but the Cardinals feel that Mike Matheny is the best man for the job.