BCS Rankings: Undefeated Houston Proves It's Top 5 Material After Tulane Blowout
November 13, 2011
Stacy Revere/Getty Images
After lighting up Tulane on the road Thursday night, the No. 11 Houston Cougars are clearly one of the top five teams in college football, but the Week 12 BCS rankings won't reflect that.
Houston boasts the nation's No. 1 passing attack and scoring offense, averaging nearly 456 passing yards a game while scoring nearly 55 points per week.
The Cougars are so dominant this season that they win by nearly 32 points per game.
Just let that sink in for a minute.
Sure, they play in Conference USA and allow almost 23 points per week against subpar competition, but it would be a challenge for any defense in the nation to slow Case Keenum and the Cougars.
Their offensive production is better than No. 2 Oklahoma State's by nearly 60 yards and four points per game
Let that sink in.
The lesson to be learned here is that Houston is more than worthy of a Top Five ranking in Week 12. They are one of only three 10-0 teams and one of the last three undefeated teams in college football, and yet they came into Week 11 sitting outside of the BCS Top 10.
The other two 10-0 teams sat at No. 1 and 2 entering the weekend and will continue to be there heading into mid-November.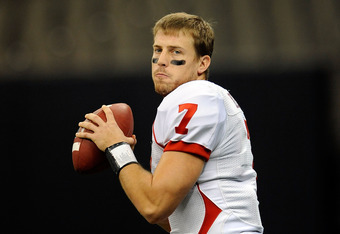 Stacy Revere/Getty Images
If the Cougars win two more games, they will have done what Stanford and Boise State could not—avoid countless upset bids all season long to finish with a flawless, unblemished record.
Their historic offense rung in the college hoops season by posting 73 on the Green Wave, including 35 points in the second quarter alone.
Houston's prolific offense is no gimmick, it's no joke. Just because Oklahoma State does the same thing in the Big 12 doesn't make them any more legitimate than the Cougars.
If the Cowboys are in the Top Five, then the Cougars must be in the Top Five, right behind No. 3 Alabama and ahead of Oregon, which should be No. 5 if the BCS gets it right.
Which it won't.