New York Mets Offseason Outlook: Center Field
November 13, 2011
Jeff Bottari/Getty Images
Center field is one of the Mets' biggest issues to address this offseason. New York traded away their long time center fielder Carlos Beltran last year at the trade deadline. That left the Mets with Angel Pagan to patrol center routinely. Nothing that the Mets weren't accustomed to; Beltran has spent his share of time on the DL and Pagan was the everyday center fielder in his absence.
Angel Pagan is eligible for arbitration this offseason, and the question is whether or not the Mets will tender him a contract. It has been reported that Pagan will likely earn around $6 million if his contract is tendered.
Pagan had a down year last season. His estimated value in money was lower than the $6 million he will earn next year. However, Pagan's value in money was around $20 million in 2010. That's what makes this such a tough decision for the Mets.
It seems as if the Mets' decision to retain Pagan or not will be based mostly on his value. Some Mets executives believe that Pagan can regain his 2010 form while others beg to differ. Some people see Pagan as a solid fourth outfielder on a winning team. The Mets most likely won't be a winning team next year, and they would bring Pagan back to start.
The free agent market for center fielders is decent this season. Grady Sizemore, Coco Crisp, and Rick Ankiel headline the crop of available center fielders. Yoennis Cespedes is also going to be a free agent this winter.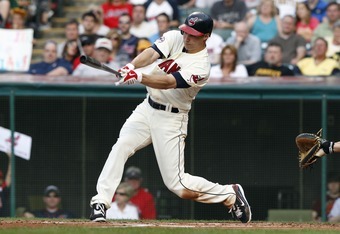 David Maxwell/Getty Images
Cespedes is a Cuban defector who is said to be the "batters version of Aroldis Chapman." Scouts have referred to Cespedes as a five-tool player with a lot of potential. He's a 26 year old outfielder who has played for the Cuban national team during the World Baseball Classic.
Andy McCullough of the Newark Star-Ledger reported that the Mets had attended one of Cespedes' workouts last week. The Mets were accompanied by a handful of other teams who also attended. This tells that the Mets are at least interested in Cespedes.
The Mets have shown little interest in the American free agent center fielders that I mentioned earlier.  Adam Rubin of ESPN reported that Coco Crisp would like to play on the west coast. Grady Sizemore's agent also said last week that the Mets hadn't contacted him.
Of course, that could change in a heartbeat but that just shows fans that the Mets aren't hot on anyone's trail. They seem to be laying back and watching how the market unfolds.
With that said, there have been many rumblings that the Mets will indeed bring Pagan back for another season. If that's the case then they might not sign any other center fielders.
Cespedes is said to be looking for a similar deal as to what Aroldis Chapman got. Chapman netted a six year $30 million deal from the Reds two offseasons ago. That deal would fit perfectly in the Mets' budget.
It has been reported that Sizemore is looking for a one-year deal. Sizemore will probably end up getting an incentive laden one-year deal. The Mets have been handing those contracts out quite frequently in the past year so I wouldn't be surprised if Sizemore does, indeed, come to Queens.
Angel Pagan, Grady Sizemore, and Yoennis Cespedes seem to be the top three center fielders that they are targeting. Each of these players come with positives and negatives.
The positive for Pagan is that he has produced in New York and knows how to handle playing in New York, but his downside is that he has a lower ceiling than Sizemore and Cespedes.
Sizemore was one of the best center fielders in the MLB when he was healthy. Injuries have derailed his career and he's looking for a chance to get himself back on track, and possibly land a big contract next offseason. Sizemore is a big injury risk, but his reward is extremely high.
Cespedes never played a game in the MLB and has never faced the premier pitching talent that MLB possesses, but if the scouting reports are true then he should have no problem adjusting. Cespedes is an intriguing player who will put fans in Citi Field.
I believe that the Mets should make a serious run at Cespedes due to the fact that he has massive potential. He is a five-tool player who is still fairly young at 26. Scouts have said that he is major league ready and he would fit in perfectly with the Mets.
Sizemore isn't a bad option either. He does come with a big risk, but if he does manage to put up a relatively healthy season then his talent will sparkle in New York.
Pagan seems like the safe option for the Mets. In my opinion, I don't believe that the Mets should be playing it safe this offseason. This is a rebuilding club and it won't hurt the team to take some chances that could pay off greatly.
With that said, it seems as if Pagan will be back in center field for the Mets next year. There is still plenty of offseason left and the Mets might eventually find themselves as serious suitors for Cespedes or Sizemore. Fans will just have to wait and see.