New York Rangers 101: Grading Each Player from Game 15 vs. Carolina
November 13, 2011
Chris Trotman/Getty Images
After every game of the 2011-12 season, each Rangers player will be assigned a letter grade based on his individual performance, impact on the game and outlook going forward.
In Game 15 of the regular season, the New York Rangers defeated the Carolina Hurricanes 5-1 and are now a remarkable 9-3-3.
Let's take a look at the grades:
Grade: A
Brandon Dubinsky – Dubinsky did not have a particularly great game. In fact, he was probably on the wrong side of average.  His reaction, however, when he put in his first goal of the season was absolutely priceless.  Raising his hands in the air and dropping his stick to the ground like he was a little kid, Dubinsky reminded us how much fun watching this sport can be.  Come July when we are reflecting back on the top moments of the season, the image on the cover of this article will certainly be high on the list.
Brad Richards – Lost in the success of the GAS line and Tortorella's constant line shuffling is the fact the Richards has seen his role slightly diminished, both in terms of ice time and scoring responsibility.  With that said, Richards made the play of the game last night, finding Dan Girardi on a cross-ice pass that no one in the building, including the five Carolina players on the ice, could have seen coming.  Richards was also gifted a goal by Cam Ward late in the third period, giving him a respectable five goals in 15 games so far this season.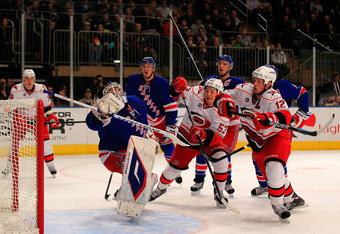 Chris Trotman/Getty Images
Sean Avery – Very high on most Rangers fans' list of things they want to see when going to a game is Avery lighting the lamp.  Avery delivered in a big way, roofing a breakaway opportunity over Cam Ward's shoulder and bringing the Garden crowd to its feet.  Avery also drew two penalties and appeared to earn some respect from Tortorella, as he found himself playing alongside Brad Richards throughout the reminder of the game.
Marian Gaborik – Despite not denting the scoreboard on a night where the Rangers netted five goals, Gaborik may have played his best game of the season.  His breakaway speed was as good as we have seen all season and he probably would have netted two or three of his game-high seven shots had it not been for some spectacular saves by Cam Ward.  Through 15 games, Gaborik has been the most dominant player that the Rangers have seen since Jaromir Jagr circa 2006.
Dan Girardi – Girardi threw the body around nicely last night (seven hits) amidst Tortorella proclaiming him the most underrated player in the NHL and attacking his omission from the All-Star ballot.  Girardi spit right back in the face of the decision-makers, firing a perfect shot over a sprawled Cam Ward for his second game-winning goal of the season.  To top things off, it was nice to see the Rangers win a game with Girardi playing less than 25 minutes.
Ryan McDonagh – McDonagh played an excellent all-around hockey game last night, finishing with a plus-two and five blocked shots.  He picked opportune times to jump into the offensive rush and was noticeably physical on the defensive end.  For what it's worth, he was on the ice for more shifts than any other player, and it was not really even close.
Michael Sauer – Sauer is not making things easy on me, as it is almost impossible to write about a defenseman that does nothing except make a good play on every offensive rush by the opposition.  Sauer had another rock-solid defensive game and even tallied an assist to make assigning this grade even easier.
Grade: B
Derek Stepan – Stepan was a force once again, teaming up with Marian Gaborik and Artem Anisimov on a line that produced 16 shots.  Stepan had six shots of his own, but he failed to register a point despite the Rangers' late flurry of goals.  While his vision continues to be outstanding and his playmaking ability is almost second to none right now, Stepan still seems slightly hesitant with the puck on his stick and a chance to score.  He was also atrocious in the faceoff circle, winning only 5-of-19 draws on the night.
Artem Anisimov – Much of what I said about Stepan also applies to Anisimov.  The scoring chances were there, and he played an excellent defensive game, but for the first time in about a week, the pucks were simply not bouncing his way.  We all know what Gaborik can do and Stepan is turning into an all-world distributor, but Anisimov is the X-factor on the GAS line, so it is good to see that he is continuing to play at a high level.
Ryan Callahan – It's not always going to be pretty, but Callahan will often find a way to impact a game in a positive way.  Up until his goal in the third period, I thought Callahan was mostly ineffective on the offensive end.  He took a bad penalty just before the Rangers' third-period eruption and seemed a step slow all night.  As is usually the case, however, the captain came through with a hard-working garbage goal and, more importantly, set up Brandon Dubinsky for his all-important first goal of the season.
Michael Del Zotto – Del Zotto took a penalty and was relatively quiet on the offensive end, but he played another solid game as part of a defensive unit that kept the Carolina forwards to the outside all night long.  Word is that he has a slight hip injury, so a few days off before the Islanders on Tuesday should do him some good.
Henrik Lundqvist – Lundqvist was spot on in the first period when his team needed him most and then coasted the rest of the game en route to a 34-save victory.  Ponikarovsky's shot was definitely a goal that he would want back, but sometimes an unexpected, easy roller is the best way to beat an instinctive goalie like Lundqvist.
Grade: C
Brian Boyle – It was good to see Boyle have some success centering Dubinsky and Callahan; I just hope Tortorella does not stick with the line combo.  Dubinsky and Callahan need to play with Richards and Boyle needs to find his game again if he wants to stay in this lineup.  Watch him try to throw a body check and you will see how much of a gentle giant Boyle can be.  On an unrelated note, Carolina opponents might want to consider wearing more leg padding, because Cam Ward swings his stick in the direction of calves and ankles pretty recklessly, something at which the NHL should take a look.
Brandon Prust – Reports are coming out that Prust is still dealing with pain resulting from offseason shoulder surgery, which is not surprising considering his uninspired play of late. Prust was mostly ineffective and was one of the primary reasons why Tortorella had some trouble mixing and matching line combos.  Prust did, however, make a great diving defensive play to prevent a mini-breakaway in the first period.
Steve Eminger – Against a team with very little depth like Caroina, Eminger can be a very effective player.  With his defensive responsibilities fairly limited, Eminger was unusually active in the offensive end, something he needs to do more of going forward playing with his statue of a defensive partner, Jeff Woywitka.
Ruslan Fedotenko – Fedotenko was given a chance to play second-line minutes against Ottawa and failed to impress.  Last night, it was Brian Boyle who got the call in his stead and delivered nicely.  Not a bad game from Fedotenko, but his role seems to have diminished over the past week.
Andre Deveaux – Deveaux delivered with a plus-one last night and has been a plus-player since his call-up.  He is not part of the team's long-term solution but has been a nice fill-in with injuries abound.
Grade: D
Erik Christensen – We have been waiting for a fourth-liner to step up all season and, unfortunately for Christensen, Sean Avery became that guy last night.  With Avery bumped up to the Richards line, Christensen did not see much ice time and was limited by playing with tough guy Andre Deveaux.  
Jeff Woywitka – His assist was more lucky than good, and he continues to spend way too much time chasing the puck in his own end.  Anton Stralman, please…