Patriots vs. Jets Sunday Night Football: Live Reaction, News and Analysis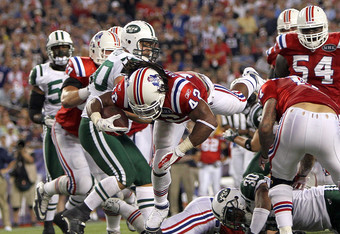 Jim Rogash/Getty Images
It is once again time for a clash of the AFC East titans. The New York Jets and New England Patriots both come into the game at 5-3 on the season, and are tied with the Buffalo Bills at the top of the division.
The scene at MetLife stadium will be all too familiar for both squads. Ever since Rex Ryan has taken over, it seems every game between the Pats and Jets has a direct impact on who will win the division crown and which team will make it into the playoffs.
Going into the game, the Patriots hold the upper hand because of their 30-21 Week 5 win at Gillette Stadium. The Jets will look for a win tonight to even out the head-to-head season series and take control of the division.
The two teams come in trending in completely different directions. The Jets are coming off two big victories, including a comeback win over the Chargers and a convincing win over the division rival Bills. These wins were sandwiched around the Jets' bye week, so the team is really hitting its stride and looking strong going into this Sunday Night Football matchup.
Coming into this game, the Patriots are trending down in a big way. After a Week 7 bye, they have lost back-to-back matchups against the Steelers and the Giants. Many people are looking at this as a must-win game for the Pats.
There will be storylines running throughout all aspects of the game tonight. For the Jets, we will be looking to see if they can contain Tom Brady and Wes Welker. Brady is throwing for a league-leading 326 yards per game, and Welker is hauling in a league-best 120 YPG. If the Jets want any chance to win tonight, they will need to have a big game out of their secondary and get real pressure out of their front four.
For the Patriots, they will look to shut down the Jets' running attack and make Mark Sanchez win the game. The defense has been porous at best this season, and they will have to prove themselves against the Jets' running attack and big receivers in New York.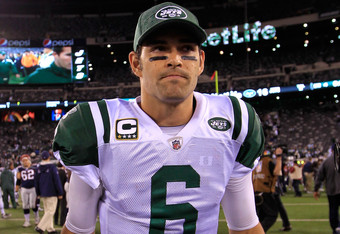 Jets QB Mark Sanchez has been criticized for his in-game decision making many times in his three-year career.
Whether it's throwing into coverage, holding on to the football too long, or failing to read defenses, Sanchez has had his struggles.
But in tonight's game, it was something different. He committed a mental error, one that would prevent the Jets from taking a lead into halftime.
With under two minutes remaining in the first half, the Jets were driving and looking to take the lead for the first time in Sunday's game. The Jets broke their huddle with 90 seconds left in the half, and the clock was running. But Sanchez didn't like what he saw, so he called timeout.
Yet there was still almost 30 seconds remaining on the play clock! Sanchez made a rookie-type mistake and failed to let the time run down before he signaled for a timeout.
Head coach Rex Ryan was not happy, in fact, he was furious.
Watch the video to see how furious he was.
Sanchez fails to let the play clock run down upon calling this timeout.
The end result was a Patriots' touchdown with roughly 20 seconds remaining in the first half, allowing them to take a 13-9 lead into halftime and swipe the momentum right back from Gang Green.
If the Jets are going to mount another run to the AFC Championship, Sanchez must use his head at all times and not allow slip-ups like this to happen. This is a mistake that few quarterbacks in the NFL make.
This article is
What is the duplicate article?
Why is this article offensive?
Where is this article plagiarized from?
Why is this article poorly edited?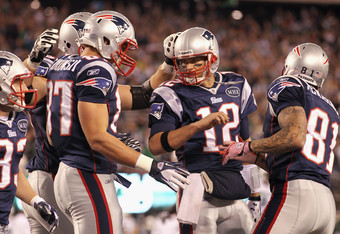 It was an all too familiar sight for Jets' fans this Sunday night. There was a regular season game with a lot of hype and a lot on the line, and the Jets failed to deliver.
Whether on offense, defense, or special teams, the Jets just simply did not have it tonight. From Joe McKnight's fumbles to Mark Sanchez's interceptions, tonight's game looked like the Jets were a JV high school team and the Patriots were, well, the Patriots.
There is a lot that both teams can take away from this game. The Jets learned that they are not just going to coast to an AFC East crown. The Patriots came in losers of two games in a row, and they still put a beat down on gang green.
The Jets also need to finish in the red zone. They had a lot of opportunities to score early and just could not take advantage. When that happens against a team like the Patriots, you are setting yourself up for a long night.
For the Pats, they showed that they can still play with and dominate any team in the league. Tom Brady showed why he is still one of the top two quarterbacks in the league and why Rob Gronkowski is a premier tight end.
The Patriots also showed a lot of growth on defense. They lost two corners in the game, but were still able to hold the Jets' offense in check and only allow 16 points. With how porous the Patriot's defense had been so far this year, they came out and put pressure on Mark Sanchez, and eventually just took the game over.
The Jets will look to rebound against Tim Tebow and the Denver Broncos on Thursday night. Hopefully they can learn from this game and change some of the problems in tonight's game. Even though they are working with a very short week, they will look to get back in the playoff hunt as soon as possible.
The Patriots will head back to New England and face the Chiefs on Sunday. The Chiefs are coming off a loss to Denver, and will be up for a challenge trying to win in Gillette Stadium.
This article is
What is the duplicate article?
Why is this article offensive?
Where is this article plagiarized from?
Why is this article poorly edited?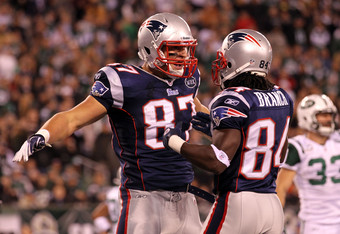 Rob Gronkowski has been a monster for the Patriots against the Jets. He is closing in on 100 yards for the game, and New York simply has no answer for him.
The sheer size and speed of Gronkowski makes him a difficult matchup for any defense. At 6 feet 6 inches tall and 265, he physically outmatches any corner in the league. If you try to cover him with a linebacker, he has the speed and agility to beat them for a big gain.
Tom Brady has also made Gronkowski his favorite target in the red zone. When you have a player like the Patriot's tight end, it is not surprising that Brady is targeting him with almost every red zone pass attempt.
The Jets have thrown everything they can think of at Gronkowski and the Patriots, but they have found no answer for him. He has caught two touchdowns already, and was a few feet from catching a third if he did not step out of bounds.
The Patriots have found a real go-to receiver in Gronkowski. He has become one of the best red zone targets in the league, but he can also run routes as well as any other tight end. With his imposing size and great hands, Gronkowski will be a force to be reckoned with for a long time in New England.
This article is
What is the duplicate article?
Why is this article offensive?
Where is this article plagiarized from?
Why is this article poorly edited?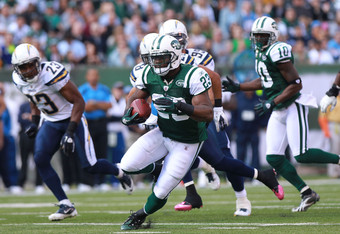 The Jets have gotten back to their former ways, and are starting to look more and more like the team who has made deep playoff runs in the last two seasons.
Through the first half against New England, the Jets running game has combined for 78 yards in the first half, a much better total than they have been averaging so far this year. Even though the team started off with the ball in Mark Sanchez's hands, they have settled into s steady rushing attack that has the Pat's defense on their heels.
Shonn Greene is averaging over 5 YPC, and if he can keep this up in the second half it will cause even more trouble for the New England defense.
Combine Greene with LaDainian Tomlinson's 7 YPC, and the Jets are finally following Rex Ryan's Mantra. He has always wanted New York to be a run-first offense, and they are doing that against the Patriots.
During Ryan's first season, the Jets averaged over 170 rush yards per game and made it to the AFC Championship game. Last season, the Jets averaged nearly 150 rush yards per game, and once again made it to the AFC Championship. This season, a lot of the Jets' struggles can be attributed to their rush yard per game, which sits just under 97 yards per game.
The Jets are ready to "ground and pound" their way to an AFC east title, and it starts tonight against the Patriots. Shonn Greene or LT will find the end zone, and lead the Jets to a comeback victory in the second half.
This is Rex Ryans team. The defense is starting to play like it is Ryan's team, and the running game is soon to follow.
This article is
What is the duplicate article?
Why is this article offensive?
Where is this article plagiarized from?
Why is this article poorly edited?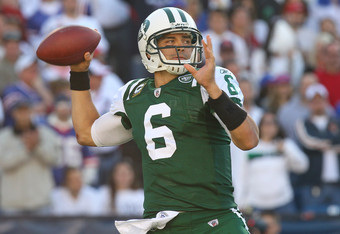 The Jets offense will go as far as Mark Sanchez can take them. They will always be a run first offense, but when Brian Schottenheimer puts the ball in Sanchez's hands he needs to produce.
Sanchez started the game hot, completing his first three passes. He is 4/7 for 63 yards through the first quarter.
One of the best signs is seeing Sanchez spread the ball to all his receivers. He has already hit Plaxico Burress, Santonio Holmes, and rookie Jeremy Kerley, who has a growing role each and every week.
The Jets flew down the field with their first drive and looked like they were going into the end zone. Just as they did against Buffalo last week, they were primed to score and put the ball in the hands of Mark Sanchez.
Last week, Sanchez threw a pick and left the Jets with zero point on their first drive. This week, Sanchez threw behind a wide open Plaxico Burress, leading to a missed field goal by Nick Folk and zero points again for the Jets.
New York will need Sanchez to step up his play if the Jets want to make a playoff run. When the team gets into the red zone, he needs to make better decisions and turn those trips into touchdowns instead of field goals or turnovers.
This article is
What is the duplicate article?
Why is this article offensive?
Where is this article plagiarized from?
Why is this article poorly edited?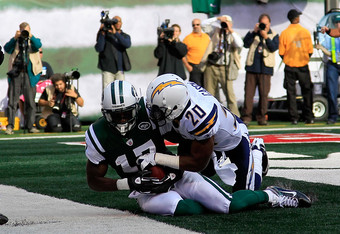 There are fantasy studs all over the field in this matchup, and a beautiful night in New Jersey has both teams primed for big games.
For the Jets, the running game will be a big part of their attack, trying Tom Brady off the field as much as possible. Shonn Greene can eclipse the 100 yard or at least get close to it in this game. Combine that a touchdown and he could have a big night.
Plaxico Burress has also broken out over the last few weeks, and this trend will continue against New England. Burress has once again established himself as the premier red zone receiver in the league, and will look to get into the end zone once again this week.
The Jets will do their best to shut down the Patriots passing game, but it is a daunting task for any defense. Tom Brady could still eclipse the 300 yard mark, and have a big day for fantasy owners.
New England will look to score early and often against the Jets. New York's defense has always had trouble stopping the tight end, so look for Rob Gronkowski to get a good amount of yards and have a chance for a score.
This article is
What is the duplicate article?
Why is this article offensive?
Where is this article plagiarized from?
Why is this article poorly edited?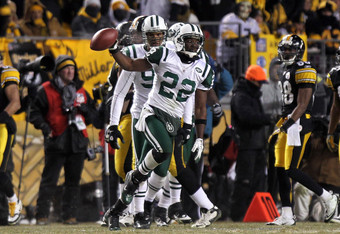 Elsa/Getty Images
The big name the Jets will have back for this matchup is defensive lineman Mike DeVito. He has been inactive since Week 6 against Miami, and having him back will go a long way towards containing BenJarvus Green-Ellis (who is active this week) and the rest of the Patriots rushing attack.
The Jets will be without free safety Brodney Pool and rookie defensive tackle Kenrick Ellis. Ellis also missed last week with an injury, and would have been a great security blanket in case DeVito cannot go for the full game.
Pool's absence leaves a little bit of a hole in the Jets' secondary. If the Patriots look to spread them out and force the Jets into nickel and dime packages, they will feel the loss of Pool more than if the Pat's try to pound the ball.
On the offensive side of the ball, the Jets will have both Joe McKnight and Plaxico Burress on the field. Both were listed as probable, but had some question marks going into the game.
For the Patriots, they will be without starting linebacker Brandon Spikes and starting free safety Patrick Chung. With these pieces missing, the Jets put more responsibility on Mark Sanchez's shoulders and try to exploit the holes.
Former Jet Shaun Ellis is available for the Patriots in tonight's contest. He will try to put pressure on Sanchez and stop the running game the Jets have rediscovered in the last few weeks.
New England will also have cornerback Kyle Arrington suiting up for the game. He and Ellis were both questionable, but they both look like they will be starting against the Jets.
The full inactive lists for both teams can be found below.
New England Patriots:
FS Patrick Chung, OLB Dane Fletcher, QB Ryan Mallett, WR Taylor Price, OLB Brandon Spikes, OG Donald Thomas, and RB Shane Vereen
New York Jets:
DE Kenrick Ellis, TE Shawn Nelson, QB Kevin O'Connell, RB Bilal Powell, WR Eron Riley, and NT Martin Tevaseu
This article is
What is the duplicate article?
Why is this article offensive?
Where is this article plagiarized from?
Why is this article poorly edited?

New York Jets: Like this team?