Heisman Watch: Is Brandon Weeden the New Favorite?
November 13, 2011
Ronald Martinez/Getty Images
Stanford superstar quarterback Andrew Luck's dream season turned into a nightmare last night when the Oregon Ducks came to town and chopped down the Cardinal, 53-30, an eerily similar result to the disappointing 52-31 defeat the team experienced up in Eugene last year.
The loss is certainly a tough setback for Luck, who went into the game as the unanimous front-runner for the Heisman Trophy.
While one loss certainly won't cost him the chance to be the No. 1 pick in next year's draft, it's one that may have diminished his Heisman chances.
There's no doubt that Luck's status as media darling took a little bit of a hit yesterday, and now that Stanford is out of the national title hunt and probably out of the Pac-12 race, it's going to be hard for him to gain back all the positive momentum he had going into this weekend.
Boise State quarterback Kellen Moore, who was also on the short list of contenders for the award, also had his Heisman hopes dashed yesterday, as the Broncos failed to convert a last-second field goal attempt for the second year in a row and fell to TCU on their home field, 36-35.
With Luck and Moore fading, it opens up the door for other challengers to enter the fray.
There are plenty of players who are making a serious charge at the award this year, but none of them are making as big of a push as Oklahoma State quarterback Brandon Weeden. 
Just like last year, Weeden has once again been the leader of an extremely powerful and potent Oklahoma State offensive attack, one that now ranks second in the country in scoring offense and third in total offense, averaging 51 points and 565 yards per game.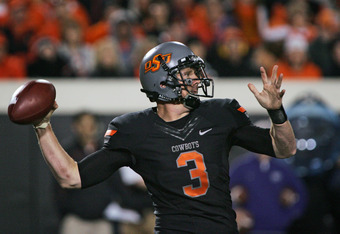 Brett Deering/Getty Images
The senior signal-caller has put up monster numbers this season, completing 73 percent of his passes for 3,635 yards and hitting 31 touchdown strikes, as he's guided the Cowboys to the No. 2 ranking in the country and a shot at a national title berth.
If Weeden can win out and actually take Oklahoma State to New Orleans, the Heisman will likely be his to lose, but he's still got one last crucial matchup against Oklahoma in the Bedlam game on Dec. 3, which will now serve as his true Heisman spotlight game.
He's also going to have fierce competition from guys like Luck, Alabama RB Trent Richardson, Houston QB Case Keenum and Oregon RB LaMichael James, who re-entered the race with a sensational performance against Stanford last night.
Although there will likely be some Luck holdovers, right now, it looks like Weeden is the new Heisman front-runner,.
With three weeks left, a lot can still change, though. 
Here's a look at how I would rate the current top 10 Heisman contenders as we head into Week 12:

1. QB Brandon Weeden, Oklahoma State
2. QB Andrew Luck, Stanford
3. RB Trent Richardson, Alabama
4. QB Case Keenum, Houston
5. RB LaMichael James, Oregon
6. QB Kellen Moore, Boise State
7. QB Landry Jones, Oklahoma
8. WR Sammy Watkins, Clemson
9. QB Robert Griffin III, Baylor
10. QB Matt Barkley, USC