Ravens vs. Seahawks: Live Score, Video and Analysis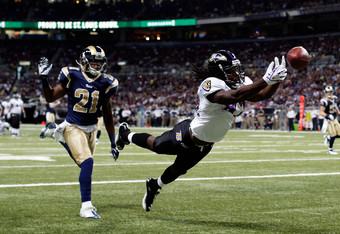 Jamie Squire/Getty Images
The red-hot Baltimore Ravens—winners of five of their last six games—travel to CenturyLink Field to take on the Seattle Seahawks in what has the makings of a defensive showdown.
This matchup features two teams going in opposite directions. One team is tied for first place in the AFC North, while the other is five games behind the 49ers for the NFC West lead.
Baltimore has plenty of reason to celebrate. QB Joe Flacco recently led the team to victory in epic fashion over the Steelers on Sunday Night Football. The team swept its division rival with a late touchdown drive. Flacco found WR Torrey Smith to cap it off and assert Baltimore as the team to beat in the North.
What to expect in Sunday's game:
Look for a heavy dose of RB Ray Rice. The Ravens will likely look to shorten the game on the road by running him in between the tackles. In the passing game, WR Lee Evans is slated to return from injury and should see action for the first time since Week 2 (ankle injury).
The Ravens will look to put their stout defense on the field against the struggling Seahawks..
Seattle's offensive unit has looked quite predictable and they cannot move the football consistently as a result.
The team has lost its last three games and ranks No. 28 in points scored, putting up only 15.2 per game. The NFL is a passing league now, and failure to convert yards into touchdowns does not win games.
Matchup to watch:
Baltimore's No. 2 total defense (279.4 YPG) vs. Seattle's No. 29 total offense (296.1 YPG). It won't be easy for QB Tarvaris Jackson and RB Marshawn Lynch to create big plays. The Ravens defense is stout.
When it's all said and done, who will step up and make plays when called upon?
Final score: Seahawks 22, Ravens 17
David Reed fumbles AGAIN!
And Ray Lewis was the real hero!
That'll do it! The Seahawks hold on and win in upset fashion, 22-17.
RB Marshawn Lynch finished with 32 carries for 109 yards (1 touchdown), and was clearly the difference in this game.
Seattle out-gained Baltimore in yards, barely: 327-323.
But it was the three turnovers that were the deciding factor in today's game, propelling the home team to victory.
Marshawn Lynch is literally running over Ravens' defenders and it looks like he'll be able to seal this victory for the home team.
Two-minute warning, and Seahawks have a great chance to close this game out with the football.
They will look to continue to pound the rock to victory.
TE Ed Dickson is a MONSTER. With the Ravens in the red zone, and Dickson in double coverage, Flacco found him for an 11-yard touchdown strike.
The catch puts the Ravens back in the game and is Dickson's 10th of the game!
Seahawks 22, Ravens 17
So, this fourth quarter has been pretty boring.
The Seahawks are doing a great job of shortening the game and attempting to leave with a victory.
We'll see if the Ravens can do anything about that.
That'll do it for this quarter.
We head into the fourth quarter with the Seahawks still holding a comfortable 12-point lead.
And the battle of field goals continues.
Cundiff drills one and is now 34 of 35 in field goals closer than 50 yards.
Cam Cameron must have listened to us, the very next play Flacco finds Rice for a 7-yard gain on a screen pass.
And follow that by running him in between the tackles for five yards.
It works!
At this point, Baltimore has completely abandoned the run.
I understand that they have to play catch-up, but it's still only a two-score game.
When you have RB Ray Rice in the backfield, you give him the ball!
Oh, and in case you missed David Reed's second fumble, we've got you covered.
Here's the video:
Otto Greule Jr/Getty Images
Sidney Rice was streaking down the field wide-open, but Jackson underthrew the hell out of him.
Rice went up for the football and came down hard, and is now down.
He looks to be hurt, and it could be his back. Hard to tell right now.
The Seahawks have kicked field goals on their last four drives.
If they had a tall, go-to receiver to target, they'd likely be up by 30 points.
As it stands, we'll likely see a lot of Lynch from here on out.
Flacco continues to look awful in today's game. Was lucky he didn't throw another interception but Lewis bobbled it.
How can he look so abysmal after leading the Ravens down the field, looking near-perfect in their comeback win in Pittsburgh?
Hauschka drills yet another field goal from close range.
The Seattle K has now set the franchise record for field goals in a game (5).
Seahawks 22, Ravens 7
And Flacco throws two balls at receivers feet.
But even worse, he just threw a ball that was tipped and INTERCEPTED.
Seahawks have first-and-goal near the 10-yard line and are looking to put the game away with a touchdown.
Second half is underway.
Ravens will start from their own 20-yard line.
Another problem for the Ravens:

RB Ray Rice has just 4 carries for 19 yards. He has been nonexistent.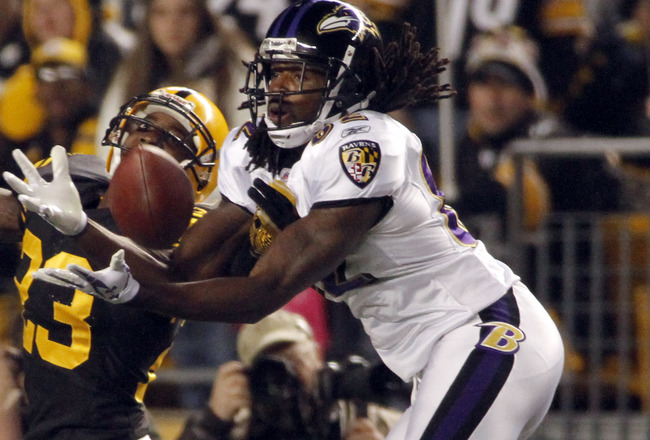 For the Ravens to get back into this game, they will need Flacco to find WR Torrey Smith for some big plays.
Seahawks CB Brandon Browner has played him physical and played him well. Smith did get wide-open down the field in the first quarter but Flacco over-threw him.
Smith was the x-factor in Ravens' win in Pittsburgh, he will have to step up again in the second half of this game.
Wow, Ravens end the half with no points.
Cundiff's 52-yard field goal is NO GOOD.
Seahawks lead at the half for the first time all season, 19-7. They are playing a flawless half.
How about another quirky trend that embodies how bad the Seahawks have been this season (although they are playing well today)?
This would be the first time they have had the lead in a game at the half this season!
Baby steps, y'all.

The 12-point lead for the Seahawks is the biggest lead they've built all season!
Ravens defense comes up with another big stop in the red zone.
Jackson targeted Doug Baldwin in the back of the end zone but he dropped it.
Another field goal try for Hauschka coming is good from 35 yards, he is 4 for 4.
And again, David Reed fields a kickoff.
And again, HE FUMBLES!
Reed takes a big hit as he was airborn and the Seahawks recover the fumble. Huge opportunity here.
Another field goal for the Seahawks on a drive with a lot of balance.
Seattle looks great on offense and is moving the football at will.
39-yard-field goal extends their lead to nine points.
This article is
What is the duplicate article?
Why is this article offensive?
Where is this article plagiarized from?
Why is this article poorly edited?

Baltimore Ravens: Like this team?