NFL Week 10 Picks and Predictions
November 13, 2011
Rick Stewart/Getty Images
Week 10 of the NFL season is shaping up to be one of the best of the season. Sunday is littered with potential playoff matchups, with some of the elite teams clashing with one another. After a 8-6 record last week in my predictions, I now sit at 81-50 for the year. 
Fab Five
This game could very well decide who wins the NFC South this year, so expect both teams to come out firing. Atlanta seems to be finally clicking after a horrific start, as Matt Ryan and company have dominated opposing defenses in three consecutive games.
Drew Brees and the Saints have been inconsistent so far, despite finally finding a running game with the "three-headed monster" of Darren Sproles, Pierre Thomas and rookie Mark Ingram. Both of these southern powerhouses struggle defensively, so gear up for a shootout.
Michael Turner will run wild against an awful New Orleans run defense, but Matt Ryan could be in for some turnovers against an opportunistic Saints secondary.
In the end, it will be future Hall of Famer Drew Brees winning it for the Big Easy, as he will drive down the field with ease against a shaky Atlanta secondary.
Steelers defeat Bengals 24-7
The Cincinnati Bengals have been the feel-good story of 2011, as Marvin Lewis and crew have marched out to an AFC-best 6-2 record. However, Cincinnati have benefited from a cakewalk schedule, and have yet to prove themselves against an elite team like the Steelers.
Pittsburgh has been extremely inconsistent through nine weeks, as they have snatched huge wins against the Patriots and Titans, but have also suffered tough losses to the rival Ravens twice and the Texans.
The Steelers have been hurting defensively for most of the year, but the return of some key playmakers will lead them to a blowout over an inexperienced Bengals squad.
Rookie quarterback Andy Dalton will have an awful day out there against the stingy Pittsburgh defense, and Mike Wallace will blow past a soft Bengals secondary on the way to a huge win for the defending AFC champions.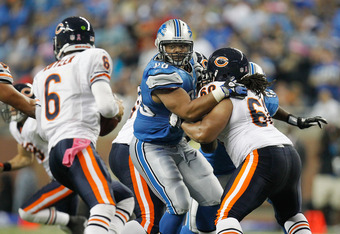 Gregory Shamus/Getty Images
Two of the game's fiercest rivals will meet in a battle that could have serious playoff implications. With the Green Bay Packers marching through opponents with ease, the Bears and the Lions are left fighting for a wild card spot.
Detroit has had a superb start to the season behind one of the league's most feared passing duos, in Matthew Stafford and Calvin Johnson.
Chicago survived a grueling early-season schedule to emerge as serious playoff contenders, behind a much-improved Jay Cutler and a terrific veteran defense.
Sunday's matchup could see a lot of turnovers between two ball-hungry defensive units, but the gutsy play of Matt Forte will lead Chicago to a huge divisional win against a talented, but inexperienced Lions squad. 
Two of the NFC's elite teams will battle in one of the season's most anticipated matchups. The 49ers have raced out to a 7-1 record behind the amazing play of dynamic running back Frank Gore and the colossal defensive unit.
The Giants have had some bumps in the road, but have marched out to first place in the NFC East, largely thanks to the elite play of quarterback Eli Manning. The Giants are in the middle of a grueling midseason schedule, and are wary of this must-win game.
The 49ers already have the horrific NFC West wrapped up, but are still looking to establish themselves as Super Bowl contenders. 
This game will be a hard-hitting and intense fight that will come down to the final few minutes, but it will be New York who stands on top at the end, as Alex Smith will finally revert back to his mistake-prone self against a terrific Giants passing defense.
Jets defeat Patriots 24-20
This is the most anticipated game on the Week 10 slate, as two of the fiercest rivals meet in a game that could decide AFC East supremacy. The Jets have had a rollercoaster half season in the Big Apple, as Rex Ryan and company have gone from 2-0, to 2-3, to 5-3.
Gang Green finally look like the team that has fallen a game short of the Super Bowl for two straight seasons, as the defense is back to its elite self, and the offense is finally back to its "ground and pound" roots.
The Patriots, on the other hand, are losers of two straight. Tom Brady has struggled at times, as the reigning MVP has already thrown 10 interceptions. New England's defense is arguably the worst in the league, with any opponent seemingly scoring at will.
Bill Belichick and Rex Ryan are 3-3 against one another as head coaches, so this battle could decide who has the edge in this fierce rivalry. In the end, it will be the awful Patriots secondary that costs them a win, as Mark Sanchez drives down the field to win it in crunch time. 
The Rest of the Slate
Panthers defeat Titans 30-17
Texans defeat Buccaneers 27-17
Dolphins defeat Redskins 24-13
Ravens defeat Seahawks 27-6
Packers defeat Vikings 30-20