Download App
England 1 Spain 0: What Victory over the World Champions Taught Us About England
Shaun Botterill/Getty Images
November 13, 2011
Yesterday evening, a result of mammoth implications occurred. When a rebound off the post fell kindly to Frank Lampard in the 49th minute, the Chelsea midfielder made no mistake in front of goal and scored, giving England its first win against Spain in 31 years.
Not only that, it was the national side's first-ever win against a team ranked No. 1 in the FIFA world rankings.
What's more, England's victory over Spain, the defending World and European Champions, was against a side that without doubt are the best in the world.
But the gulf in class between the two sides is astronomical.
England won of course and deserve plaudits for a terrific display of resilience, durability and courage.
But resilience, durability and courage generally only work over a short period in the sport of football. Nowadays, it is ball retention, flawless control and fluid movement that works over a sustained period of time. It is quality that wins trophies.
To be blunt, England were outplayed and out-thought by a superior team. There is no shame in that. As mentioned before, they should feel nothing but pride for their valiant performance. On the day, they outfought Spain.
However, the home of football will never again succeed on the international stage until it embraces the values of Spanish football. Likewise, teams like Manchester United and Chelsea will never again succeed in European competition until they learn how to play like Barcelona.
Unfortunately, England are several years away from that. Generations away, even.
Take Jack Wilshere, for example. He is a tremendous young player that will no doubt be the heartbeat of the England side for the next 10 to 15 years. The gravity of England's situation, however, is that they will never be as good as Spain until they have four Wilsheres in midfield.
Anyone with knowledge of football can identify this, and will acknowledge that England will never be as good as Spain until training at the grassroots level is totally overhauled to match that on the continent.
English school kids run with the ball. Spanish school kids pass the ball and move into space.
It would be a gross exaggeration to say England have no hope on the international stage though; their future looks bright. Not as bright as Spain's, or Germany's, but at least as bright as their present looks. Several players were asked to prove their mettle yesterday, and they did so with aplomb.
Joleon Lescott proved why Everton supporters were so dismayed by his transfer to Manchester by reuniting successfully with former defensive partner Phil Jagielka. They were colossal at the back, marshalling David Villa and the roaming Spanish midfield with authority.
With their performances in mind compared to Rio Ferdinand's recent Premier League exploits, Fabio Capello should definitely favour them over the Manchester United centre back.
Other more regular England fixtures, like Ashley Cole and Lampard, in many ways redeemed their international reputations. Bloemfontein will never be forgotten, but it can be forgiven, with time and a demonstrated effort to improve.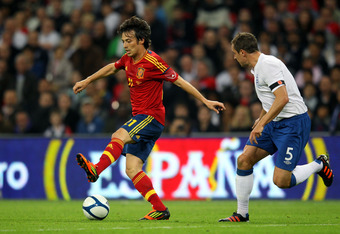 Spain monopolised possession but were oufought by England.
Alex Livesey/Getty Images
Speaking of Bloemfontein, Scott Parker again made a mockery of his omission from the squad taken to South Africa with a performance that was, in every way, truly magnificent. His dedication to closing down players, tracking runners and blocking every possible pass is unparalleled. To be frank, he is a master of his craft.
The youth, alluded to earlier as incompetent in the ways of Spanish football, are still reason to be excited. Players like Danny Welbeck and Jack Rodwell, whose penetrating movement defies his label of defensive midfielder, gave England fans reason to stand up and applaud. Their efforts were obvious, as was their ability.
Phil Jones will probably eventually be captain of England and could surpass 100 caps one day. If this performance is anything to go by, every appearance will be deserved.
So then, on this day, in an age of football where skill is surpassing determination, the warriors overcame the artisans. Those who claim England should aspire to be like Spain are entirely right. They can only hope to be as good as them one day.
But those who claim England need to curb the old school, combative aspect of their game need to think again. There will always be a place for defensive heroism in the beautiful game, as surely as there will always be a place for verve and flamboyance.
Anyone who thinks otherwise needs only watch the match again. For one day at least, every man sporting the crest of Three Lions were truly "Lionhearts."
Like the new article format? Send us feedback!