Pacquiao-Marquez 3 Live Streaming and How and Where to Watch the Fight Live
November 12, 2011
Ethan Miller/Getty Images
So you want to watch the Manny Pacquiao-Juan Manuel Marquez pay-per-view fight live tonight from the MGM Grand in Las Vegas.
The easiest, most traditional way is to order the pay-per view through your cable company for about $55. Check out the website for your local provider or DirecTV or DISH Network or just order through your cable box. You can do it all from the luxury of your couch…with just your remote control.
In all likelihood, there are also loads of local bars and restaurants that will be showing the PPV. It'd certainly make sense to call ahead to make sure they're showing it and to see if there's any sort of cover charge you'll have to pay.
Whatever the case, a cover charge surely won't be nearly as much as ordering the PPV at home. You'll also have to pay for whatever pizza, wings, burgers, fries and adult beverages you partake of while you're there, but what better place to watch the madness of Pacquiao-Marquez III than in a loud, crowded bar with loads of other fans of the sweet science?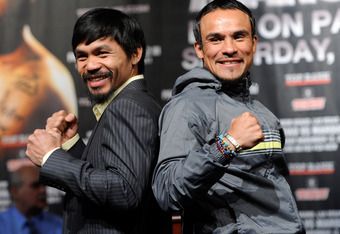 Ethan Miller/Getty Images
Of course, there are other options, too…like trying to stream the fight for free on your computer. And sure, sure, there are plenty of sketchy sites out there that offer "free live streaming" of pay-per view events like this. But can you trust them?

Some seem mildly reliable, but you never know what you're getting yourself (or your computer) into. The quality can be really crummy, and there are often viruses, malware or pop-ups that will ruin your experience.
Just a warning for you other cheapskates out there…like me. I love a great deal like the next guy, but this is a fight I need to see for real. I don't want to tempt fate with one of these sites.