Henry Josey Injury: Knee Injury Ruins Stellar Season for Missouri RB
November 12, 2011
Christian Petersen/Getty Images
Missouri Tigers running back Henry Josey's season has been ruined by a knee injury, and the Tigers hopes of making a splash during the latter part of the season are going down with him.
I'm not saying the Tigers don't have a football team without him, because obviously that's not true.
That being said, The Tigers offense is going to be severely hampered without the dynamic sophomore running back.
There was some good news in this game, even though the loss of Josey all but ruined the game for Missouri.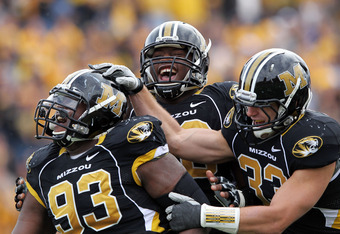 Jamie Squire/Getty Images
The Tigers were able to secure a win over the No. 16 ranked Texas Longhorns to move to 5-5 on the season and 3-4 in the Big 12.
This is the second big-time win they've gotten over a ranked opponent this season, as they toppled then No. 16 Texas A&M 38-31 two weeks ago in overtime.
With a remaining schedule that features Texas Tech and Kansas, it looks like the Tigers could have a chance to win out and perhaps get in a bowl game, but they are going to have to do so without Josey, according to Mike Dearmond of The Kansas City Star:
Missouri tailback Henry Josey has carried the football for the last time this season.

"Done for the season," Pat Smith, the orthopedic surgeon who likely will repair the injury, told The Star following Missouri's 17-5 victory over Texas on Saturday. "He ruptured a tendon."

When Josey went down near the sideline on an incomplete pass with 4 minutes, 17 seconds left in the third quarter, there was some confusion as to whether the injury was to his left knee or his left ankle. Missouri officials later confirmed it was an injury to the knee.

"I really feel bad for Henry," Missouri coach Gary Pinkel said. "Obviously, our whole football team does.

"Whatever happens, even if he has to have surgery, or whatever, we've got the best people to take care of him and we'll get him back 100 percent."

Not this year.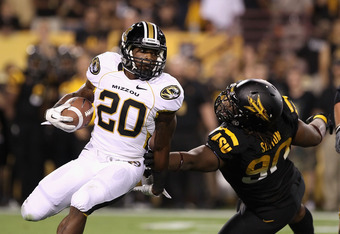 Christian Petersen/Getty Images
The knee injury actually shatters a wonderful year for Josey, who had compiled 1,168 yards and nine touchdowns on 145 carries this season.
Moving forward, he will undoubtedly be a fixture in this offence, but it's going to have to wait until next year.
The Big 12 is dealing with a very questionable future, but if Josey can get healthy, which I'm sure he will in the offseason, there is no question about how great he is going to be.