Pacquiao vs. Marquez 3: Trainers Correctly Picking Pac-Man To End Marquez Debate
November 12, 2011
Ethan Miller/Getty Images
Coming into tonight's showdown at the MGM Grand between Manny Pacquiao and Juan Manuel Marquez at 9 p.m. ET, Pacquiao is emerging as the overwhelming favorite in the eyes of almost everyone—including trainers in the sport.
David P. Greisman of BoxingScene.com reports quotes from four trainers that all point out Marquez's weight gain needed to enter a new division will cost him speed and ultimately the fight.
Ronnie Shields had this to say about the new dynamic the weight class could offer.
"When they were at the same weight and were fighting at the same weight for a very long time, I think they were evenly matched. But I think right now, Pacquiao is so used to that weight, man, and he knows how to maneuver around in that ring. He's such a fast starter, but he's also a great finisher. I just think Pacquiao's going to be too much."
Marquez has been as close as you could get to defeating Pacquiao, but that's when the two fought as featherweights. Now, the battle will take place for the WBO World Welterweight Title.
The switch will greatly favor Pacquiao who will do some damage in the early rounds.
Pacquiao has crushed Marquez in the first round of their previous bouts, and this fight will be no different. Marquez will go down more times than ever in this one, as Pacquiao has trained endlessly to improve on his already impressive skills in the ring.
Fellow trainer Kevin Cunningham gave his prediction for how the fight would end.
"Pacquiao's been here in the welterweight division, not only has he fought in the heavier division and the heavier guys, he's been dominant. He's going to be just too big, too fast, too strong. I don't think he's the same fighter that Marquez faced when they were featherweights. I think there could be a stoppage, eighth or ninth round, Pacquiao stops him."
Two more trainers were cited in the article as having picked Pac-Man for similar reasons. A clear-cut favorite doesn't always win, especially in boxing. However, there's usually some people picking the undercard, but his biggest supporters seem to be the Pacquiao camp.
Here's a tweet from a member of the minority.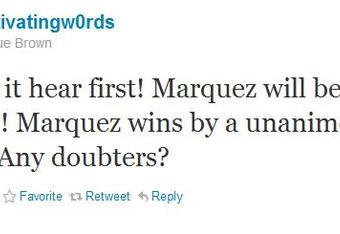 My money's on Pacquiao, but if you don't trust me, trust the trainers.
For the latest news and updates on Pacquiao vs. Marquez, and for all the latest news and insight on all things boxing, be sure to check out Bleacher Report's Boxing Central.