If Major League Baseball Started a Football Team...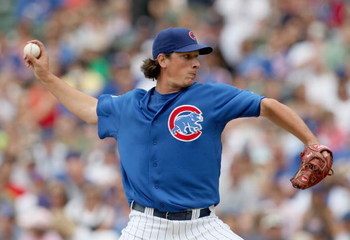 This is what it would look like.
This season, the Chicago Cubs were lucky enough to have the best quarterback-receiver combination in Major League Baseball. It's tough to beat DeRosa to Samardzija.
Being a Cubs fan and having this simple fact brought to my attention with almost every Cubs broadcast, I came up with the idea of creating a football team consisting solely of Major League Baseball players.
Back in September, I actually created a depth chart that went three deep at most positions. Having not yet discovered Bleacher Report, I had no place to post it for the world to see. But now I do.
For the purposes of this slideshow I am using a 3-4 defense and a two wide set on offense.
Quarterback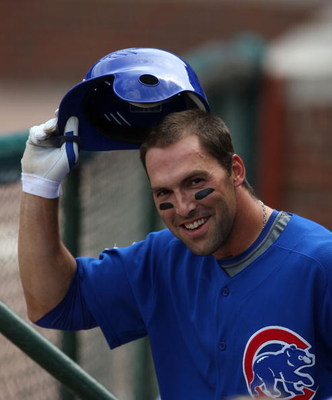 First String: Mark DeRosa
Second String: Joe Mauer
Third String: Todd Helton
Joe Mauer was offered a scholarship to Florida State out of high school to be Chris Weinke's heir apparent. While he was a great quarterback in high school, DeRosa actually started at Penn. Todd Helton gets slotted third for being a backup to three quarterbacks at Tennessee.
Running Back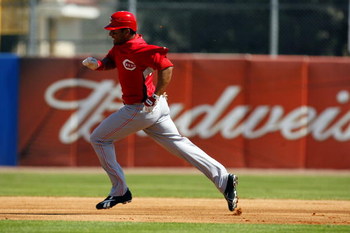 First String: Chris Dickerson
Second String: Lastings Milledge
Third String: Shane Victorino
Dickerson and Milledge are both strong, fast guys. Unfortunately for Lastings, Dickerson is related to former NFL running back Eric Dickerson. Victorino gets the nod for third string as a change of pace guy.
Fullback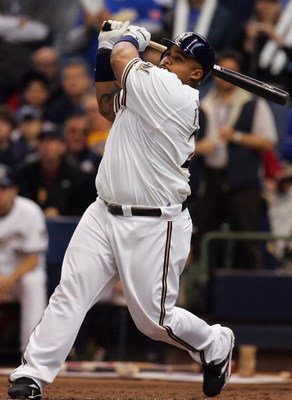 First String: Prince Fielder
Second String: Russell Martin
Third String: Travis Snider
Fielder is a big guy, but he's also very athletic. Good luck finding a running back that wouldn't like to have a 5'11", 270 lb. fullback with some quickness blocking for him. Russell Martin is a versatile option as a backup. I could definitely see him blocking, running, or receiving at any time and never complaining. Snider is a strong kid at 5'11", 230.
Tight End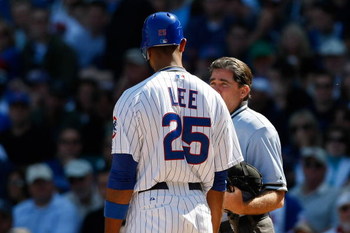 First String: Derrek Lee
Second String: Richie Sexson
Third String: Kameron Loe
Lee is the most athletic of the bunch and has the best hands, so he gets the nod. As for Sexson and Loe, talk about easy targets over the middle. Quarterbacks would have no trouble getting the ball within their reach.
Wide Receiver
First String: Jeff Samardzija, Carl Crawford
Second String: Chris B. Young, Jimmy Rollins
Third String: Scott Podsednik, Michael Bourn
Samardzija needs no explanation. Carl Crawford was offered the chance to be an option quarterback at Nebraska. If he would've gone pro, there is no doubt in my mind that he would have switched to receiver. Young and Rollins both take great routes to the ball, and Podsednik and Bourn are good home run threats.
Offensive Line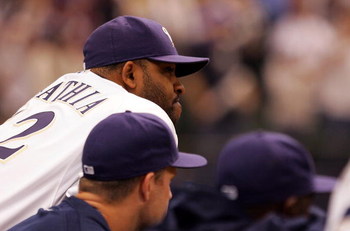 First String: CC Sabathia, Aaron Harang, Bobby Jenks, Jonathan Broxton, Jeff Neimann
Second String: Daniel Cabrera, Brad Penny, Sidney Ponson, Joe Blanton, Chris R. Young
Just look at their heights and weights. The first string is 6'7", 290; 6'7", 275; 6'3", 275; 6'4", 290; 6'9", 280. I'd feel fairly safe behind those guys. And who better than CC to protect your backside?
Defensive Ends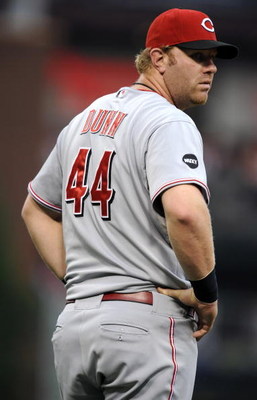 First String: Adam Dunn, Carlos Delgado
Second String: Carlos Zambrano, Seth McClung
Third String: Justin Morneau, Travis Hafner
Dunn and Delgado are big, strong guys that I have no doubt could help against the run. Zambrano has a motor and would be great as a pass rusher. McClung, Morneau, and Hafner are all strong, too. They're just a little undersized.
Nose Tackle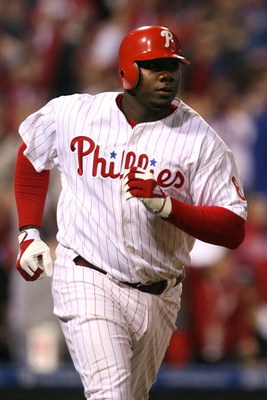 First String: Ryan Howard
Second String: David Ortiz
Third String: Dmitri Young
All three are big guys. Howard gets the nod for his age and the advantage in mobility. Ortiz and Young can fill space with the best of them.
Linebackers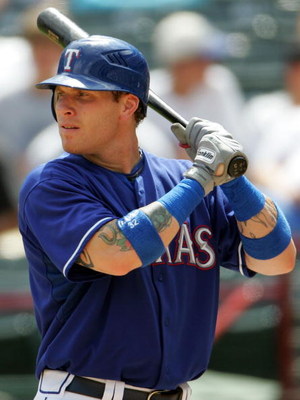 First String: Kyle Farnsworth, Gabe Kapler, Albert Pujols, Josh Hamilton
Second String: Tony Clark, A.J. Burnett, Kevin Gregg, Micah Owings
Third String: Vernon Wells, John Lackey, Todd Coffey, Matt Holliday
Farnsworth has the best tackling form of the bunch (just ask Paul Wilson). Kapler, Pujols, and Hamilton would round out a fearsome bunch of linebackers. Obviously, this is the strength of the team.
Cornerback
First String: Jose Reyes, Fernando Perez
Second String: Joey Gathright, Juan Pierre
Third String: Willie Taveras, Willie Harris
Speed, speed, speed. These guys cover the diamond like no other. I have a feeling they could cover guys on the gridiron, too. Reyes and Perez are the best of the bunch defensively, so they get the starting nods.
Safety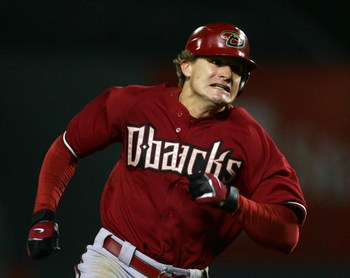 First String: Eric Byrnes, Reed Johnson
Second String: Jeff Francoeur, Cameron Maybin
Third String: Jayson Werth, Adam Jones
All these guys patrol the outfield with the best of them. Byrnes and Johnson play like their heads are on fire, and that's exactly what I want out of my safeties. Francoeur obviously gets rotated in for being the 11th-best safety in his recruiting class out of high school.
Special Teams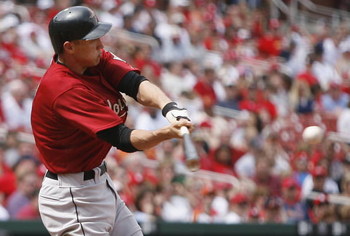 Kicker: Zach Greinke
Punter: Hunter Pence
These picks were made by appearances only. I don't why, but Greinke looks like he could be a kicker and Pence looks like he could be a punter. No offense, guys.
Keep Reading