Manny Pacquiao vs. Juan Manuel Marquez: Evander Holyfield's Pick is a Knockout
November 12, 2011
Ethan Miller/Getty Images
Evander Holyfield, a legendary boxer in his own right, is taking Manny Pacquiao to defeat Juan Manuel Marquez in Saturday night's fight at the MGM Grand—the third battle between the two.
The GMA News Staff reports that Holyfield has "always been a Manny Pacquiao fan." Pac-Man is looking to stay unbeaten against Marquez, who has proved to be one of his toughest competitors.
Marquez pushed both previous rumbles in the ring to 12 rounds, with one ending in a draw and the other in favor of Pacquiao. Pac-Man has been more accustomed to long fights in the past few years, with his last four fights going to the final round.
For this fight, Pacquiao is set to make at least $22 million—even if the fight tanks in pay-per-view. According to the abs-CBNnews.com Staff, Marquez is only guaranteed $5 million in the fight, as Pac-Man is clearly the bigger draw.
Holyfield's pick is far from an unpopular one, as seemingly everyone is in Manny's corner with this fight on the horizon.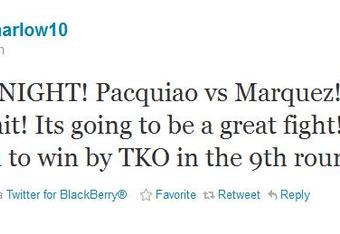 "I like Marquez, but he needs to keep the faith. He (Pacquiao) just needs to be himself (for him to win)."
The third edition of this series of fights is offering yet another weight class .This time, the fighters will compete at the welterweight level, which is around 10 pounds higher than both previous encounters.
Pacquiao is the more versatile fighter and has more experience at the welterweight level. Marquez's only fight at welterweight was against Floyd Mayweather, and he struggled to comfortably reach the weight.
Holyfield isn't saying much by picking Pacquiao, but at least he'll get the satisfaction of being right.