Oregon vs. Stanford: Live Scores, Highlights and Analysis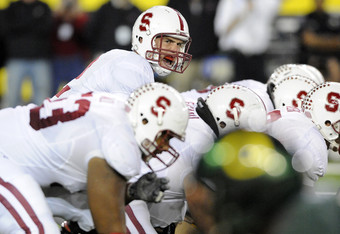 Steve Dykes/Getty Images
Saturday's matchup between the Oregon Ducks and Stanford Cardinal has more in-game implications than any other Pac-12 conference game of the season.
The showdown features two of the most high-profile stars in college football in Cardinal quarterback Andrew Luck and Ducks running back LaMichael James, as well as two of the best offenses in the country.
Oregon, known for their rushing scheme and quick pace, will hope to stop the powerful passing attack of their divisional rival and look to pull off the upset for control of the conference and in their pursuit of a BCS bowl.
This game will prove to be one of the biggest tests of Andrew Luck's college career. The last time he lost was to the Oregon Ducks, following a valiant second half comeback last season, and memories will certainly be on his mind once he takes the field against the Oregon green this weekend.
Regardless of how the game turns out, fans across the country are excited to tune in and watch this weekend edition of ESPN College GameDay, featuring two of the best teams in an exciting matchup.
I'm Bryan Kalbrosky, and I'll be offering you Bleacher Report's prime live coverage of Saturday night's matchup; the best you'll find on the whole interwebs.
Check back an hour before the game as I begin my coverage. Until then, stay classy and enjoy. See you then!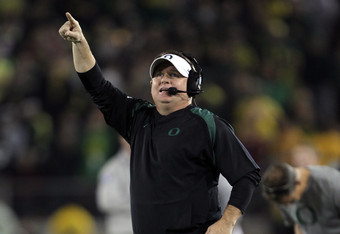 OREGON DUCKS 53, STANFORD CARDINAL 30
Final score, folks. Thanks for tuning in for one of the most impressive Oregon Ducks games in recent memory. Congratulations to the Ducks and Chip Kelly. They earned it tonight.
Clean hit from the Oregon Ducks to force yet another fumble. Oregon is simply outplaying Stanford like it's nobodies business. That's the kind of football that we like to see, Oregon. What do you even say to that? Stanford looked like a deer in the headlights. Does Eugene get to see a Pac-12 Championship in Autzen Stadium?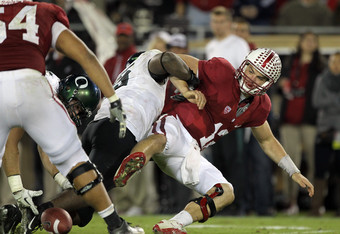 Hey guys. Oregon just forced another fumble. We get to watch more offense, and potentially drop sixty on one of the best defenses in football. The Ducks just made Stanford look silly: four turnovers, 50+ points, and the legitimacy of a true Oregon team. Eugene is happy.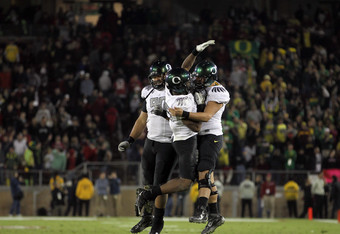 OREGON DUCKS 53, STANFORD CARDINAL 30
Just like that, Oregon is sealing the deal. Following a field goal, a pick-six touchdown from Bo Lokombo, and potentially killing Andrew Luck's Hesiman campaign, the Oregon Ducks are quite literally dominating Stanford. Word on the street is that GameDay might be be coming back to Eugene next week, making two consecutive ESPN College GameDay telecast, and four for the U of O team this year. Look at those Ducks. Just look at them.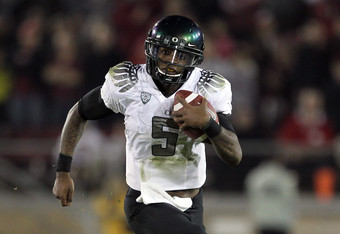 Brilliant run by Darron Thomas. Great read option, way to find the hole, and way to keep the clock running. Personally, I think this is a win big enough to have the Ducks jump Oklahoma in the BCS rankings.
The Oregon philosophy: if you can go fast, you can go slow. We've seen the Ducks go fast, now let's watch them go slow. Barner picks up a nice read, follows a solid block, and continues to eat clock. This is the kind of offense that I like to see.
OREGON DUCKS 43, STANFORD CARDINAL 30
Penalties are the kinds of issues that stop Oregon from winning big games. Whatever. Oregon is still making a statement, with a multiple touchdown lead over Stanford mid-way through the fourth quarter. Keep it up, Oregon. With the ball back, it's pretty obvious that Stanford has hardly been successful in this same so far.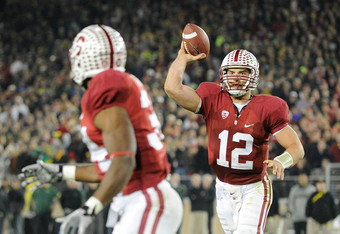 Do we know if the Oregon Ducks defense is still on the field? Stanford is driving pretty quickly here. Secret drives are Oregon killers.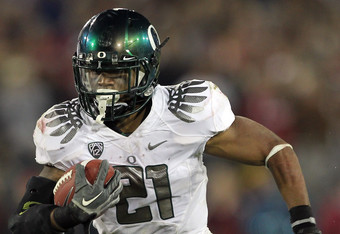 OREGON DUCKS 43, STANFORD CARDINAL 23
If we were in Autzen Stadium, we'd be getting tacos right now about now. The Oregon Ducks are making a statement, and LaMichael James adds one more touchdown to his total. Three touchdowns, 146 yards, and 7.3 YPC. Did someone say an LSU - Oregon rematch? They're playing Stanford better than they played Washington State.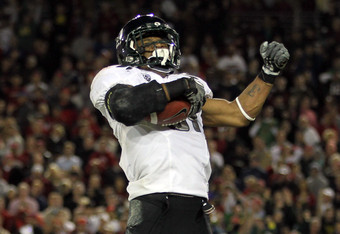 LaMichael James brings the speed twice in a row! Two efficient runs, putting Oregon on the one-yard line. James is reminding us all that this is the offensive masterpiece that it was supposed to be.
OREGON DUCKS 36, STANFORD CARDINAL 23 AT THE END OF THE THIRD QUARTER
Smart runs by Kenjon Barner (following the blockers) and LaMichael James (who looks blissfully hyped). One thing I've legitimately missed from the Oregon Ducks is the hurry-up no huddle offense. I think that type of mentality would legitimately spark them to hold onto this game for the fourth quarter. Oregon is still maintaining an impressive performance in this game and starts the fourth quarter in the redzone.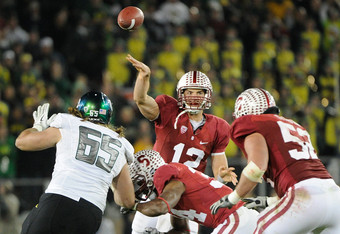 OREGON DUCKS 36, STANFORD CARDINAL 23 , 2:38 3Q
Stanford scores in the exact same way that they had in their last few drives. Nothing spectacular, just efficient football. Stanford has kept the game close. Following another Andrew Luck touchdown on another long drive, the Ducks look to respond with a score of their own. Is it maybe time to start grinding out the clock?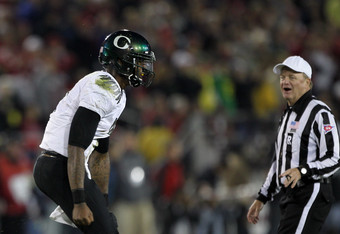 On Twitter, @Duckinthedessert" makes an interesting point, "Darron Thomas has outplayed Andrew Luck two years in a row. Think about that." It's an especially compelling argument. If LaMichael James hadn't gotten hurt, he might have been proving his own Heisman Candidacy tonight.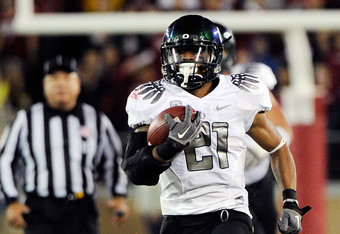 OREGON DUCKS 35, STANFORD CARDINAL 16
The Oregon Ducks! LaMichael James found the hole on fourth-and-two for the second fourth down touchdown of the game for Oregon. Brilliant performance following the fumble, and an extremely strong effort to come back following the overturned touchdown by Paulson.
It legitimately seems like the ball was out, and on the way back it was never secure. Perfect fumble, and this is the exact type of execution the Ducks need. After only one play...his name is David Paulson! Touchdown Oregon Ducks, overturned by the officials. Great throw by Thomas, great effort by Paulson.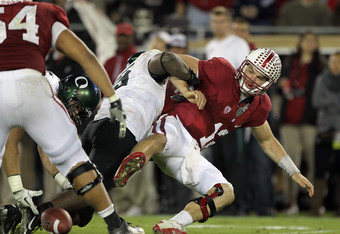 Am I the only one who is currently doubting Andrew Luck? The Oregon defense usually looks subpar, and we're making Luck look mediocre. Following a brilliant sack that forced a fourth down, LaMichael James fumbled the punt return and surrendered the ball right back to Stanford. Fatality, fatality. You simply can't give the team this type of field position in a game that you're trying to force a victory.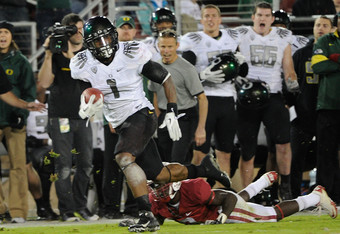 OREGON DUCKS 29, STANFORD CARDINAL 16
Just moments before that play, Oregon fans around me were complaining that Josh Huff was having one of his worst games of his career. But in typical Chip Kelly fashion, the Ducks quickly turned it around and hit Huff for a fantastic run that beat Terrence Brown in open field. Huff outran the entire Stanford secondary for a 58-yard touchdown pass, another long Oregon scoring play. Oregon made another big play, which is the ultimate point of separation between these two teams.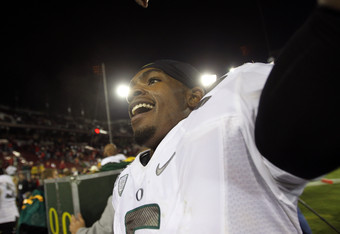 OREGON DUCKS 22, STANFORD CARDINAL 16, HALFTIME
The Oregon Ducks currently hold a lead at the half, but it's been an especially close game and it's open for which ever team comes out stronger in the second half. Darron Thomas has looked inconsistent and shaky, but has been efficient and has not given up a mistake big enough to hold the Ducks back. He has two touchdowns, no interceptions, and only three dropped passes to his name. Andrew Luck has been strong, but relatively contained by the Oregon defense. He is 14-for-22 with 135 yards, two touchdowns and an interceptions. The total yards comparison is Oregon with 184 yards, and Stanford with 246. It's this kind of football that keeps fans coming back for more. Neither team has stood out as the dominant team in the half, and as the second half begins, Saturday Night Football impresses once more.
OREGON DUCKS 22, STANFORD CARDINAL 16
Stanford simply looked good there. 84 yards, 2:28 drive. There was nothing particularly fantastic there, but Stanford was efficient and effective. Good job by Stanford.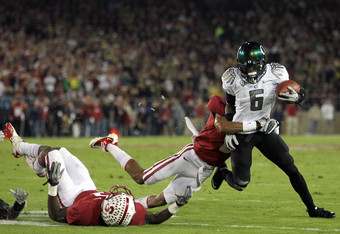 OREGON DUCKS 22, STANFORD CARDINAL 9
As the crowd engages in their second "Big Balls Chip" chant of the game, Darron Thomas finds a wide open De'Anthony Thomas in the screen for a phenomenal sideline run. This is exactly how Thomas is going to find success. Once he gets the ball, he's virtually unstoppable. Thomas was the number one rated athlete in the nation according to Scouts.com and ESPN, and he's proving it time in and time out this season. Earlier in this telecast, ESPN announced that Thomas was nicknamed the "Black Mamba" by his uncle, Snoop Dogg. Question: How do you dislike Oregon when you know those facts? Answer: you don't.
OREGON DUCKS 15, STANFORD CARDINAL 9, 4:53 2Q
Stanford has added a field goal to the score, and makes it a one-possession game. The Oregon Ducks maintain a lead, and now have possession of the ball. Thomas, who had only two completed passes for eight total yards before the last play, needs to show more poise on the field. Meanwhile, LaMichael James shows the crows an impressive run for a first down as the Ducks begin their drive.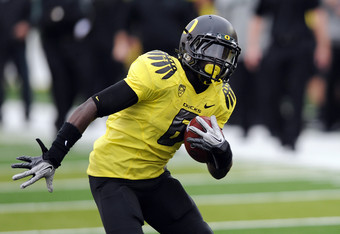 Case study on the exact reasons why I love and why I hate De'Anthony Thomas: that run. Thomas found a beautiful hole and sprinted out got all of us extremely excited for the open field, until he was hit and quickly let go of the ball. This marks another time that he's lost the ball in the crunch of a big game environment. Very frustrating, and absolutely wish he could focus better on ball handling in order to keep us in the big games in the future.
Andrew Luck, my friends, is such an athlete. The pressure was solid, and the rush was consistent. He was, however, able to maneuver his own room and squirm out to avoid the sack. On third and six, Luck overthrew his receiver for another switch of the possession. Luck now is 5-for-11 on the day, and adds a touchdown and an interception to boot.
Guys, I've told you that the Ducks are fast, right? Like, that's something I've made clear in my articles and coverage here for Bleacher Report? LaMichael James, who already has seventy yards on the day with a wholesome 11:00 minutes left in the second quarter, is running like a madman out there and he has an incredible supporting cast of runners behind him. A quick diversion to express just how impressive this team's speed is.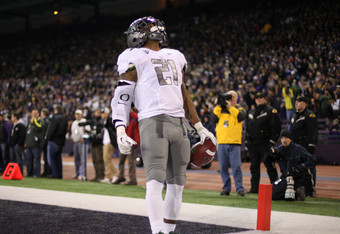 OREGON DUCKS 15, STANFORD 6, 11:49 2Q
That, my friends, is the Oregon Ducks team that I know and love. The game is finally reaching the exact level of excitement that was expected. The moment of cutback hesitation from LaMichael James allowed a beautiful run for the star running back, who is already proving his worth early in the game. Once he broke the first step, his open field made is so that there was quite literally no way for him to get caught. LaMichael James, ladies and gentlemen. Remember the name.
This article is
What is the duplicate article?
Why is this article offensive?
Where is this article plagiarized from?
Why is this article poorly edited?

Oregon Ducks Football: Like this team?