Jerry Sandusky: Guilty Before Proven Innocent?
November 13, 2011
Jeff Swensen/Getty Images
Has Jerry Sandusky been virtually sentenced to prison in the court of public opinion? To be sure, every college football analyst on television has voiced an opinion about the appalling accusations hurled Sandusky's way.
But is virtually convicting a man—deciding he's guilty before he's been given a chance at due process of the law—the American way? While emotions run high, it would be wise for everyone to remember that the United States is still a republic.
For anyone who believes this is a democracy, then please read the U.S. Constitution, Article Four, Section Four. While there is often a blurry and thin line between a republic and a democracy, our Union is certainly supposed to be "one nation under God."
While sexual abuse of children is often alleged of men who are supposed to be caretakers of God's people, i.e., Roman Catholic priests, this rarely happens in college football—especially at supposedly pristine Penn State.
Like the myth of a totally pristine clergy, the PSU being perfect myth has also been wiped off the books for some people, I feel confident in saying. Still, there are some college football coaches who are almost like pagan gods and will continue to wield power over "sheeple."
We, the people, can't afford to keep falling into the trap of blindly following strong leaders and believing everything we're told. That's why the one nation under God part of the Pledge of Allegiance is important.
It's not one nation under gods. There is only one true God, regardless of what name believers ascribe to him. Further, there shouldn't be a pantheon of college football coaches who receive more praise than the Creator of us all.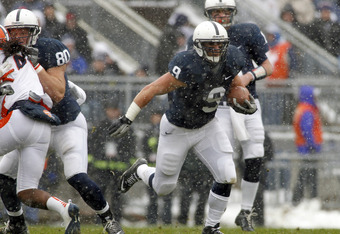 Justin K. Aller/Getty Images
Yes, some students, faculty and officials apparently created an environment where men like Sandusky were worthy to be praised. He was a highly trusted individual for years in State College, Pennsylvania.
And if the allegations against Sandusky are true, and not created, then obviously what's missing in Sandusky's life is a reverence for Almighty God. There is no way a man accused of such disgusting allegations, if true, can claim to be a follower of the Creator.
On the other hand, people who are following this fall-out should remember that for the Republic for which it stands, the Constitution is still supposed to be the law of the land.
The Bill of Rights, the 14th and the Eighth Amendments to the United States Constitution guarantees due process to governments and private citizens. In other words, Sandusky, no matter what you think about him, has the right to a fair trial.
Diametrically opposed to fairness and freedom is tyranny and total control through some forms of "isms"—namely fascism and socialism. Americans shouldn't be convicting anyone before that person has his or her days in court.
We've been through those days and they weren't pretty. That era was called mob-rule and lynching was the order of the day.
In sharp contrast, I'm not defending or lynching the accused, Jerry Sandusky. I wouldn't defend any scum who has been proven to have sexually abused anyone, especially a child.
As a parent with a young daughter, I'm willing to say I understand the feelings of the alleged victims and their families in the Sandusky case as much as anyone. Emotions must, however, give way to clear thinking. You see, if he's guilty, then he'll hopefully be imprisoned for the length of time he deserves.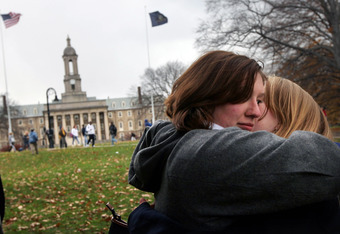 Mario Tama/Getty Images
Even among hardened criminals in the nation's most violent prisons, there is a code of ethics that states child molesters aren't to be tolerated behind bars. "Chesters," as my friends and I once labeled child molesters, are the lowest form of humanity even in prison.
You see, justice is better served through the due process of the law every time. The court of public opinion can easily become the mob of lynching and revolution.
And that is now what America needs. Now, has Sandusky been convicted already in the court of public opinion? I don't know, but if you've already convicted him as an individual, then ask yourself if your process is the American way?
I hope your answer is a resounding "no."
Contact Lake Cruise: Lakecruise@att.net