Miami Heat: Why They Should Return as Favorites Whenever Lockout Is Resolved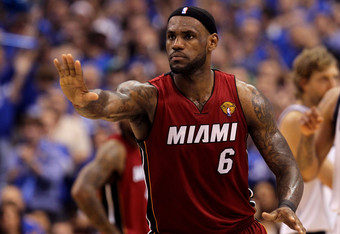 Ronald Martinez/Getty Images
The prospect of not having an NBA season this year is very scary to NBA fans everywhere. As each day passes, it seems less and less likely that an agreement will be reached anytime soon.
However, if there is an NBA season, none other than the Miami Heat should enter the year as favorites. Yes, it's been said, the Heat should be favorites, and this should be pretty obvious to everyone.
When the big three of LeBron James, Chris Bosh, and Dwyane Wade teamed up in the summer of 2010, many NBA fans and analysts across the country started writing in the Heat as champions at that moment. So, naturally, it was somewhat of a shocker to most when they lost to the Mavericks in six games in the 2011 NBA Finals.
However, with that being said, if you take the time to really sit back and take a look at what this team accomplished in just one season together, it really was quite amazing.
Take a look at the Philadelphia Eagles this year in the NFL. All the talent in the world, yet have three wins and five losses.
Talent is necessary, but it takes much more than it to succeed in sports. You need to have a team, and last year the Heat did not always look like a team, instead just a group of players wearing the same uniform. The more they get used to each other, the more the Miami Heat will begin to look and play like a true team.
It is almost scary to think what they can accomplish once they completely gel, considering what they did in just that one year together.
Ronald Martinez/Getty Images
And let's not forget, they still do have the best player in the world on the team. Yes, I am speaking of LeBron James. A few bad moments in the NBA Finals does not take that title away from him.
For those who want to say he cannot come through in the clutch, I would like to personally ask you to try and remember the Eastern Conference Semifinals and Eastern Conference Finals. LeBron was phenomenal in the fourth quarter in these series against the Celtics and Bulls, and single handedly won these two series for the Heat.
The Heat also still have Wade and Bosh, and whether or not you want to consider this Wade's team (I for one, realize it is Lebron's team), there is still no denying that he is one of the great players in the NBA.
As for Bosh, he may receive a lot of criticism, but he did prove time and time again that he deserves to be mentioned up there as one of the elite Power Forwards in the NBA.
Let's not forget about the supporting cast either. Mario Chalmer has plenty of potential, and proved it at times last season. Furthermore, if Mike Miller and Udonis Haslem can stay healthy, as big as an if that may be, the Heat would be nearly unstoppable.
As far as the Eastern Conference goes, what competition do the Heat really have? The Celtics are getting very old, the Bulls are flat out overrated, the Knicks defense can't stop a nosebleed as Bart Scott may say, and the Magic can't win with just Dwight Howard. The Heat really are the only sensible favorites in the Eastern Conference.
Now, this all does seem quite premature, as the chance of having an NBA season this year seems very bleak. However, the Heat should be the favorites going into next year if there is not a season this year, even if more big three's start forming after the summer of 2012's free agency.
No matter when this lockout is resolved, one thing can be assured: The Miami Heat will challenge for an NBA title when basketball finally does resume.
This article is
What is the duplicate article?
Why is this article offensive?
Where is this article plagiarized from?
Why is this article poorly edited?

Miami Heat: Like this team?