UFC on FOX Cain Velasquez vs Junior Dos Santos: Eddie Bravo's Pick and Why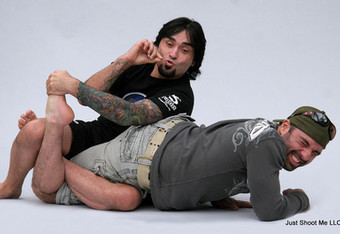 Looking at the matchup for the UFC heavyweight title that is about to take place at UFC Live On FOX, no matter which way a fight fan is leaning when they look across the cage at the opponent they didn't pick they have to get chills down their spine.

No matter how much you favor Cain Velasquez or Junior Dos Santos, both fighters are lethal heavyweights capable of being champions for a long time. So with that in mind, it was no surprise that even legend Eddie Bravo sounded fairly undecided when asked how he saw the matchup playing out this Saturday night.

Bravo held high praise for both combatants but sees one angle which he feels will decide the outcome of the bout. He sat down and spoke with Todd Jackson of Hurtsbad MMA about how this heavyweight tilt might go in his opinion.

Bravo first discussed the champion with Hurtsbad. "If I was Cain Velasquez I would definitely try to take Junior Dos Santos down. Cain Velasquez's stand up is looking really good. I mean super sharp. He just took Noguiera apart. His striking, it looks like he is just a natural striker. He doesn't look like one of those wrestlers who is having a hard time making the transition. He looks really smooth with his striking."

Eddie laughed and stated that was not Cain's only asset in the striking game. "And he has a big old block head, it's going to be hard to hurt him."

Even though Bravo sees the champ Velasquez as a dangerous striker, he clearly sees the threat that Dos Santos brings to the table in that particular department. The challenger "Cigano" has more than proved that he is one of if not the best heavyweight strikers in the sport.

Bravo elaborated on the game plan he feels Velasquez should employ on fight night. "Junior Dos Santos has extremely heavy hands, and I don't think it is a good idea for Cain to work on his stand up with Dos Santos. I think he should take him down, and he can take him down. I think Cain can take down anybody in the heavyweight division except for maybe Brock."

So where Cain has the clear advantage, Bravo feels that should be his path to making his first title defense. Save for Lesnar, Bravo feels anyone else goes down when Cain says they go down. And that is simple math to the 10th Planet Jiu Jitsu master.

Bravo said, "I think Cain could take him right down. Why take a chance, take him down? I don't think Junior Dos Santos has a highly offensive guard. We have never really seen it, I'm going to say he doesn't, but he could. I think the best spot for Cain is ground and pound."

Eddie Bravo shared his final clear cut analysis with Hurtsbad MMA. "Basically, Junior Dos Santos has got to keep it up, Cain has got to get it down. If I had to put my money on the match, I would go with Cain Velasquez. It's hard to bet against superior wrestling, and superior cardio. Especially when they guy has a big old head like that."

Again with the expert analysis of Cain's melon from the wild man Eddie Bravo.

In the end, just like the rest of us though, Bravo shrugs his shoulders when looking at these heavyweights and simply told Todd Jackson, "But who the hell knows?"
This article originally featured at Hurtsbad MMA. To hear this interview in its entirety visit The Truth Hurts Radio Show. Follow us on Twitter @hurtsbadmma.
This article is
What is the duplicate article?
Why is this article offensive?
Where is this article plagiarized from?
Why is this article poorly edited?