Auburn vs. Georgia: Live Scores, Highlights and Analysis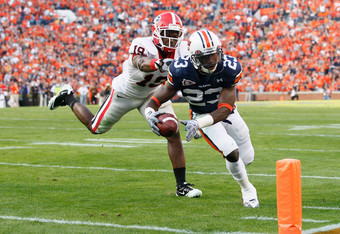 Kevin C. Cox/Getty Images
LIVE SCORE TRACKING: Auburn 7 Georgia 45 Final
In 1892, in a place known as Piedmont Park in Atlanta, Auburn and Georgia played the very first game in a rivalry now known as "the deep south's oldest rivalry."
The Tigers and Bulldogs have played each other 114 times over the years.
With seemingly every game being a hard-fought, close battle, the series record is virtually a tie; Auburn leads Georgia just 54-52-8 over the life of the football rivalry.
Expect another close battle Saturday, as both teams are ranked in the top 25 and have the talent to execute on both sides of the ball.
Georgia is fighting to stay atop the SEC Eastern Division and earn a trip to the SEC championship game, while Auburn is working to improve their bowl position (which could be as high as the Cotton Bowl with a win this weekend).
It was a chippy game in the last encounter, with Auburn beating Georgia on the Tigers' way to a BCS National Championship.
Look for focused play and revenge to be on the mind of the Bulldogs, and for the Tigers to try and silent the crowd and emotions early.
It should be a another great game between the Tigers and Dawgs.
Follow all of the action, story lines, scores and stats right here with me, as I provide live updates throughout pregame, during the game, and post game.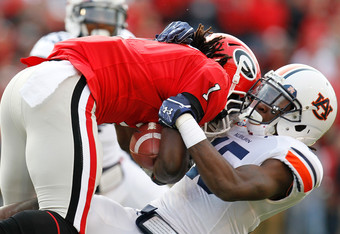 Georgia 45 Auburn 7
Georgia offensive yards: 528 yards
Auburn offensive yards: 195
Auburn 3 turnovers.
Georgia 2 turnovers.
The success for Georgia on offense doesn't surprise me. Aaron Murray is a solid quarterback and the receivers have gotten better each week. Add to that the emergence of star freshman running back Isaiah Crowell and you have a dangerous offense.
What surprised me was the lack of offense for Auburn. The Georgia defense has been solid, but didn't expect Gus Malzahn's offense to look as lost and disjointed as it did today.
Georgia is most likely moving on to the SEC Championship game and Auburn will most likely end up in the Chic-fil-a Bowl.
The Auburn defense was a no-show for this rivalry matchup, as the Georgia offense racked up 527 yards.
Freshman back Isaiah Crowell and the Georgia run game dominated the game and ended with an impressive 303 rushing yards.
Bulldog quarterback Aaron Murray was also effective and had just 4 incompletions in the game, while passing for four touchdowns and no interceptions.
This wasn't a game past the first quarter.
The game has come to an end and the Georgia Bulldogs have completed a blow-out of the Auburn Tigers.
With a final score of 45-7, the Dawgs have all-but clinched the SEC East Division championship.
Georgia scores again.
Isaiah Crowell ran for a nine yard touchdown.
This is ugly for Auburn and very impressive for Georgia.
Auburn has now turned to freshman QB Kiehl Frazier.
Auburn starting defensive back T'Sharvin Bell has left the game on crutches.
That is a painful injury for an already porous Tiger secondary.
Michael Dyer has fumbled for Auburn and given the ball back to Georgia.
This is a worst case scenario game for Auburn.
Georgia is flying to the ball on defense and making big plays on both sides of the ball.
The question looms...
Can Georgia give LSU a game in Atlanta?
I think maybe so?
Auburn held Georgia to a field goal on Georgia's first drive of the second half.
A holding call on Georgia stalled a drive that had gone inside the Auburn ten yard line.
The Bulldogs now lead 38-7.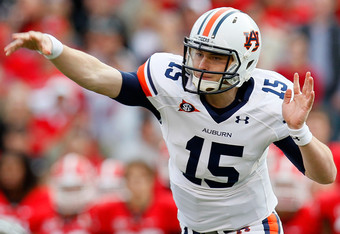 Auburn opens the 2nd half with a three and out, still looking inept on offense.
You have to wonder how long they can stay with Clint Moseley at quarterback.
Moseley is just 8 of 17 for 99 yards, no touchdowns and an interception so far in this game.
Not much is going right for Auburn and Georgia seems to be firing on all cylinders.
At the half Georgia has 325 offensive yards.
Auburn has just 89.
It has been a lopsided affair as we head into the second half.
Georgia has 17 first down and Auburn has just 5.
Aaron Murray is having a monster day.
The star sophomore QB is 13 for 16 for over 200 yards passing, for 4 touchdowns and no interceptions.
That is in less than two quarters.
The Georgia offense, and prolific quarterback Aaron Murray, keep rolling, as they go up 35-7 on Auburn with another passing TD.
Aaron Murray conected with Tavarres King again for six.
Auburn is being emberassed in the secondary.
The seat is getting very hot for Auburn defensive coordinator Ted Roof. This is a very poor showing from the Tiger defensive unit.
Bacarri Rambo now has eight interceptions on the season, as he picks off an Auburn pass and takes it 17 yards for a touchdown.
The Auburn offense looks lost and timid the last few drives and the Georgia defense is fired up and swarming to the ball.
Georgia 28 Auburn 7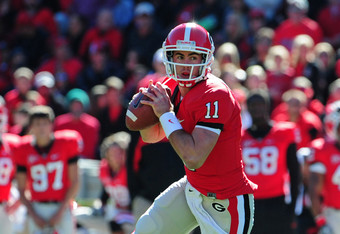 Georgia took advantage of the Auburn fumble and drives the ball down the field with ease and goes up 21-7.
The Auburn defense is failing to get any pressure on Georgia quarterback Aaron Murray and he is making them pay.
The Tigers are trying to send pressure, but they are not getting into the backfield and it is leaving Bulldog receivers open down the field.
Turnover again, as Auburn runs another option-type offensive set and couldn't handle the pitch.
Onterio McCalleb bobbled the ball and Georgia recovered the fumble at the Auburn 40.
The Auburn defense steps up and recovers a fumble for the Tigers.
Georgia running back Isaiah Crowell dropped the ball on the ground and Auburn defender Eltoro Freeman jumped on it.
Freeman is having a big game and is all over the field making plays.
Auburn ends up punting and giving the ball back to Georgia.
Confusing offense by the Tigers. Michael Dyer has just two rushes, for -1 yards, and Auburn keeps running strange formations.
It's still early, but Georgia has the opportunity to pull away with this drive.
Georgia star defender Brandon Boykin left the game with an aparent leg injury. Will keep you updated on his status.
Auburn faces a key third down and 8 at their own 43 yard line, after this timeout.
And the offensive onslaught continues, as Aaron Murray just threw a 27 yard pass for a touchdown to Michael Bennett.
The Auburn defensive backs are getting destroyed by the big arm of Murray and the Georgia wide outs.
Auburn defensive coordinator Ted Roof will need to make some adjustments or Georgia may put up over 45 points.
Murray is showing why he is one of the top young quarterbacks in college football with his accurate passes so far in this game.
Auburn will look to respond again and keep this track meet going.
Auburn has answered with an impressive drive keyed by a45 yard pass connection between quarterback Clint Moseley and star receiver Emory Blake.
The touchdown play was on 3rd and goal from the four and was a wide receiver pass from C.J. Uzomah to tight end Phillip Lutzenkirchen.
It is now tied 7-7 with just over six minutes left in the first quarter.
Looks like we will have an offensive battle in this one.
Georgia had the ball first and drove the ball down the field on the strength of a big pass on third and 15 from mid-field.
Aaron Murray connected with with wide out Tavarre King for an eight yard touchdown.
Almost seven minutes is already off the clock and the Bulldogs lead 7-0.
The Auburn defense is flying around and looks to be winning the battle at the line of scrimmage, but are having trouble covering the Georgia receivers early on.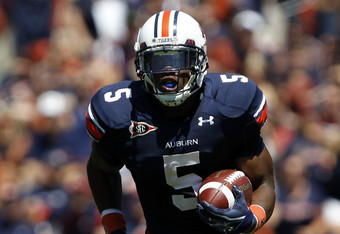 With just 45 minutes until game time, lets look at a few tidbits to get us warmed up:
Georgia's place kicker Blair Walsh is just 13 of 23 on field goals this season. If this one is as close as some Auburn versus Georgia battles have been in the past, Wlash's struggles could come into play big time.
Georgia safety Bacarri Rambo is 2nd in the nation in interceptions, with six already on the season, and he will be looking to pick off some of inexperienced Auburn quarterback Clint Moseley's passes this afternoon.
Star Tiger running back Michael Dyer needs just 11 yards to surpass 1,000 rushing yards for the season. Look for Dyer to be a big piece of the Auburn offense today.
The pressure continues to build for Georgia for today's game, as South Carolina now leads Florida 14-3 at the half.
A Gamecocks win would mean that Georgia must beat Auburn or South Carolina will make the trip to Atlanta as the SEC East Champions.
Stay tuned as the Bulldogs versus Tigers kicks-off in less than two hours.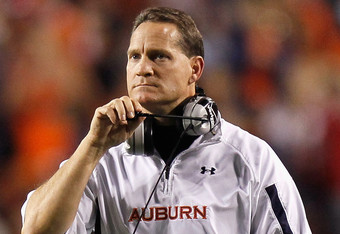 The night before kick-off most of the chatter around the web is about how chippy last season's game was and how Georgia is angry and wants revenge.
However, Georgia coaches are talking that down to their team tonight and letting them know that execution and focus will win tomorrow's game, not playground football hype.
Auburn coaches are also busy warning their players about how penalties kill offensive drives and fuel the oppositions momentum.
Look for both teams to be fired up tomorrow and for the intensity to be high.
However, also look for both head coaches to have dictated that their teams play smart and inside the rules.
The story tonight is late hits and sportsmanship.
The story at 3:30 eastern time tomorrow will be about rushing yards, turnovers and points.
Should be an awesome atmosphere and a great game.
Check back here tomorrow for all the live updates in this big match-up.
This article is
What is the duplicate article?
Why is this article offensive?
Where is this article plagiarized from?
Why is this article poorly edited?

Auburn Football: Like this team?