Penn State vs. Nebraska: Nebraska Will Come out on Top (Big Ten Week 11)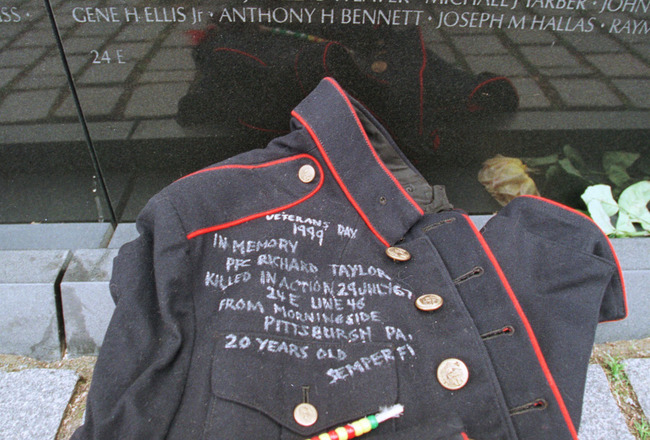 A Marine uniform nestled in front of the Vietnam Memorial in Washington, D.C.
Mark Wilson/Getty Images
I will let my journalistic peers concentrate on the scandal at Pennsylvania State University. This weekend I dedicate this article to the men and women who have served our nation in the past or present as members of the military.
Week 11 of the college schedule has lost some of its luster but none of its intrigue as the No. 19 Nebraska Cornhuskers travel to University Park to face the No. 12 Penn State Nittany Lions in the Big Ten College Football Game of the Week (GOW).
We also have two critical division games and eight teams playing football that are technically in the running for a division crown and a berth to the Big Ten championship game in Indianapolis. So on this Veteran's Day weekend, let's look at:
the Big Ten GOW
the Big Ten Player to Watch
the Chiller game
Snoozers (or at least I think they will be one-sided games)
the "What's Left?" games on the Big Ten schedule
Indiana has the week off.
Big Ten GOW: Nebraska Beats Penn State to Tie for Legends Division Lead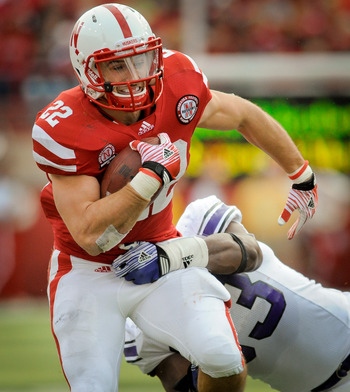 Eric Francis/Getty Images
Anyone in the military loves a guy like Nebraska running back Rex Burkhead. He's a "grunt," which means he fights for every yard he gains and scores an "A+" in determination.
Like they did two weeks ago against Michigan State, the Cornhuskers face a highly-ranked defense. Penn State is the third-ranked scoring defense in the nation and it was their defense that carried them to victories earlier in the season when the Nittany Lions offense was malfunctioning.
Nebraska will lean on Burkhead (pictured), who is 49 yards short of 1,000 for the year, and quarterback Taylor Martinez. The key statistic is 250 yards. If Nebraska can rush for over 250 yards, they will win the game.
Penn State is a team in flux. Their legendary coach, Joe Paterno, was fired this week. Their interim head coach Tom Bradley has to prepare the Nittany Lions for a Cornhusker team that is tied for the Legends Division lead with Iowa and Michigan State.
One thing hasn't changed: Penn State controls their Big Ten destiny in 2011. They are the only undefeated team in conference play. They can lose tomorrow and still win the Leaders Division and play for the Big Ten title. They just have to beat Ohio State and Wisconsin on the road in their last two regular season games.
Penn State's equivalent to Rex Burkhead is running back Silas Redd. Redd has five consecutive games with over 100 yards rushing and 1,006 yards for the season to make him the No. 3 rusher in the Big Ten. (Burkhead is No. 4 in the conference.)
The Nittany Lions' hopes may rest upon the shoulders of quarterback Matt McGloin. His offensive line has given up only 11 sacks and need to give him enough time to hand the ball to Redd and pass the ball to wide receiver Derek Moye. Moye is No. 5 in the Big Ten with an average of 73.4 yards receiving per game.
I like the Nebraska defense if they're playing like they did in the win over MSU to shut down the Penn State offense. The win will give the Cornhuskers a tie for first place in the Legends Division with the Michigan State-Iowa winner.
Nebraska 24, Penn State 17
Chillers: Michigan Wins Two! Spartans over Iowa and Wolverines Beat Illinois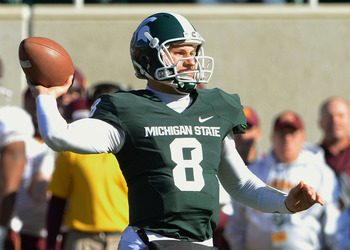 Mark A. Cunningham/Getty Images
In the military, leaders lead, and that is the responsibility placed on Michigan State quarterback Kirk Cousins. If he engineers an effective offensive attack against division rival Iowa on Saturday, the Spartans win and remain on top of the Legends Division.
The numbers don't favor Michigan State. They have lost nine of the last 13 and four of the last five against Iowa. Last season the undefeated Spartans marched into Iowa's Kinnick Stadium with an undefeated record and left as victims of a 37-6 loss.
Cousins (pictured) is one of the team captains and I am sure he and Spartan head coach Mark Dantonio have reminded the players of what happened last year. It is going to be what I call a "barn burner" and may require overtime.
Michigan State 24, Iowa 23.
Michigan valiantly battled the Iowa Hawkeyes to a climactic end in their 24-16 loss last weekend. Tomorrow they win their first major road game against Illinois..
Michigan's offense remains impressive. They are No. 3 in the Big Ten in scoring, rushing and total yards. Wolverine quarterback Denard Robinson needs 68 yards rushing to break the 3,000-yard barrier in his career.
The Wolverines' chances may rest on protecting Robinson and the Michigan offensive backfield. Illinois defensive end Whitney Mercilus leads the nation with 11.5 sacks.
The Fighting Illini offense has been very effective against the Wolverines in the last three meetings, but I don't see them posting 50 points against Michigan this year. The team from Ann Arbor needs a win to stay a game behind the leaders in the Legends Division.
Michigan 41, Illinois 36.
Big Ten Player to Watch: Penn State Quarterback Matt McGloin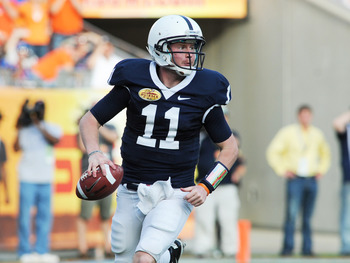 Al Messerschmidt/Getty Images
For once the controversy is not whether Matt McGloin should start at quarterback for the Nittany Lions. The question is: In the midst of the scandal at Penn State, is he prepared to play against Nebraska in this crucial Big Ten showdown tomorrow?
McGloin's patience shows in that he has waited for his turn to start and has rewarded Penn State with steady leadership on offense. He and Wisconsin's Russell Wilson are tied with the fewest number of interceptions (3).
Despite his limited playing time earlier in the season, the junior quarterback has thrown for 1,193 yards and tossed seven touchdown passes. If he leads by example and helps his teammates control their emotions against Nebraska, McGloin and Penn State will be undefeated in conference play when they face Ohio State in a crucial division game on November 19th.
Snoozer: Northwestern Thumps Rice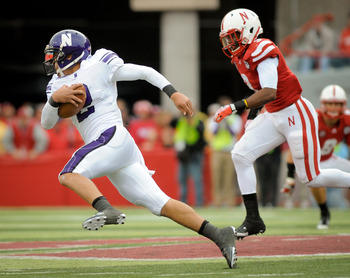 Eric Francis/Getty Images
My accuracy in predicting Big Ten games slipped below 80 percent, thanks to Northwestern quarterback Kain Colter.
Colter (pictured) was selected as Big Ten Offensive Player of the Week last weekend for his outstanding work in the 28-25 upset win over Nebraska. He either ran or caught passes for 57 yards and passed for 115 yards.
His biggest play was an 81-yard touchdown pass to wide receiver Jeremy Ebert in the fourth quarter.
Northwestern quarterback Dan Persa will probably start against Rice and Colter will return to his duties as the multitasking offensive starter who can run, catch and pass the football.
Look for a rout at home against the 3-6 Rice Owls.
Northwestern 42, Rice 21.
What's Left? Buckeyes Beat Boilermamkers and Badgers Ground Golden Gophers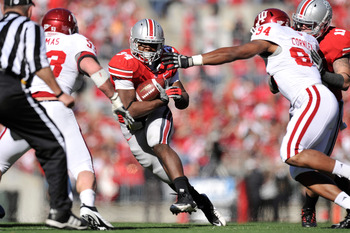 Jamie Sabau/Getty Images
After seeing Minnesota push Michigan State to the limit in East Lansing, it seems evident that none of the remaining Big Ten games are trivial.
Ohio State travels to Purdue for an important Leaders Division confrontation. The Buckeyes are undefeated in the division and need a win to either move ahead or keep pace with Penn State.
Purdue can play "spoilermaker" by beating Ohio State, and they have history on their side. The Boilermakers are 3-2 in the last five games played at Rose-Ade Stadium. Two years ago, they beat the seventh-ranked Buckeyes, 26-18.
Ohio State will win this time. Running back Carlos Hyde (pictured) will have his second straight game with over 100 yards rushing and join teammates Daniel Herron and Braxton Miller in dismantling Purdue's defense.
Ohio State 35, Purdue 17
Wisconsin needs to run the table for a shot at the Leaders Division title and a trip to the Big Ten title game.
"Run" is the critical word and the Badgers will do what Michigan State failed to do. Wisconsin will lean on running backs Montee Ball and James White to control the game and shred the Golden Gophers' defense.
The No. 18 Wisconsin Badgers will pull away with a win over Minnesota.
Wisconsin 42, Minnesota 20
Keep Reading

Nebraska Huskers Football: Like this team?