Predicting the Next Erin Andrews
Jonathan Daniel/Getty Images
Listen, it's not like anyone is tired of Erin Andrews or anything—nobody combines intelligence about the game and professionalism during interviews with stunning beauty quite like Andrews does.
But variety is the spice of life and you can never have enough of a good thing, or whatever other cliches it will take to convince you that more sideline reporters like Erin Andrews in the sporting world are a very, very good thing.
But who is up to the task? And more importantly, who are some under-the-radar prospects we really should get to see more of?
That's why I'm here, people. Let's go find the next Erin Andrews, shall we?
Ashley Russell
Frankly guys, I'm not sure if Ashley Russell has a sports-related gig right now. Last we heard from her, she was hosting the Yahoo! Sports Minute, but that role is currently filled by Angela Sun. Here's what else she has done, courtesy of her website:
She has appeared on the magazine covers of New You, Lexington Life, At Home Tennessee, and she has been featured in Nashville Lifestyles, Premiere Bride, Men's Fitness, Southern Living, and The Rivals.com recruiting yearbook. Ashley has appeared on E! Entertainment, TLC, CMT, MTV, The TV Guide Network, The Big Ten Network, and The Shop At Home Network. She has also starred in numerous music videos, ad campaigns, and commercials. Ashley is currently the face of Pur Minerals Make-up found in all Dillard's and Ulta stores nation wide.
We need you on a sideline, Ashley!
Nicole Briscoe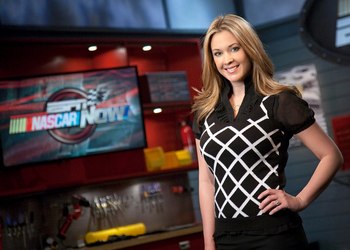 We turn to Twitter to provide you with a brief summary of Mrs. Briscoe:
My life in a nutshell; racing. It's my job, and my husband's too. Host of Nascar Countdown. Love my furry babies :-) I'm a very lucky girl!
Her husband is IndyCar driver Ryan Briscoe. I'm assuming her furry babies are some sort of pet she has, unless she regularly births little Ewok children.
I'm not here to judge.
Mayanti Langer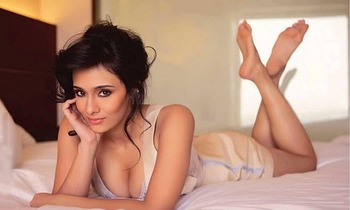 Mayanti Langer has worked for ESPN—as a host for the network's 2010 World Cup and 2010 Commonwealth Games—and as a host for the show Football Cafe on Zee Sports in India.
I think we'd all like to see her try her hand at America's football, no?
Angela Sun
You guys, Yahoo! is cruel—they only give us Angela Sun for one minute everyday on the Yahoo! Sports Minute.
To put that into perspective, I would have to watch 23 days of Yahoo! Sports Minute just to get the equivalent amount of Sun as I would get of Kim Kardashian in one episode of Keeping Up with the Kardashians.
And that just doesn't seem right.
Claire Coffee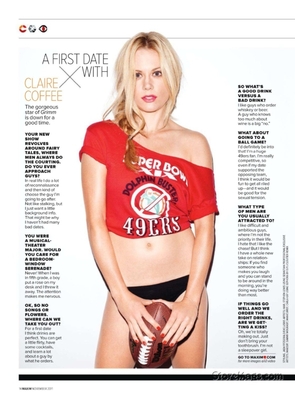 Coffee appears on the television shows Grimm and Franklin and Bash. But more importantly to us, she's a big-time football fan.
She talked to one Claire Coffee about her love of the 49ers here and Northwestern here.
And if you've ever checked out her blog on HelloGiggles, you know that she would be a perfect addition to any football broadcast. Not only could she break down a trick play for you, but she could tell you how it was comparable to some idiotic pick-up move you've attempted.
I knew a guy who would go around and ask girls if they wanted to dance, and if they said no he would slyly answer, "No problem—I had to take a crap anyway." Sadly, I think this method would best be compared to taking a knee in the 4th quarter despite trailing in the game.
Carrie Milbank
Who is Carrie Milbank? Perhaps her Twitter bio will tell us:
I'm not wearing underwear and my socks don't match.
I'm not sure if that answers who she is, but I'm intrigued. What does Facebook say?
Sports & Entertainment Broadcaster, Reporter, Producer, Writer, Blogger, NFL Cheerleader, I'm not wearing underwear and my socks don't match.
Okay, so we're really driving home the no-underwear, non-matching-socks theme here. And frankly, that's all I need to know. But since we are going for the whole next Erin Andrews thing here, it might be useful to point out that she was a correspondent for FOX's NFL Under the Helmet, a host on the NHL Network's The Hockey Show and regularly appeared on FOX Business Network's America's Nightly Scoreboard
.
Jaime Maggio
First, an introduction:
Jaime Maggio joined the CBS 2/KCAL 9 team in May of 2010. She co-anchors "Sports Central" with Gary Miller on KCAL 9 and contributes to "LTV" and "Think Blue TV".

Maggio has served as a reporter for NFL on FOX, NCAA Basketball Tournament on CBS Sports / Turner Sports, and the NBA Playoffs on TNT. Previously, Maggio was courtside reporter for the Philadelphia 76ers, which earned her a 2010 Mid-Atlantic Emmy Award. She also hosted the 76ers weekly magazine show, Sixers Season Pass, on Comcast SportsNet Philadelphia.
She certainly has the credentials (in all manner of speaking) to reach Erin Andrews fame. It's only a matter of time.
Kristen Berset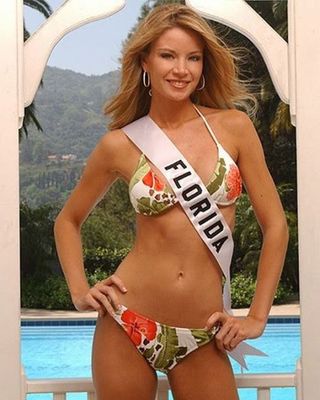 Here's some info on Berset:
Kristen Berset is the Weekend Sports Anchor/Reporter for WUSA 9 and also hosts Sunday Sports Plus. She comes to the DC area all the way from WBFF in Baltimore, Md., where she was the Weekend Sports Anchor and part of the team that won the Chesapeake Bay Region AP award for Best Year Round Sports Coverage.
She was the Miss Florida 2004 champion, so we know she can perform on the big stage. And just in case you are looking for an Erin Andrews connection, they are both Florida Gators.
Alyssa Milano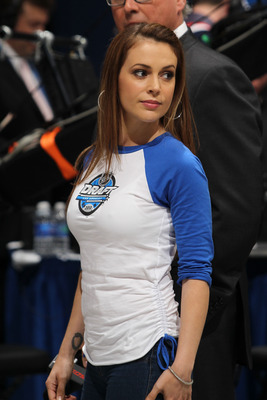 Bruce Bennett/Getty Images
Why not?
We know she is a huge sports nut, so why not take that passion and make it a career?
I need to speak to her agent about this golden idea.
Michelle Beisner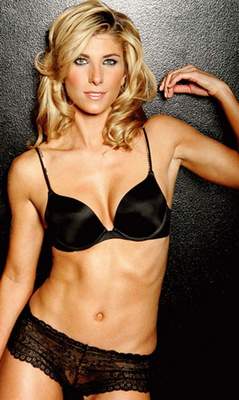 The lovely Beisner is a host and reporter for the NFL Network, appearing on various programs. She really has the Erin Andrews look down: Hot and blonde.
Yes, a detailed description, I know.
But the similarities don't end there. Beisner was once a cheerleader for the Denver Broncos, much as Erin Andrews was once on the Florida Dazzlers, the school's dance team.
So yeah, these two are practically the same person.
Lindsay Czarniak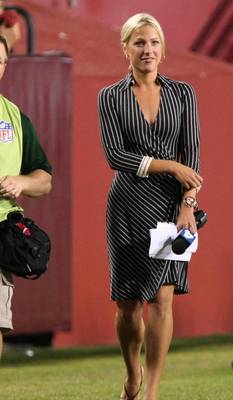 Leeann Tweeden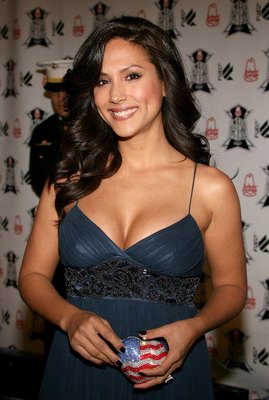 Frederick M. Brown/Getty Images
Would you guess that Tweeden is 38? No, I wouldn't either.
And luckily for you, you will soon be getting a very revealing look at Tweeden. From ESPN:
"I think I look better now than when I was 21," said Tweeden, who hosts NBC's "Poker After Dark" and formerly was a correspondent on Fox Sports' "The Best Damn Sports Show Period."

And that's the main reason Tweeden decided to pose for Playboy in December's issue, which hits newstands on Friday.

"I did this for myself and not anyone else," said Tweeden, who had been in negotiations with Playboy for a year on whether to do the shoot. "My husband and I had long talks before doing it. I'm not hurting anyone. If people don't like it, they don't have to look."
Oh, they'll be looking. And liking, I'd imagine.
Elisha Cuthbert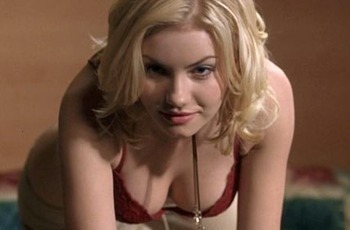 Did you know that Cuthbert once had a hockey blog for NHL.com? And she is with NHL player Dion Phaneuf.
So what if Erin Andrews hasn't really done the hockey thing? Cuthbert could totally rock out as an ice level reporter, which would be a little easier on the eyes than watching Pierre McGuire perform the role.
Lyndsay Petruny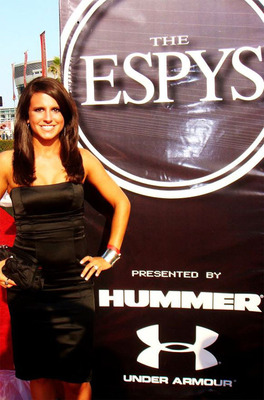 First of all, who is Lyndsay Petruny? Here's what her website has to say:
Lyndsay Petruny is a sports anchor, producer, show host, and sideline reporter. Since June 2010, she's worked for Kraft Sports Productions, the in-house production company for the New England Patriots.

Lyndsay contributes to a variety of Kraft Sports Productions' shows. She is a reporter and producer for Patriots Today, a daily web show on the team's official website, Patriots.com.
Plus, let's list off all of the things she has in common with Erin Andrews: They both have attended the ESPYs.
They're practically the same person!
Laura Lane
So who is Laura Lane? And does she have any relation to Lois? What say you, Twitter bio?
Entertainment editor. ESPN Page 2 writer. Esquire.com interviewer. NYC girl from the OC. Journalist. TV host. Traveler. Sports fan. Poker aficionado. Curious.
We're curious too, Laura—curious why we don't get to see you covering more sports events. We need more Laura Lane, am I right guys?
Molly Sullivan
Places you might possibly see Sullivan: On the sidelines or in the studio for the MountainWest Sports Network, Comcast SportsNet Bay Area for NBA coverage, and if you are into Big 10 swimming (I know, you aren't), she is the Big Ten Network's swimming color analyst.
Places we want to see Sullivan: On the sidelines of major ESPN events. Given that she is already a seasoned college football sideline reporter, it isn't unrealistic to envision her as the next Erin Andrews.
Amanda Pflugrad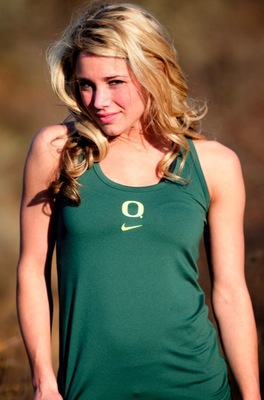 First of all, I link because I care. That's right, an entire gallery of Amanda Pflugrad photos.
You're welcome.
And yes, the cheerleader who burst onto the scene (and promptly off of it) because of some bikini photos now works for Fox Sports Arizona.
Meaning it might not be long before Pflugrad is prowling the sidelines much like Erin Andrews does now. That and causing Lou Holtz fits if he has to pronounce her name.
Kate Upton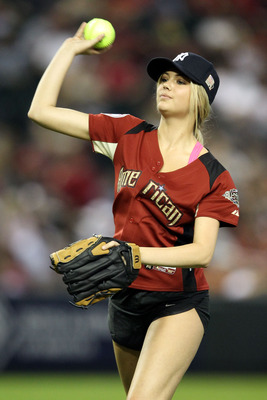 Christian Petersen/Getty Images
Georgie Thompson
So if you take Erin Andrews' beauty and professionalism and add a sexy British accent, you'll end up with Georgie Thompson.
Sure, it's a different football over here in America, but I'm positive she could learn the game quickly if she isn't familiar already.
Come to America for me, Georgie.
Adriana Monsalve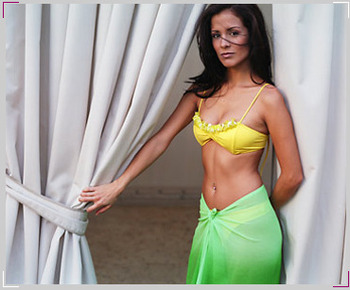 Monsalve is a co-host on ESPN Deportes' Nacion ESPN alongside David Faitelson, meaning she is the Spanish-speaking equivalent of Michelle Beadle.
And every so often, she makes an appearance on the English-speaking version of Sportsnation, thus making it my favorite segment of the week.
Well, other than all of the Beadle segments where Colin Cowherd's input is limited, that is.
Keep Reading