Chicago Blackhawks: Corey Crawford Was Robbed on All-Star Ballot
November 11, 2011
Dilip Vishwanat/Getty Images
The NHL released their All-Star ballot for the 2012 game which will take place in Ottawa on January 29.
The Blackhawks are pretty well represented with six members of the team on the ballot. Last season's All-Star Patrick Sharp is joined by fellow forwards Patrick Kane, Marian Hossa and Jonathan Toews as well as defensemen Duncan Keith and Brent Seabrook.
Their six nominees ties the Hawks with the Penguins and Ducks with the most in the league.
However one name which wasn't included was that of goalie Corey Crawford. There are 18 goalies on the ballot with eight coming from the Western Conference.
Crawford is coming off an impressive rookie season where he won 33 games and allowed only  2.3 goals per game. So far this season he has proven that is not a fluke having won seven starts and allowing 2.7 goals per game which is a bit inflated due to him allowing nine goals in his last two starts.
I don't have a real problem with many of the goalies listed on the ballot but one name does stand out. How is Jaroslav Halak on this ballot?
Halak isn't even the best goalie on the Blues currently. Brian Elliott is 5-1-0 with only 1.72 goals allowed while Halak is struggling at 2-6-1 with a 2.78 goals allowed average. Before his most recent two starts Halak's goals average was around 3.50 but only allowing two goals in his last two games lowered his average.
Crawford's seven victories are currently good enough for fourth in the league while he has allowed fewer goals then many other goalies who are on the ballot. His 33 goals allowed are less then Jonas Hiller while tied with Cam Ward, Casey Price and Ilya Bryzgalov. He has faced the sixth most shots in the league so far while also saving the sixth most.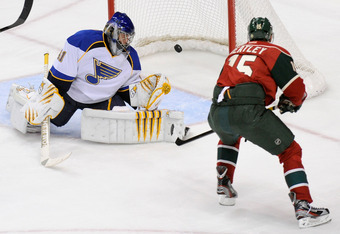 Hannah Foslien/Getty Images
Also let's throw in the Hawks are in first place in their division and one of the top teams in the conference while Halak, Hiller and Miikka Kiprusof are on three of the worst teams in the conference.
Some may say I just want as many Hawks on the ballot as possible but that isn't true. There is a case to be made against both Duncan Keith and Brent Seabrook from making the ballot but that isn't the point.
Crawford was over looked last season when it came to the Calder Trophy and again he is being overlooked when it comes to the All-Star ballot.
Thankfully the NHL accepts write-ins and for those who don't think that can work remember Patrick Sharp made the team last year as a write-in and ended up winning the MVP for the game.
I'm not sure if Crawford deserves to make the team but he most definitely deserves the nomination and hopefully the Hawks faithful will show that with their votes.