What the NASCAR Drivers Really Meant to Say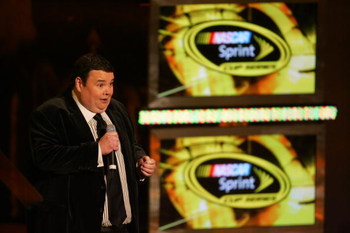 The 2008 NASCAR Sprint Cup Season is over and that leaves us with plenty of time this offseason.
We can look back at the standings, paint schemes, and so forth. We can think back on all the crazy things that have happened and all the crazy things that were said.
But let's look at what they really wanted to say after 2008.
Matt Kenseth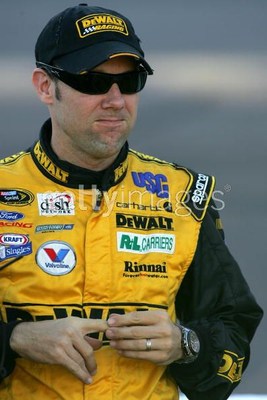 "If Jimmie and Carl don't tell me their winning secrets, I'm going to torture it out of them! Finger-by-finger."
Kenseth, here at Phoenix in the second to last race of the year, went winless in 2008. The first time he's done that since 2002.
Jimmie Johnson/Brian Vickers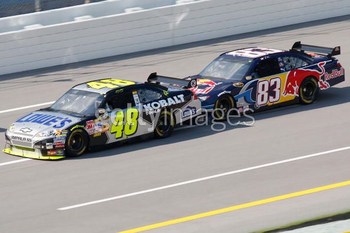 Vickers: "Hey Jimmie, remember 2006? Give me three good reasons why I shouldn't run out of talent again?"
In 2006 at Talladega Brian Vickers ran into the back of Jimmie Johnson and Dale Earnhardt Jr. costing them both the win. Afterwards crew chief Chad Knaus said Vickers didn't have the talent to understand the car he had underneath him.
Kasey Kahne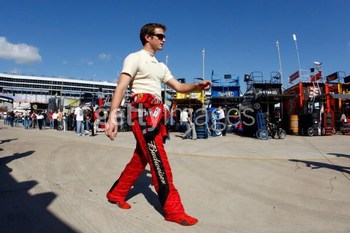 "I am the master of disguise. Those All-State girls will never see me."
From the look on Kahne's face during those commericals, he'll go to extreme measures to escape those crazy woman.
Bobby Labonte/Richard Childress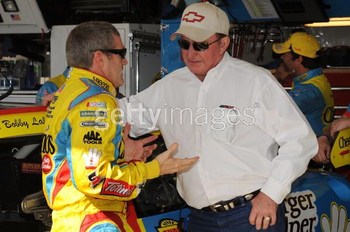 Labonte: "I have no job! No job! Who wouldn't hire me?...Hey, wait a minute, who did you hire?"
Bobby Labonte has parted with Petty Enterprises and as of right now has no plans for 2009. Richard Childress added a fourth car for 2009 and hired Casey Mears to be the driver.
Jamie McMurray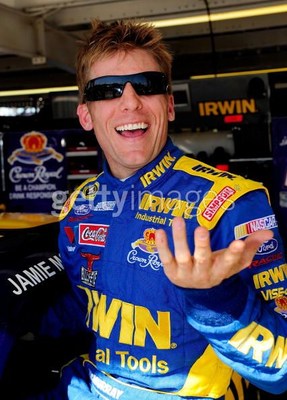 "I don't know, it must have been a special ring. One week I'm engaged and the next I know how to drive a race car."
McMurray proposed to his girlfriend and then finished the season by contending as races such as Phoenix and finally getting everyone's attention for all the right reasons.
Juan Pablo Montoya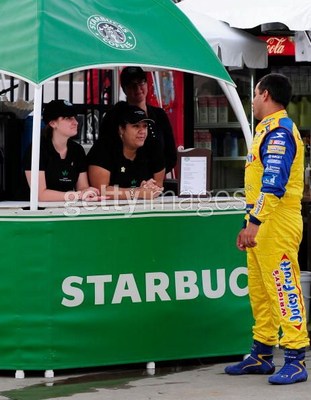 "Three dollars for a coffee? I am not going to pay that! Do you know who I am?"
Juan Pablo stops by the Starbucks tent during a rain delay.
Ryan Newman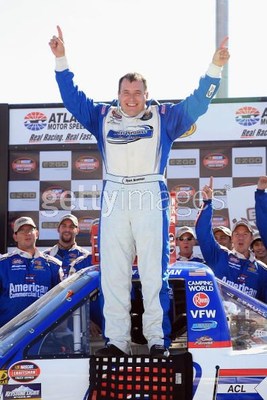 "I know the name of the race was the EZ Go 200 but that was too easy!"
At Atlanta in October Newman got behind the wheel of a Kevin Harvick Incorporated Truck for the first time in his career. Then went out and won the race.
Scott Speed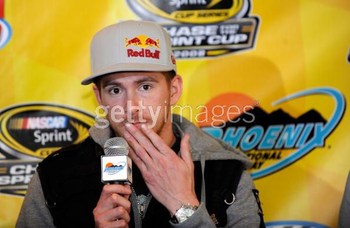 "I think I forgot my lucky nail polish"
Speed is known for being different than everyone else, that includes admitting that he likes to pamper himself.
Tony Stewart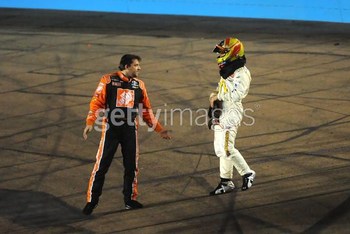 Stewart: "Sorry you lost your job, A.J. But hey, if you had been fired earlier I might have hired you."
Stewart announced in July that he would be leaving Gibbs to form his own team, Stewart-Haas Racing.
A.J. Allmendinger was fired later in the year from Red Bull Racing and currently has no ride for 2009.
Jeff Gordon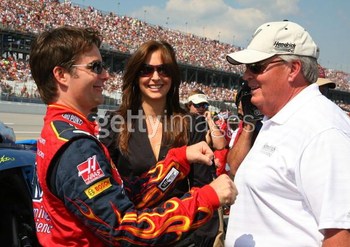 Gordon: "So then I grabbed the back of the stroller, hopped on and rode it down the hill in the parking lot."
Since her birth last year, Gordon loves to show off his daughter at the track. And loves to talk about fatherhood.
Mike Helton/Dale Earnhardt Jr.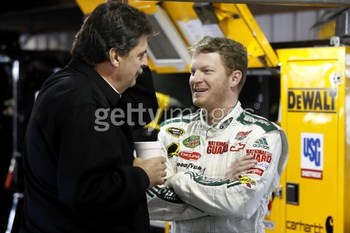 Earnhardt Jr.: "You know Mike, everyone always says that I get hand outs. Maybe we should give them what they're talking about."
It never fails that every years someone becomes convinced that NASCAR is helping Dale Earnhardt Jr. And yet, he only won one race this year and has yet to win a championship.
David Gilliland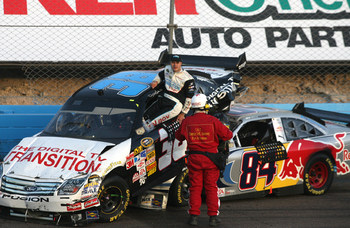 Gilliland: "When I mentioned that my career was in need of a boost, this isn't what I had in mind."
At Phoenix Gilliland and Speed became tangled during a massive wreck that caused the race to be red flagged.
Kyle Busch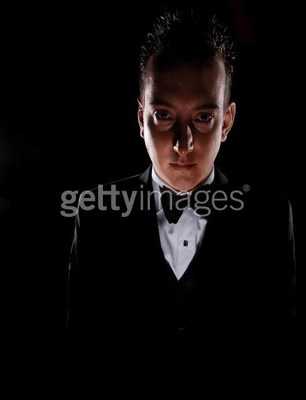 "Are you scared? You should be. I'm not done yet."
Busch came out in 2008 and won in everything that he sat in. However, he fell short in winning the championship.
He did announce that he will be running full time for the Nationwide championship in 2009 as well as preparing for the Sprint Cup season.
Carl Edwards
Edwards: "Don't worry, I got this. I'm going to stay in the back all day. Nothing can go wrong."
Edwards decided to play it safe at Talladega and run in the back. Things were going fine until the end of the race when he ran into teammate Greg Biffle and caused a massive wreck that ended his championship hopes.
Jimmie Johnson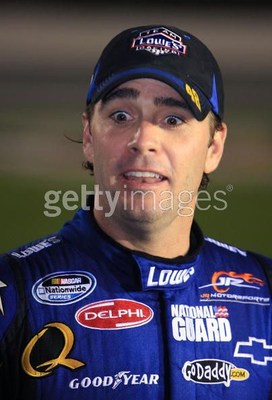 "What do you mean the fans don't like me? I have stunning facial features."
Johnson doesn't get much style points from certain fans when it comes to his eyebrows and sometimes weird hair styles.
Jimmie Johnson/Cindy McCain
McCain: "Sir, I have a message from some government members as well as the fans I met this weekend: If you don't stop winning, we will be forced to take action."
McCain paid a visit late in 2008 and met with many NASCAR drivers, including eventual champion Jimmie Johnson.
Jimmie Johnson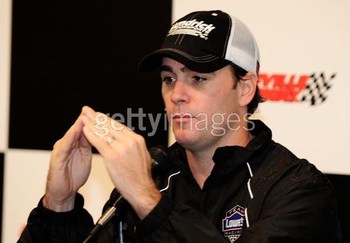 "I am constantly showing Mike Helton this wad of cash and telling him to not change the tracks in the Chase."
Johnson has the best record of anyone in the 10 race chase. That's because he runs better than everyone else at those tracks causing many fans to tell NASCAR that it's time to change it up or the championship will be decided before the season even starts. And calling him one of the luckiest men in the series.
Bo Bice/Todd Bodine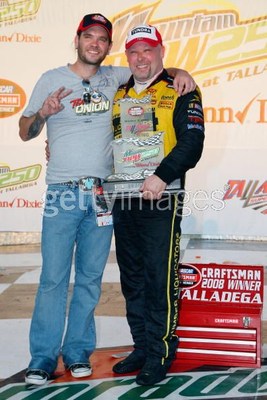 Bice: "I had it all wrong, NASCAR is the Real Thing."
Bice is a former American Idol star who has a hit title Real Thing. Here he visited Todd Bodine in victory lane at Talladega.
Cint Bowyer
"Those All-State girls really are crazy. Kasey Kahne? When was the last time he contended for a championship"
Bowyer has made the Chase the last two years and Kasey Kahne has missed out.
Keep Reading