Alex Smith vs. Eli Manning: Which Fragile QB Will Crack First?
November 11, 2011
Elsa/Getty Images
As the Giants and 49ers get set to clash in a key NFC matchup this Sunday, the game will feature a pair of quarterbacks in Eli Manning and Alex Smith who are winning in two completely different fashions.
Manning is orchestrating comeback win after comeback win by carrying the Giants on his back and moving the chains with his arm and connecting with his elite trio of receivers—Hakeem Nicks, Victor Cruz and Mario Manningham.
Conversely, Smith is winning by being a great game manger while leaning on Frank Gore to wear down opposing defenses on the ground.
Both quarterbacks are also getting it done despite so many people doubting them.
Whether he brought it on himself or not, Manning made headlines this preseason when he said he deserved to be discussed in the "elite" class of quarterbacks. Well, all he has done is back up that claim.
Manning is on pace for a career season with the Giants. He is completing 62.9 percent of his passes and has thrown for 2,377 yards and 15 touchdowns. His 98.8 passer rating also ranks him fifth in the league.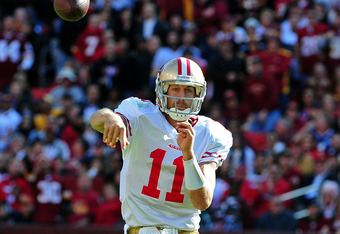 Scott Cunningham/Getty Images
Smith is also having a great bounce-back season under the tutelage of first-year coach Jim Harbaugh.
While he is low on yardage (1,467) and TD (10) totals, Smith is precise and accurate. For crying out loud, he has only two interceptions! He has a 64.1 completion percentage, which places him fifth in the league, while also posting a 97.3 passer rating, good for sixth in the league.
Both Manning and Smith are masters of comebacks, too.
Manning has five comeback wins in the fourth quarter while Smith has three. Manning leads the NFL with a 121.7 passer rating in the fourth quarter with Smith ranking fourth with a 106.7 rating.
While both quarterbacks are riding high now, they both have a tendency to disappoint.
Whether it was Manning's 2010 season in which he threw for an alarming 25 interceptions or Smith's habitual battles with inconsistency, both have their weaknesses.
So who cracks first: Manning or Smith?
The smart money is on Smith.
After all, Manning has shown that he can win the game with his arm. Not to mention he has a Super Bowl ring.
Manning's confidence is sky high right now. The same can be said about Smith, but he is doing it with smoke and mirrors. Smith also has the luxury of being backed by a tremendous defense and stellar running game.
So, while both should be commended for having great seasons, Manning's track record suggests he is more likely to sustain his success, whereas Smith may be working on borrowed time.
So, which quarterback will lead his team to a win on Sunday? Manning is for sure the better quarterback, but Smith is playing at home and has a great supporting cast around him. So, that could work in his favor.
It should be an intense battle nonetheless.