Manny Pacquaio Will Be Dominated by Floyd Mayweather
November 11, 2011
Stephen Dunn/Getty Images
Manny Pacquaio's camp is playing a dangerous game by looking past Juan Manuel Marquez's fight scheduled for Nov. 12, and engaging in trash talks with the Floyd Mayweather camp as to a May 5, 2012 potential fight date.
Pacquaio's trainer Freddie Roach and Top Rank's boxing promoter CEO Bob Arum must keep in mind they're fighting an opponent on Saturday night who's given Pacquaio serious problems in their last two fights against Marquez, which even more importantly, has boxing insiders thinking it's going to be close.
Boxing expert Emanuel Steward indicated that Marquez is going to be a tough opponent for Pacquaio, and judging by their last two fights, there isn't any indication the third will be any different.
"The style is always going to be a problem for (Manny) because, Juan has the perfect style to create a lot of problems for Manny. Every time Manny makes mistakes, which he often does, sometimes he runs in and gets overly aggressive, and Marquez is always there to take advantage of it. So Marquez will always be a problem for him," Steward said in a recent interview with Boxingscene.com.
Pacquaio can't beat Mayweather in a pure boxing match because he can't out-think him in a ring, and this can be a serious challenge if the fight turns into an ultimate chess match if they meet in the ring.
Truth be told. Pacquaio has many flaws in his boxing skills, particularly with his balance after throwing a punch. He has struggled with Marquez in two previous fights, which many boxing fans viewed both fights as a draw, even though Pacquaio put Marquez on the canvas four times and barely won a close split decision on the judges' scorecards in the second fight.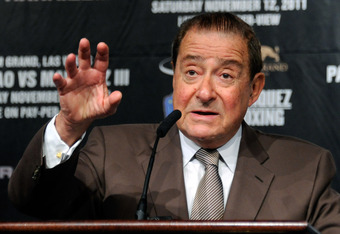 Ethan Miller/Getty Images
Mayweather easily out-boxed and dominated Marquez in their Sept. 19, 2009 fight, and even more impressive, he did this after being out of the ring for 21 months! He demonstrated to the boxing public he has superior boxing skills that no fighter has been able match in his era.
Pacquaio has one chance of beating Mayweather, and that's if he's able to land a solid punch early in the fight and stop Mayweather by a knockout. He'll lose big on scorecard points if the fight goes the distance because he doesn't have the knowledge to out-box or out-think Mayweather.
Mayweather is a technical boxing expert in the ring. He has a single goal in mind: winning the rounds and scoring points toward getting a unanimous decision from the judges at ringside
He doesn't really care if he knocks out his opponent in the ring. He could press the fights to increase his knockout percentage, but he's too disciplined and refuses to take low percentage chances.
Mayweather, a boxing scientist, engineer, doctor, lawyer and judge in the ring, comes from a family that dedicated its entire life to boxing. His uncle Roger Mayweather has been his trainer and his father, Floyd Mayweather Sr., taught him the science of boxing at an earlier age.
As many as 42 opponents have failed to come up with a strategy to beat the best-of-his-era pound-for-pound champion, and the boxing world is pinning its hopes on Pacquiao as the first fighter to win against the Mayweather "Money" team.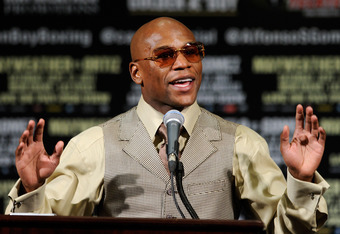 Ethan Miller/Getty Images
Shane Mosley intensely prepared for a fight with Mayweather on  May 1, 2010, and trainer Naazim Richardson said it best during the HBO documentary 24/7 Mayweather/Mosley episode prior to their matchup.
"Shane you're going to come out in this fight and catch (punch) Mayweather, and he's going to become a fire-breathing dragon," Richardson said.
Richardson was correct. Mayweather did in fact turn into that fire-breathing dragon after being hurt in the second round of their fight. He was easily declared the victor by a unanimous decision on the judges' scorecards.
The boxing fans were able to see that Mayweather has a good chin and quick recovery time after being injured, because he weathered the storm and took the boxing chess match to another level against Mosley. He dominated every round against the former champion and could have easily won by a knockout
Pacquaio is a congressman and by contrast, "Money" Mayweather is a businessman. The fact that many boxing fans believe that  Mayweather won't take the fight because he will lose is completely ridiculous to say about someone who's in the boxing business to make money.
Mayweather knows that the more people he can get to hate him creates a bigger thong of fans who will pay to see him lose on boxing pay-per-view channels, and certainly, the revenue amounts to millions of dollars.
Yes, many of the people are correct. The battle between Pacquaio and Mayweather can be an all-time revenue grossing fight in boxing history, but there's no businessman who can run a business from an all-or-nothing deal.
The truth of the matter is that despite all of shadows of hatred dislike and rage people have developed against Mayweather over recent years, they're watching one of the greatest, pure boxers of all time ever to lace up his boxing gloves.