Pride Fighting Championships: The 25 Greatest Knockouts in Pride History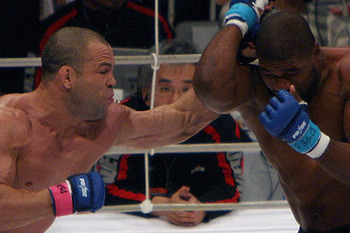 mmaweekly.com
Though the Pride Fighting Championships have been long gone, the mixed martial arts world has ever been impacted by the legacy that the now defunct promotion has left behind.
The organization has produced some of the biggest stars in the industry today, including former champions Wanderlei Silva, Dan Henderson, and Quinton Jackson among others.
It was these same leading men that were delved in some of the more memorable bouts in Pride history, often favoring head severing knockouts that have since gone down as some of the most aesthetically pleasing finishes in MMA history.
Chuck Liddell vs. Guy Mezger (Pride 14, May 2001)
In the early days of the "Iceman's" career, Liddell made his way overseas under the Pride banner, taking on a familiar face in UFC vet Guy Mezger.
Both men hail from a Karate background and represent two of some of the hardest hitting light heavyweights to enter the division. Though Liddell was stunned early, he later exacted revenge when he stormed Mezger with a right cross that shut him off against the ropes.
Mirko Cro Cop vs. Wanderlei Silva II (Pride: Final Conflict Absolute, Sep. 2006)
Then the Pride Middleweight champion, Wanderlei Silva was a seemingly unstoppable force under the Japanese banner.
The Brazilian had only suffered two losses in his over 20 fights with the promotion, dropping close decisions to the likes of fellow countryman Ricardo Arona—whom he later avenged—and heavyweight Mark Hunt.
Nearly all of Silva's other opponents were victims of his aggressive fighting style, having knocked out a bevy of notable fighters. However, Silva met his adversary when he rematched Mirko Cro Cop in the inaugural Pride Open Weight Grand Prix in 2006.
The K-1 veteran had tangled with Silva before, going to a competitive decision with the Chute Boxe product. In their second outing, Cro Cop battered the light heavyweight great, eventually finishing him off with one of his infamous highlight knockouts, courtesy of a devastating head kick.
Please don't mind the painful rap music.
Gary Goodridge vs. Oleg Taktarov (Pride 1, October 1997)
People forget, but in his heyday, Gary Goodridge was one of the baddest men on the planet.
The heavy handed K-1 vet took on the lauded Oleg Taktarov, a UFC veteran who is widely considered one of the true pioneers of the sport.
The two heavyweights met in Pride's first endeavor in 1997, where Goodridge attacked early and often, bludgeoning the Russian with savage punches before finally sealing the deal with some devastating ground and pound blows.
Roman Zentsov vs. Pedro Rizzo (Pride 31, February 2006)
A three time challenger to the UFC title, Pedro Rizzo was widely recognized as one of the best fighters on the planet.
The touted striker owned knockout victories over the likes of former champions Anderi Arlovski and Josh Barnett when entering the Pride circuit, where he was considered a legitimate threat to the division.
However, Roman Zenstov further halted the rise of the Brazilian when the hard hitting Russian connected on a short left hook, sending Rizzo to the canvas, knocked out cold with one punch in just 25 seconds.
Robbie Lawler vs. Joey Villasenor (Pride 32, October 2006)
UFC veteran Robbie Lawler was looking to make his name under the Pride banner in 2006.
The hard hitting middleweight was recently dethroned of his Icon Sport title when Jason "Mayhem" Miller submitted the Miletich product, though Lawler bounced back big when he took on then budding prospect Joey Villasenor.
A Greg Jackson fighter, Villasenor was a lauded fighter with a tremendous upside, though Lawler quickly nixed plans towards the top of the division when he connected on a leaping knee to the head, which sent Villasenor reeling to the canvas.
A few ground and pound blows followed, but the damage was already done when Lawler was declared the winner in just 22 seconds. Not bad for a debut.
Wanderlei Silva vs. Ikuhisa Minowa (Pride: Bushido 2, February 2004)
During his reign as king in Pride, Silva owned a bevy of knockouts over a ton of credible opponents.
Fan favorite Ikuhisa Minowa, better known simply as "Minowaman", was next in line in Silva's list of victims. The pro wrestler turned mixed martial artist shot in on Silva with an early takedown.
The Brazilian sprawled, settle to fight within guard and it was all down hill from there. Silva began to open up with some lethal ground and pound blows, shutting off Minowa's lights in just a little over a minute, showing a whole new dangerous facet of his game.
Sokoudjou vs. Antonio Rogerio Nogueira (Pride 33, February 2007)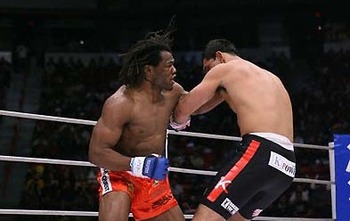 In his promotional debut, Sokoudjou made an emphatic entrance into the Japanese circuit. In 2007, the Team Quest product was pitted against the highly touted Antonio Rogerio Nogueira, a perennial contender to the 205-pound title who had long resided as a top-10 fighter.
Sokoudjou was just 2-1 heading into the bout with the experienced veteran, coming off of a TKO loss to Glover Teixeira in the WEC.
"The African Assassin" blitzed the Brazilian early, upsetting the Olympic Team boxer with a hard left hook, sending him crashing to the mat in just 23 seconds, immediately injecting him into the MMA main stream.
Igor Vovchanchyn vs. Francisco Bueno (Pride 8, November 1999)
That's Pride legend Josh Barnett doing commentary by the way. He might want to stick to just fighting dudes in a cage, though.
Igor Vovchanchyn was a man of small stature, competing in both the heavyweight and light heavyweight class, though he stood at just 5-foot-8.
Call him "fun sized", as the Ukrainian was well regarded as one of the best fighters of his time, dispatching his opponents in impressive fashion. Francisco Bueno was no exception, as Vovchanchyn swarmed him with strikes whilst Bueno was caught in the corner.
From there, Vovchanchyn released a hellish barrage, which sent Bueno face first into the mat after the assault, recording one of the most brutal knockouts of his career.
Joachim Hansen vs. Luiz Azeredo (Pride: Bushido 10, April 2006)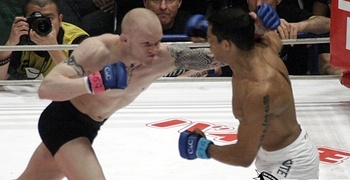 sherdog.com
The Norwegian was always known for his punching prowess, that it was his devastating knees that have long been the culprit of some of the bigger wins of his career.
Hansen took on submission specialist Luiz Azeredo under the Pride banner a few years ago, and though the Brazilian proved game in the early goings of the bout, he eventually feel victim to a crushing high knee from Hansen.
Azeredo stepped right into the blow, sending him to the mat and leaving him out cold, declaring Hansen the victor inside of the first round.
Aleksander Emelianenko vs. Ricardo Morais (Pride: Bushido 6, April 2005)
Aleksander had a much rougher road in the mixed martial arts world.
The Russian, younger brother to to the great Fedor Emelianenko, had big shoes to fill by his infamous older brother, though he did show glimpses of greatness in some outings whilst under the Pride banner.
In his seventh fight as a pro, Emelianenko took on Brazilian Ricardo Morais in 2005, on the heels of his first knockout victory, finishing off James Thompson in just 11 seconds.
Though the finish was not as quick, Emelianenko deftly defeated the over matched Morais, besting the Black House fighter in 15 seconds this time around, with a swarming array of strikes.
Gary Goodridge vs. Don Frye (Pride: Shockwave 2003)
A battle between two UFC veterans played out under the Pride banner, where Don Frye and Gary Goodridge completed their trilogy.
The burly and aggressive Frye bested Goodridge on two previous occasions whilst in the UFC, submitting twice in disappointing performances turned in against the two-time tournament champion.
The rubber match, however, played out much differently, with Goodridge utilizing his K-1 background to use by head kicking Frye, sending the heavy hitter face first into the mat in just 39 seconds.
Mauricio Rua vs. Ricardo Arona (Pride: Final Conflict 2005)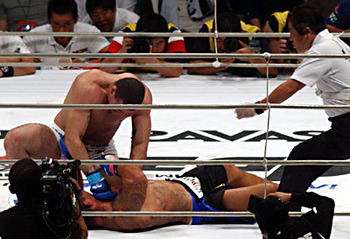 Two Brazilians hailing from rivaling academies, Mauricio Rua and Ricardo Arona would eventually meet in the prestigious Middleweight Grand Prix in 2005—where an ensemble of prestigious fighters were assembled, with fighters like former champions Wanderlei Silva, Alistair Overeem, Vitor Belfort, Dan Henderson and Quinton Jackson were all part of the fray.
It was Chute Boxe vs. Brazilian Top Team, with both men representing the best of the best of their respective academies. In the end, the staunching grappling acumen of Arona was not enough halt the meteoric rise of Rua, who head stomped his way to victory before delivering hammer fists that rendered Arona unconscious.
With the win, Rua became the Middleweight Grand Prix champion, sitting atop the mantle as the best 205-pounder on the planet.
Gilbert Yvel vs. Gary Goodridge (Pride: 10 Return of the Warriors, August 2000)
The two touted kickboxers were guaranteed to bring fireworks.
The MMA bad boy's in Yvel and Goodridge held a long standing pedigree of knockouts throughout their career, though this bout was though to be particularly competitive thanks to their striking acumen's.
The first strike thrown was by Yvel, who connected on a walloping head kick which sent Goodridge out cold before he hit the mat, needing just 28 seconds of ring time.
Hayato Sakurai vs. Olaf Alfonso (Pride: Bushido Survival 2006)
After a long and extensive career with the now defunct WEC promotion, Olaf Alfonso made his way to the Pride circuit, taking on then world-ranked heavy hitter Hayato Sakurai.
"Mach" was recently removed from a knockout loss of his own, though he came back with a vengeance in his bout with the wily Alfonso, face planting the Mexican in a little under two minutes with a hard right hook to the chin.
Takanori Gomi vs. Luiz Azeredo (Pride: Bushido 7, May 2005)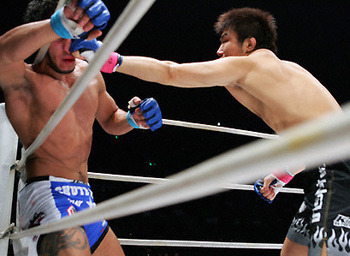 The Chute Boxe lightweight was hoping to make an immediate impact under the Pride banner when he took on then budding prospect Takanori Gomi.
The hard hitting lightweight was 5-0 in the promotion and would later enter the Pride Lightweight Grand Prix where he would become the undisputed champion—but not before he knocked out Azeredo with a striking assault, leaving the submission specialist knocked out in under four minutes.
Takanori Gomi vs. Hayato Sakurai (Pride: Shockwave 2005)
Two of Japan's most favorite lightweights met in Pride's first and only lightweight Grand Prix.
Gomi and Sakurai meet in the finals of the tourney after besting a field of eight, which included the likes of Tatsuya Kawajiri, Jens Pulver and Yves Edwards.
Both Gomi and Sakurai represent two of the more explosive strikers in the division and "The Fireball Kid" struck first, connecting on a hellish right hand that instantly sent Sakurai crashing to the canvas, out cold before he hit the mat, making him the Pride lightweight champion in the process.
Jump to 2:30 for the fight.
Dan Henderson vs. Renzo Gracie (Pride 13, March 2001)
Though Henderson is now regarded as one of the more heavy handed strikers in all of mixed martial arts, his early years as an MMA fighter was a little more humble.
Henderson was yet to record a knockout victory before he took on Brazilian Jiu-Jitsu black belt Renzo Gracie.
The Team Quest product was regarded as a powerful wrestler, though he was later shown to be an equally powerful striker when he knocked out the Gracie fighter with a short right uppercut whilst on the ground, leaving Renzo out cold in just 1 minute and 40 seconds, recording his first KO victory with the performance.
Kevin Randleman vs. Mirko Cro Cop (Pride: Total Elimination 2004)
It was considered one of the biggest upsets in mixed martial arts history at the time.
Kevin Randleman was often regarded as one of the single most athletic veterans of the sport with unrealized potential. Mirko Cro Cop represented arguably his toughest challenge at the time.
The Croatian was on a tear in the Pride circuit since transitioning from a successful career as a K-1 kickboxer, having gone 8-1-2 in the promotion, while accumulating impressive knockout finishes.
Instead, Randleman was the one delivering the knockout when he feinted takedowns before connecting on a crushing hook, leveling him to the canvas before blitzing Cro Cop with a bullet fast barrage of forearm smashes which left him out cold in a little under two minutes.
Mirko Cro Cop vs. Igor Vovchanchyn (Pride: Total Elimination 2003)
While Cro Cop was on the rise, Vovchanchyn was already an established destructive force in Pride.
The short stature of the Ukrainian was but a formality, as Vovchanchyn recorded knockout after knockout, though he eventually became a victim of his own success when the K-1 vet in Cro Cop connected on one of his highlight reel head kick's, sending him crashing to the canvas—out cold in just 1 minute and 29 seconds.
Mirko Cro Cop vs. Aleksander Emelianenko (Pride: Final Conflict 2004)
"Right leg, hospital; left leg, cemetery."
In his heyday, Cro Cop was widely considered in the top-3 of the heavyweight division and for good reason. The Croatian recorded a bevy of knockouts whilst under the Pride banner, but when he took on the 6-foot-6 Russian in Aleksander Emelianenko, many wondered if his infamous head kick's would be able to reach the big man.
Cro Cop leveled Emelianenko to the canvas with a sweeping left head kick before finishing him off with some ground and pound blows, needing just a little over two minutes to finish off the former Sambo world champion.
Wanderlei Silva vs. Yuki Kondo (Pride: Final Conflict 2004)
The finer points of head stomps were widely utilized by the likes of Mauricio and Murilo Rua, but none were quite as violent as Wanderlei Silva.
"The Axe Murderer" truly lived up to his moniker while he reigned as king in the Pride organization and one of his more notable victims came in the form of former UFC title challenger Yuki Kondo.
The touted Japanese fighter was a well versed fighter, though Kondo couldn't hold a candle to Silva's explosive striking onslaught, eventually wilting from staggering blows on the feet, falling to the canvas where the Chute Boxe product devastated him with stomps to the face, leaving Kondo out cold inside of the first round.
Anderson Silva vs. Carlos Newtown (Pride: 25, March 2003)
Now current pound-for-pound great Anderson Silva began his rise to prominence with the now defunct Pride organization some years ago.
In his third outing with the promotion, Silva took on arguably his toughest challenge to date when he met with former UFC champion Carlos Newton, a submission ace with some heavy hands.
Though Newton was able to bring "The Spider" to the canvas early, Silva took advantage of his long limbs when he leveled the Canadian with a leaping knee while Newton shot in for a takedown. The UFC vet laid stunned on the mat before Silva crushed him with hard right hands.
Dan Henderson vs. Wanderlei Silva II (Pride: 33, February 2007)
Dan Henderson was looking to make history at Pride 33, when he took on then 205-pound champion Wanderlei Silva.
The Team Quest product was freshly removed from his 183-pound tournament run in the organization which made him the new Welterweight champion.
Looking to capture his second title, Henderson took on Silva in a pivotal light heavyweight affair, dominating the Brazilian in their rematch, bludgeoning his face with hard punches, including a spinning backfist which eventually set up a slugfest between the two.
From there, Henderson traded in the pocket with Silva, connecting on a crushing left hook. Silva was out before he hit the deck, though Henderson followed up with a leaping forearm smash to the face to seal the deal, making him the first man to hold two titles simultaneously in a major mixed martial arts promotion.
Quinton Jackson vs. Ricardo Arona (Pride: Critical Countdown 2004)
Jackson was long thought to be a man with unrealized potential in the light heavyweight division.
In need of a signature win to cap his career, Jackson took on submission ace Ricardo Arona, a powerful grappler with some devastating ground and pound blows.
Arona was beginning to cinch up a triangle choke that put Jackson in immediate danger, to which "Rampage" responded by hoisting him up over his head, slamming him to the canvas rendering him unconscious with the devastating blow, creating the most notable highlight of his illustrious career.
Wanderlei Silva vs. Quinton Jackson II (Pride: 28, October 2004)
The rivalry between Silva and Jackson was cultivated overseas when both men ruled the light heavyweight division with a heavy fist.
In their first outing, Silva was able to get the better of the inexperienced Jackson, though the two were later pitted against one another again when they met for the Brazilian's Middleweight title one year later.
Jackson had some success early, though the devastating knees from Silva later came into play, with "The Axe Murderer" clutching Jackson's head for the brutal blows. In the end, Silva sent Jackson through the ropes out cold from a final knee, moving 2-0 over the heavy hitter in his most brilliant performance to date.
Keep Reading