2011 NFL Playoffs: Why Tim Tebow, Denver Broncos Could Win AFC West
November 11, 2011
Harry How/Getty Images
No.
Before you ask, I am not the designated driver of the Tim Tebow bandwagon nor do I ferociously believe in his future as a starting quarterback.
Hell, I don't even think the kid will be able to maintain long enough at the starting position to make John Elway give him more than a once over at the end of the season. But, the division that Tebow and the Denver Broncos are in gives him this blasphemous chance as succeeding or at least being mentioned as a postseason contender.
Think long and hard about this before you write this off as another tick in "Tebow is the MAN" column. He would not win because of his own contributions to the game. He would win solely because of how poorly the San Diego Chargers and the rest of the conference have started to play.
There are various reasons as to why each franchise has had its day in the dumps for more than one Sunday this season thus far. Want to know a few?
Coming fresh off the season premiere of "Thursday Night Football" and San Diego's loss to the Oakland Raiders, it should not be surprising that he is my first victim. I love the guy. I really do.
When people were saying he trumped Ben Roethlisberger in the elite QB race, I did not get nearly as offended as most.
However, this season is bringing forth a different mold of Rivers than anyone expected. Fans may want to debate about Rivers' past accomplishments or even the "brilliant" things he does in rations during games in which the Chargers still lose. Four straight losses are quite unacceptable nonetheless.
Staying true to form and allowing Rivers to get so much credit for the exceptional things that the San Diego team has been responsible for, we should all hitch up the pickup and scream how credited he should be for their downfall.
Against the Raiders Thursday night, even when Rivers was "oh so right," he was "oh so wrong." Vincent Browns' first career touchdown came in light of Rivers throwing into double coverage. Luckily, the rookie turned an incredibly ostentatious throw into improbable highlight catch.
It was a very Phil-like decision to push on through another Phil-like loss. Sorry, Phil, but being so much like yourself has not been working in your favor.
Carson Palmer
Unlike the defensive players in the league, I do not have some strange vendetta against the men listed at the top of the roster. It is just that with a lot of the quarterbacks in the league playing at such a high level, there is not much tolerance for quarterbacks that are not.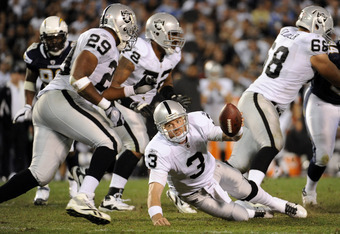 Harry How/Getty Images
Yes, it is true that Carson Palmer had the TV dinner slapped out of his lap so that he could immediately return to league play. There have rarely been any reports as to how much conditioning he did in light of his holdout against the Cincinnati Bengals. Looking at his first two games at bat, it could not have been much.
But, true to Oakland Raiders form, Hue Jackson was willing to take a chance on a man he knew personally to take over for Jason Campbell, who suffered a possible season-ending injury. The biggest difference I can cite between Campbell and Palmer is that Campbell was at least able to control the tone of the game while Darren McFadden forced the course.
Palmer may have been all he could be in 2005, but there is nothing about him now that screams "hope" while Coach Jackson shoves the term down our throats. We get it. You thought he would be the ultimate reviver of the Raiders and the thrust in the AFC West for the Raiders to win their division and maybe even make even wider strides deeper into the playoffs.
Now we all see that he is doing exactly, if not less than, what Campbell was doing at the QB position. You can stop trying to fool us all like you are not extraordinarily disappointed that you are forced to lower your standards.
There can only be one successful redhead QB in the league at a time, and right now Andy Dalton has that locked up.
I will admit something to you that half of the world refuses to. Rarely do I even entertain the thought of paying the slightest attention to a Kansas City Chiefs game to watch the Kansas City Chiefs.
Imagine the surprise when I tuned into the Miami-KC game just to see if the Dolphins could late-game collapse like they did against the New York Giants and flush themselves through the season winless. Miami actually won the game. They actually were rewarded after they appeared Super Bowl-like against an "ehhh, pretty good" Chiefs team.
I guess the Chiefs' defense were accommodating to Brandon Marshall's monster/beast-like game because we all are privy to the fact that the New York Jets were not having it, at least not Darrelle Revis.
They gave up 31 points at home without safety Jon McGraw and cornerback Javier Arenas. Kansas City lost this way at home, not on the road, which may have been a bit more acceptable.
The Chiefs also do not have the coaching personnel in Bill Muir to be a fast-paced offense to combat the more stable defenses in the league. Seriously, the guy can barely call a play before having to burn a timeout.
Let's talk Todd Haley, the beard and the dirty sweatshirt.
The Chiefs still have a chance to right a few wrongs seeing as how this is the most unpredictable division in the league. But Haley needs to come up with a lot more than "this team is a work in progress" to get Chiefs fans to have an unwavering belief in their franchise.
Can you blame them for only being ready to cheer for KC when the team is on the up and up?
Matt Cassel is not exactly that guy who gives you hopes for the Super Bowl, and the team's inconsistencies are becoming their only identity. The Chiefs seem OK with mediocrity. Don't think so?
"We're 4-4. Obviously we're doing some good things,'' Jones said. "I just try to take advantage of opportunities when they come, and be a leader on the team, and make sure I'm doing the right things and showing everyone else how to do the right things.''
No, Thomas Jones. Those losses were not just regular, "hey, we played a hell of a game" losses. Combined, there was a 140-30 point ratio. It is time to realize there are some really bad things happening here.
So, there you have it. It would seem as if after being voted the most overrated player in the NFL, by his peers, Tebow is the furthest thing from making it. To be honest, he is closer than many are willing to give him credit for. There are some perks that come with being on a horrible team. There is always a worse team. Sometimes you get some surreal luck and that team is in your division.
Inferiority never tasted so sweet.