Notre Dame Football: When Will Brian Kelly Show Us Andrew Hendrix Again?
November 11, 2011
John Gress/Getty Images
When Brian Kelly first arrived at Notre Dame, many fans speculated that he would adopt a more traditional pro style offense rather than his formation of choice, which has been the spread. Once it became obvious that the spread would not be scrapped, Irish quarterback Dayne Crist seemed a poor choice to run the offense.
His arm, size and skill set were more suited to a pro style offense, which was what he was recruited to do by former head coach Charlie Weis. Nevertheless, Crist was under center in Kelly's coaching debut at Notre Dame, a 23-12 victory over Purdue last season.
When Crist went down with an injury later that same year, true freshman Tommy Rees was installed as the signal-caller. If anything, Rees seems even less qualified to run the spread since he is not near as big as Crist, has a weaker arm and limited mobility.
The one thing that Rees does do, however, is win. His 10-2 record as the starter is very impressive when you consider that Notre Dame boasted just a 20-28 ledger in their previous 48 games before Rees' first start, which was a 28-3 triumph over then 15th ranked Utah. The Fighting Irish also lost the one game he did not start during this stretch: a 23-20 setback to an inferior South Florida team.  
But for Irish fans who wanted to see a quarterback who was more suited for Kelly's spread offense, enter Andrew Hendrix. A 6'2" 220-pound sophomore from Cincinnati. Hendrix was put into the game late in the Irish's 59-33 romp over Air Force on Oct. 8.
He seemed perfectly comfortable in this scheme, as if he was born to run Kelly's formations. He rushed for 111 yards on only six carries, including a 78-yard scamper to the Falcons 2-yard line. He also had no problem putting the ball into the air by finishing 4-of-4 passing for a modest 33 yards. After the game, Kelly praised Hendrix as a stark new dimension to the Notre Dame offense.
"With Andrew there's so much versatility that you have to defend offensively." Kelly said, "You have to defend option, read option, you have to defend against a quarterback who may pitch the ball. It just creates more difficulties for a defense."
After hearing Kelly gushing about his new chess piece, Irish fans were under the impression that we would be seeing him at some point every week. But this has not been the case. We didn't even see him in mop-up duty against Navy or in the tight road win against Wake Forest.
Even though a running quarterback operating behind the Irish's big, and for once effective, offensive line may have come in handy while the Irish tried to suffocate the clock in the waning minutes of the game. As a matter a fact no one has seen Hendrix run one play since the sickening USC loss.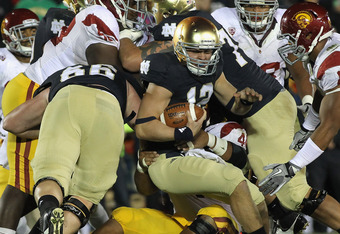 Jonathan Daniel/Getty Images
As it turned out the Trojans weren't exactly shaking in their cleats at the prospect of defending two or more Irish quarterbacks. One could even argue that Kelly perhaps shuffled too many quarterbacks in and out of the game.
Especially during the fateful goal line disaster sequence which resulted in the 99 yard fumble return by Jawanza Starling, a play which put USC up 24-10 and effectively banged a long crooked nail into Notre Dame's coffin.
Hendrix was jettisoned into the game on second down after Crist, who had come into the series when Rees took a helmet to the knee, had drove Notre Dame to the USC 3-yard line. Yet Hendrix somehow failed to score on a quarterback run, even though it appeared that he should have been able to fall over the goal line. But a Trojan defensive lineman repelled Hendrix by gripping a small patch of his jersey.
I contend that three quarterbacks on one drive is one too many. And that maybe Hendrix should have been left out there for third down as the best rusher of the two. Crist, however, was re-inserted into the fray, on third down and we all know what happened next.
Whatever the reasoning, I'm sure that we'll get to see Hendrix again soon, I just wish that we would have got to see him fall over the goal line in college football's greatest intersectional rivalry. After all, we got to see Matt Leinart do it.