New York Giants: How Has This Team Overcome All the Injuries?
November 10, 2011
Al Bello/Getty Images
Ever since the start of training camp, the New York Giants have resembled a mash unit.
For Giants fans, it was one tough blow after another.  Injuries tested team spirit. The Giants, as a result, looked sloppy and discombobulated in the preseason.
Here is a list of Giants players who were lost for the season: Terrell Thomas (torn ACL), Marvin Austin (torn pectoral muscle), Jonathan Goff (torn ACL), Domenik Hixon (torn ACL) and Clint Sintim (ruptured patella tendon).
Thomas and Goff's injuries were especially crushing.
Thomas was the heart and soul of the secondary and one of the league's toughest tackling cornerbacks. Goff was a starting linebacker who was making progress. Goff was set to have a breakout campaign.
Now let's see who else has missed some time:
Justin Tuck missed four games with neck and groin injuries.
Osi Umenyiora missed three games with a knee injury.
Prince Amukamara has yet to play this season with a broken foot—although he could play on Sunday.
Ahmad Bradshaw missed one game with cracked bone in his foot—could be more.
Hakeem Nicks missed one game with a hamstring injury.
David Baas missed two games with a neck stinger.
Mario Manningham missed one game with a concussion.
Chris Snee missed one game with a concussion.
Brandon Jacobs missed two games with a sprained MCL.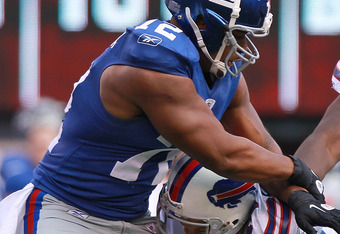 Nick Laham/Getty Images
That's a long laundry list of the walking wounded. With the exception of Amukamara (their 2011 first-round draft choice), all of the above are starters and major contributors to the team.
Now, how have the Giants been able to overcome this and still sport one of the league's better records (6-2)?
I believe there are two overriding factors as to why the Giants have sustained this success.
One reason is the phenomenal play of quarterback Eli Manning.
Manning is playing at an "elite" level this year. First of all, Manning is on pace for a career season with the Giants. Second, he is completing 62.9 percent of his passes and has thrown for 2,377 yards and 15 touchdowns. His 98.8 passer rating also ranks him fifth in the league.
But most important is the fact that Manning has only thrown six interceptions, which puts him on pace for 12. That is significant, since that total would be more than half of the interceptions he threw in 2010 when he had 25.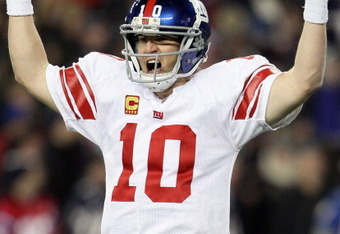 Elsa/Getty Images
Manning has put this team on his back. His presence on the team has been calming and powerful. Manning may never earn the respect he rightly deserves, and that's just fine with him as long as he continues to win.
The other factor to take into consideration as to why the Giants have had the success they had is the disrespect card.
In the preseason, when the front office stood idle (in regards to signing players) while making unpopular moves and injuries were mounting, the Giants took a beating from the mainstream media. Everyone was convinced that they were dead in the water. The Giants' opening season loss at Washington did nothing to dispel that notion.
The Giants took this personally. They have played with a chip on their shoulder ever since.
All they heard in the offseason was Philadelphia this, and "dream team" that. The media also proclaimed the Cowboys would be back. The Giants were an afterthought in the NFC East.
The Giants used that disrespect as motivation, banding together while taking on an "us vs. the world" mentality.
Now it's time to see if the Giants can keep it up, as they have been known to fade after hot starts. Regardless, injuries have not broken this team and the Giants are a better team in spite of them.