Brian Billick Says Oakland Raiders Game Not a Test of the Tebow Option
November 10, 2011
Ezra Shaw/Getty Images
While driving home this afternoon, I heard Fox Sports commentator and Super Bowl-winning coach Brian Billick on 104.3 The Drive show talking about the Broncos and their new Tebow spread option that worked so well in the Oakland Raiders game.
Billick was asked whether this new system and use of the option QB position can win a championship. His rather lengthy response went something like this: Are Tebow's abilities and talent so unique and so great that an NFL team will change their entire offensive game plan to adopt this system that is counter to the proven NFL current system?
He then went on to say that if the team and the head coach puts his job on the line for this, then he better have a backup player with similar skill sets to play the QB position because injury will happen. He used the example of the Colts and Peyton Manning this year. Without someone with Manning's talents waiting on the bench, the team can't perform at the same level.
And you can't have two completely different systems available to switch back and forth because it takes too much practice and is too confusing for the rest of the offense.
He also said that to compare the Tebow situation and Cam Newton's is invalid, since Newton has brought better passing skills to his game and that they are now running more traditional plays in Carolina than they are the spread. Saying that Newton is adapting more to the traditional game and less to the spread.
The question of Fox's longevity was put to Brian, and he felt that Fox has probably three years and the backing of Elway and Ellis, and that some players will go before Fox will, assuming they don't fit the situation.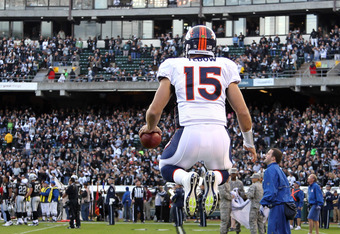 Ezra Shaw/Getty Images
The last question asked was whether the Oakland game was indicative of how other teams will respond to the Tebow spread option. And to paraphrase Billick, he said that none of the rest of the NFL defenses were as dumb as the Raiders. And teams like the Bears, Steelers and the Ravens would not allow all the success that Oakland did.
I am sure that last comment would not go over well in the East Bay, but then again, Billick was talking to the Denver market, not Oakland's. 
I know that Mr. Billick is rather outspoken and is proud of his Super Bowl ring and the fact he won it old school.
So does his opinion hold any water, or are we seeing a changing of the system in the NFL offensive structure? 
Things will get more interesting as this Tebow experiment moves forward.