Boston Bruins Take 4 in a Row...Have They Found Their Groove?
November 11, 2011
Jim Rogash/Getty Images
The Boston Bruins are on a tear as they add the hot Edmonton Oilers to their list of defeated teams, extending their win streak to four games.
After the Bruins had their 4-7-0 start in October, the Bruins were outscored 24-27.
November, on the other hand, looks like the Bruins turned on a switch.
In the four games that they have played thus far, they have won all of them and outscored their opponents by a convincing 24-8.
So what has changed?
All the lines are scoring.
What seemed to be the first line lost their scoring touch and Nathan Horton was noticeably absent.
In the last two games, he has two goals and three assists for five points.
Milan Lucic was just as equally impressive this month having scored five goals and two assists for seven points.
David Krejci added some totals this month. He earned a goal and two assists twice and got an assist tonight for seven points.
Young Tyler Seguin is looking like the player that he can be as he has been lighting the lamp on a consistent basis.  In the 14 games he has played so far, he has earned nine goals and eight assists for 17 points.  So far this season, he leads the team in goals (nine), points (17), plus/minus (+11), shots (44) and game winners (three).  This kid is showing to be a legit young gun and will only get better.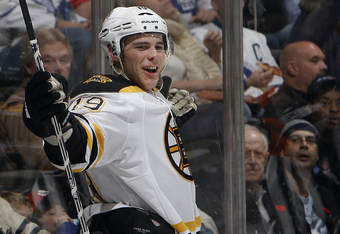 Abelimages/Getty Images
Brad Marchand has earned six of his nine points this season in the last four games as he also seemed to have found his stride.
Goaltending and Offensive Help
Most of the losses could not be blamed on the goalies. For backup goaltender Tuukka Rask, in his first three starts, the Bruins only mustered three goals.  Since then, they have helped the backup with a healthy 12 goals in the his last two starts.
Tim Thomas, the starter goalie for the Bruins, had a little more help with his play.  When he got a shutout with the Toronto Maple Leafs, his teammates rewarded their starter with seven goals.  Some felt that the Bruins were playing better for Thomas than Rask.  I beg to differ.
There were some games that the Bruins played with Thomas that were equally challenging offensive-wise.  Keep in mind that Thomas played nearly twice as many games as Rask did and he is a 5-4-0 so far.  Win-wise, they are not that far apart.
New to the Black and Gold System
Joe Corvo is a great offensive defenseman and he served his former team, the Carolina Hurricanes, well points-wise.
The big adjustment for Corvo is that he is playing in a completely different system and needs to adjust to the differences between his former and present team.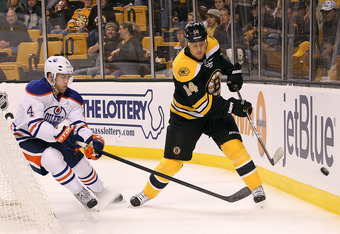 Jim Rogash/Getty Images
With the Canes, Corvo was tasked to aggressively go after any puck handler that is near the net.  His role is to keep back to cover the net so that if there is a rebound, the puck support is there and he can get the puck away from their zone.  The problem with that is that it opened up lanes and he was consistently in the bottom part of the plus/minus stat in the last four seasons (last season with the Canes, he was a minus-14).  This is not the "Bruin-way."
There was a glaring example of this last night when he was going after a puck handler, but Patrice Bergeron, a veteran in the system, recognized the gap and covered the net in his place.
The plus side of his coming to the Bruins is that he has already earned seven helpers and nearly got his first tally of the season against the Oilers.  Last night, he earned his way to a plus-1.  Hopefully, he can iron out his old tendencies and get with the program to be the player he can be in a system that has worked for the Bruins for quite sometime.
Benoit Pouliot just came over from the Canadiens and the former Hab was not working in the Montreal system, but can prove to be an asset once he gets his feet wet into the Bruins system.  To date, he only has generated one goal in 10 games, but it's too early to make a call on him just yet.
Having coached in Montreal, Coach Claude Julien is aware of the offensive hunger of Hab Nation and is a patient mentor knowing that it will take time to get his new players in the mindset and conditioning that is demanded of his system.
Discipline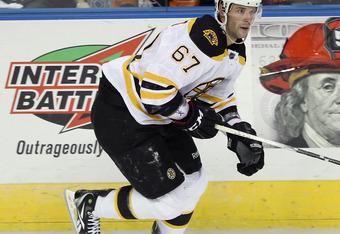 Bruce Bennett/Getty Images
I cannot stress this enough.  When the Bruins got their heads in the game, they are a force to be reckoned with.
When they lose their cool, and that had happened a lot in the earlier part of the season, they gave  teams like the Montreal Canadiens and Carolina Hurricanes that will bury a team on the man-advantage.  Both of these teams have already done this in the young season.
It's pretty hard to generate offense when the team is too busy keeping the puck out of their own zone.
Simple Hockey
You know that old saying, "Know Your Role and Shut Your Hole"?
The Bruins are starting to do this and in good fashion.  Bergeron is in familiar stature in his roles.  He is the team's best faceoff player and one of the best two-way forwards in the game.
Shawn Thornton is the enforcer/energy guy.  He will pick up the team with his physical play and when his team needs a lift, he will put up the fists to get things started.  Statistically, the Bruins win much more often than not when he gets into a fight.  A wake up call if you will.
Brad Marchand is dangerous on both blue lines and is an asset on his line.  In the PK unit, the opponents are fully aware of this kid's explosive speed and his ability to generate offense in a short handed situation.  Marchand is also very good on his skates, and with the stick as he has repeatedly frustrated and skated to positions to either score or open up the lanes and get the puck to a player that is in the position to do so.  Just ask Bergeron who got the Stanley Cup Game Winner or Tyler Seguin who repeatedly got goals with Marchand figuring in on the score sheet.
Tim Thomas is most comfortable to play his game when the defense is playing theirs.  'Nuff said on that.
Johnny Boychuk is big, strong, fast and can blast a cannon from the point.  That and he can knock a player on their can when he is in the defense.
Milan Lucic is a mixed bag of physical play and offensive power.  He has been consistent on both fronts.
David Krejci seems to have found his stride and it looks as though he has overcome his injury early in the season.
Nathan Horton has picked it up as well as seemed to have dropped the stupid plays like when he tried to get into an unnecessary fight in the Carolina loss and get back to what he does best.  Offense.
Last, but not least, "Big Z" Zdeno Chara.  The Bruins' captain is a force of nature.  With his size, reach and strength, he is extremely difficult to get around.  The man with the NHL's hardest shot has been known to drop a few players that are brave or stupid (depend on your point of view) enough to get in front of it.  He has proven that he is a leader and will not hesitate to get into a team mate's grill or help them with their game.
Jury?
The jury is still out at this point as the Bruins just got back to .500 and are still 11th in the Eastern Conference.
Still an early season with plenty of hockey to play.
The young players such as Jordan Caron, Matt Bartkowski and Zach Hamill were in the P-Bruins and will be tested and played.
The gauntlet is set and the Bruins will need to run through it to see how they do.  First results to be scrutinized will be at the All-Star Break.
See ya there with an analysis.
This is Cory Ducey saying "Hit Hard, But Keep It Clean."