October 29: Joe Paterno's Final Game at Penn State
November 11, 2011
Rob Carr/Getty Images
It was a miserable day, October 29, 2011.
And it was a miserable first half. So we left.
The "waterproof" gear we had, put to the test by a wet snow and a declining temperature, coupled with a lethargic offense, sealed the deal.
My dad, my cousin and two of my uncles, who have made an annual weekend getaway to Happy Valley for the past 15 years, left Beaver Stadium for the warmth and comfort of our hotel room.
We continued to watch the game—half-heartedly—as we took turns defrosting in the hot shower.
The Lions picked things up in the second half as the defense played inspired ball and a Matt McGloin led fourth quarter drive provided the go-ahead score.
Illinois' field goal attempt to tie the game as time expired looked good.
The football banged off the goal post.
And that was win No. 409 for Joe Paterno. Another milestone in a career full of them for the 84-year old coach, as he surpassed Eddie Robinson to become the winningest college football coach in history.
We had no idea we were witnessing Joe Paterno's final game.
I just looked up Joe's Wikipedia bio, and it's odd.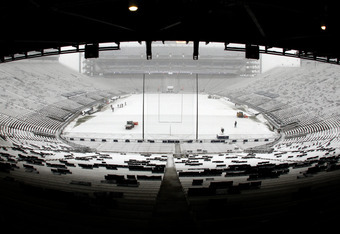 Justin K. Aller/Getty Images
Joseph Vincent "Joe" Paterno (born December 21, 1926) is a former college football coach of the Penn State Nittany Lions from 1966 through November 9, 2011.
Former.
Paterno wasn't going to earn 500 wins. He may not have picked up 425, but he always maintained he had no plans to go anywhere, no plans to leave his perch.
After a whirlwind week of rumors and statements and sound-bites and meetings, Paterno lost his job. He lost the right to make his own plan.
In the aftermath of perhaps the greatest scandal in the history of collegiate athletics, it's hard to put things completely in perspective just yet.
Joe finishes his unparalleled tenure with two national championships, five undefeated seasons, a laundry list of "coach of the year" honors, and perhaps, most importantly, a legacy of philanthropy to the institution he loved and a difference made in countless lives, on and off the field.
Well, that was his legacy anyway. While we do not yet know the full extent of what happened in March of 2002 and what has happened since, what we do know is this: For many, the former white knight of State College has been sullied, tainted forever, stained with the disgust and incredulity at how this spokesman for all that was good and right about college sports could be so silent for nine years.
And I thought October 29 was miserable.