New York Rangers: Grading Each Player from Game 14 at Ottawa Senators
November 10, 2011
Jana Chytilova/Freestyle Photo/Getty Images
After every game of the 2011-2012 season, each Rangers player will be assigned a letter grade based on his individual performance, impact on the game and outlook going forward.
In Game 14 of the regular season, the New York Rangers defeated the Ottawa Senators 3-2, improving their record to 8-3-3, good for second-best in the Eastern Conference. 
Let's take a look at the grades:
Grade: A
Derek Stepan – There may not be a player on the planet right now hotter than Stepan.  He put Marian Gaborik in position to score so often last night that I'm almost disappointed by the fact that Gaborik could only find the back of the net twice. 
Stepan's transition game was the key to his success, as he turned an offensive zone steal into a quick cross-ice pass to a wide open Gaborik for the GAS line's first goal. 
Just prior to the second goal, he disrupted the Ottawa defenders passing lane twice before stealing the puck behind the net and stuffing in the loose rebound. 
Finally, in the third period, he quickly redirected a Rangers defensive zone clear to open up a two-on-one opportunity and another goal for Gaborik. 
Stepan might not be the most tenacious player, but his intelligence, positioning and anticipation ability are turning him into one of the team's most dangerous offensive weapons.
Artem Anisimov – Despite the fact that he may have been the Broadway Hat's second choice (Stepan could not pass it on to himself), Anisimov was every bit as good as his superstar line-mates. 
He was spectacular in the defensive end, singlehandedly forcing two turnovers that ended up in the back of Ottawa's net.  We knew this line had a scorer in Gaborik and a distributor in Stepan, but Anisimov has been the missing piece, the guy who is willing to crash the net and do the dirty work defensively to open up opportunities for his teammates.
Six points and a plus-six in his last three games is not bad for a guy who was playing fourth line minutes not too long ago.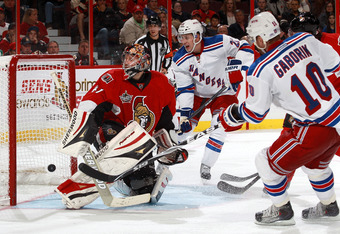 Jana Chytilova/Freestyle Photo/Getty Images
Marian Gaborik – As I said above, I honestly thought Gaborik could have, and probably should have, scored more than twice last night.  Every time he looked up, the puck was on his stick with a chance to score. 
With that said, he did post his second multi-goal game in a row and now has nine points in his last six games. 
His third period goal to essentially ice the game was encouraging to see, as he left absolutely no doubt that the puck was going to find the back of the net.  It was the type of shot that you will only see from the top goal-scorers, something that was sorely missing from Gaborik's game last season.
Henrik Lundqvist – Lundqvist's most noticeable problem this season has been his rebound control, so it was good to see him swallowing up pucks the way he did last night. 
His night started off perfectly, as he was able to get a feel for the puck in the first period without facing too many high-octane scoring opportunities. 
As the game progressed, he made some spectacular pad and glove saves en route to a 29-save performance. 
I put the blame for both goals on faulty defensive positioning, poor back-checking and, for the first time in awhile, not on the shoulders of the King.
Michael Sauer – Last night's game featured gaffs from almost every defenseman except Sauer.  Sauer was his usual rock-solid self in the defensive zone and even managed to spring Anisimov on a breakaway with a hard pass through the neutral zone on an Ottawa change. 
His minutes are starting to slowly increase as he continues to try to regain top form after an early season injury.
Grade: B
Dan Girardi – Girardi was once again a workhorse on the defensive line, playing close to 30 minutes and blocking four shots. 
His only mistake, in my eyes, was a tentative defensive play that led to Ottawa's first goal.  Girardi caught himself halfway between playing the pass and playing the body on a play along the boards, allowing the Ottawa forward to slide the puck through him for a two-on-one opportunity against McDonagh. 
In looking back at the play, Girardi has to realize that McDonagh was left all alone in front and that he needed to do everything he could to stop the puck from getting to the middle.  Otherwise, another solid game from the Rangers' best player.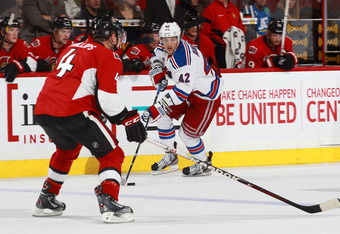 Jana Chytilova/Freestyle Photo/Getty Images
Michael Del Zotto – Del Zotto is starting to put together an extended string of solid defensive games, an unbelievably encouraging sign for a guy who might have been better suited to play wing just one season ago. 
He did an excellent job blocking shots last night and played hard and tough below his own goal line. 
Del Zotto was not as active offensively as we are used to seeing and passed up his one good scoring opportunity by making an ill-advised backwards pass to an unsuspecting Ryan Callahan.  
No glaring mistakes, however, from Del Zotto, something I will never get tired of saying.
Grade: C
Ryan McDonagh – Tough one last night for McDonagh.  The first Ottawa goal was not necessarily his fault, but he certainly did not do much to bail out his defensive partner. 
McDonagh just simply fell down on one play in the first period, leading to a good scoring chance and completely botched a three-on-one opportunity with a pass that tied up Gaborik and thwarted the scoring chance. 
Despite the mistakes, however, McDonagh threw in another 25-plus minute effort and is now plus-seven on the season.
Brandon Dubinsky – At this point, it might not even be worth talking about Dubinsky's offensive game because it's starting to look like the puck will never go in for him. 
His defensive zone play, however, took center stage last night.  Dubinsky made two or three horrid passes in the defensive zone right to the tape of Ottawa sticks. 
To his credit, he continued to remain active defensively and seemed to make enough good plays in his own end to make up for his gaffs early in the first period. 
Maybe Tortorella should move Dubsinsky to defense for the time being. I don't think he can be any worse than Woywitka. 
Brad Richards – I thought Richards played an excellent defensive game.  He did an excellent job of back-checking and halting rushes at the blue-line, springing line-mates on odd man rushes on more than one occasion. 
Don't look now, though. The Richards line has gone pointless in two straight games and has not generated much in the form of scoring chances.  Nothing to worry about, but I would like to see him get back on track on Friday night in Carolina.
Andre Deveaux – There is something really likeable about Deveaux, both as a person and as a hockey player.  He is willing to drop the gloves with anybody and seems to be well-liked in the locker room. 
It might be just a matter of time before he gets his big body behind a wrist shot from the slot for a goal. Bet it comes before Dubinsky gets his.
Ruslan Fedotenko – After moving Dubinsky down to the third line, Tortorella bumped Fedotenko up to play with Richards and Callahan, a clear indication of where he thinks Brian Boyle and Brandon Prust are right now. 
Fedotenko did not do much with the opportunity, but still managed to block a team-high four shots.
Brian Boyle – Boyle had one of his best games of the season, which is not saying much, resulting in a well-deserved bump up in ice-time. 
In the first period, he showed us one of his patented dip-the-shoulder moves around the defenseman, a trick usually reserved for the Marty St. Louis types.  
Overall, Boyle was a more noticeable, but still far from effective on the offensive end.  Tortorella did not make things any easier on the big guy by switching out his wingers all night long.
Grade: D
Ryan Callahan – No other way to say it; Callahan did not have a good game last night. 
His offense was completely non-existent, so maybe it should not have been a surprise when he missed a wide open empty net and a chance to pad the stats as time expired. 
He was uncharacteristically lazy on the back-check, letting his man skate in untouched for an easy scoring opportunity on the first Ottawa goal.  After the goal the camera panned right to Callahan, who clearly knew that he had missed his assignment.
Steve Eminger – Against his better judgment, Tortorella decided to show some faith in his third defensive pairing with a two-goal lead late in the third period. 
Unfortunately it ended in disaster as both Woywitka and Eminger missed assignments, leading to a quick and easy Ottawa goal. 
Eminger also took a potentially costly, albeit questionable, penalty early in the third period, sticking out his knee slightly to stop an oncoming Ottawa forward.
Sean Avery – Big props go to Avery for stepping up to fight pest Zenon Konopka, who had some harsh words for Wojtek Wolski and the Rangers prior to last night's rematch. 
The complements end there, however, as Avery completely "turtled" during the fight and failed to generate anything in limited ice-time.  
His presence on the ice for the second Ottawa goal was all Tortorella could handle on this night, sitting Avery on the bench for the remainder of the game.
Erik Christensen – It has been a bit of a regression for Christensen since his two multi-point games on the most recent home stand.
Partially due to the ineffectiveness of his line-mates and lack of power-play chances, or shootout opportunities for that matter, Christensen was not given much to work with last night. 
It looks like he is back to being a moving traffic cone out on the ice.
Brandon Prust – Prust is a hard-nosed player who will you give you everything he has night in and night out.  He did just that last night, but his all-out effort just doesn't seem to be enough anymore. 
The puck is bouncing off his stick like it's a trampoline, and his only offensive zone move seems to be standing with the puck behind the goal line. 
Cycle play is all well and good, but if you cannot make a play towards the net, then it's just wasted time in the offensive zone. 
He may be hurt for all we know, but this is certainly not the Brandon Prust we have become accustomed to seeing.
Grade: F
Jeff Woywitka – I have just about had enough with Woywitka.  He battles himself every shift and spends most of his time chasing pucks in the defensive zone. 
He is big, which I like, but does not use the body nearly enough. 
The second Ottawa goal was almost completely his fault, with a little help from Eminger and his non-back-checking forwards. 
I don't know if Anton Stralman is the answer, but we need to at least give him a shot.