2012 MLB Offseason: Grading the Top 15 Third Basemen According to TPR
November 10, 2011
J. Meric/Getty Images
Luckily, these TPR reports are picking up steam. If they were TPS reports, we'd have to remember to include the cover sheet.
For those just catching on, TPR stands for total player rating. We add up up the runs above average for fielding, hitting and base running from Baseball Prospectus, Fangraphs and Baseball Reference. I've calculated the results for all would be regulars, but we will see the top 15 and bottom three here today.
A few reminders about the process. First, players will be included here only if third base is their primary position (or their projected position). There are numerous players that qualify at multiple positions. This would include designated hitters, although we should not see any of those at third base. If you want accurate estimates of the number of runs a player actually earned for his team, divide the totals you see by three.
15. Chase Headley, San Diego Padres
Fielding: -22.5
Hitting: 39.4
Base Running: -1.2
Total Player Rating: 15.7
The total says more about the state of the position than anything else. That being said, Headley marks the third Padre that places in the top 15. He likely won't be the last. His fielding was a disappointment, but we have seen players bounce back from poor fielding campaigns. If he does, then Headley could be a top 10 third baseman.
14. Edwin Encarnacion, Toronto Blue Jays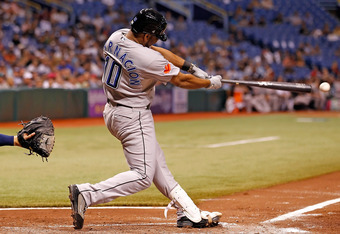 J. Meric/Getty Images
Fielding: -7.1
Hitting: 29.2
Base Running: -1.9
Total Player Rating: 20.2
Alex Anthopolous says that Encarnacion will spend most of his time at DH, but he is nice insurance to have in case Brett Lawrie struggles. He also could become the regular first baseman in lieu of the fact that Adam Lind is actually a weak all-around first baseman.
13. Matt Downs, Houston Astros
Fielding: -10.2
Hitting: 31.5
Base Running: -0.3
Total Player Rating: 21.0
Knowing the Astros as well as I do, I figure Downs won't have a regular spot anywhere despite the fact that he would be the best option at either third base or second base. He fits better at third base since neither Jimmy Paredes nor Chris Johnson figure to be any good. At least Jose Altuve has potential at second base.
12. Ryan Zimmerman, Washington Nationals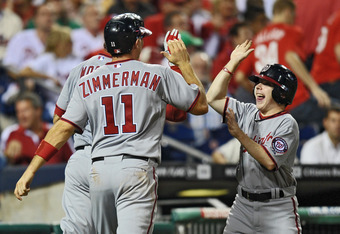 Drew Hallowell/Getty Images
Fielding: -6.1
Hitting: 29.6
Base Running: 0.1
Total Player Rating: 23.6
There was a time not too long ago when Ryan Zimmerman was by far the best young position player prospect for the Nationals. These days, he is more tease than production. He has had only one healthy season in the last four, and that one was brilliant. If he can be healthy again, he will be close to the top five.
11. David Freese, St. Louis Cardinals
Fielding: 6.2
Hitting: 24.8
Base Running: -4.8
Total Player Rating: 26.2
Those that watched the playoffs would have sworn that Rogers Hornsby somehow possessed David Freese. He set the record for RBIs in the playoffs (for one season) and was by far the best player on the Cardinals. These things rarely ever carry over, so don't expect them to for Freese either.
10. Aramis Ramirez, Free Agent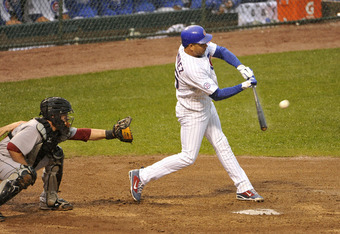 Brian Kersey/Getty Images
Fielding: -35.2
Hitting: 77.2
Base Running: -12.2
Total Player Rating: 29.8
The only thing we know at this point is that Ramirez is probably not returning to the Cubs. There are links that have him going to the Marlins. That makes some sense given the revolving door they have had at third, but they also have Matt Dominguez coming up. He is supposed to be another Mike Stanton/Logan Morrison.
9. Ryan Roberts, Arizona Diamondbacks
Fielding: 11.3
Hitting: 19.0
Base Running: 9.4
Total Player Rating: 39.7
Let's give some credit to Kevin Towers for recognizing that Mark Reynolds was always going to be limited at third base. He effectively replaced him with a less exciting player, but one that contributes in all three phases.
8. Jack Hannahan, Cleveland Indians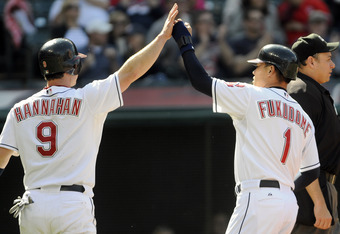 Jason Miller/Getty Images
Fielding: 38.1
Hitting: 4.8
Base Running: -1.8
Total Player Rating: 41.1
They can call Jacoby Ellsbury the comeback player of the year all they want, but this came from nowhere to be a productive player. He had been a semi-regular in Oakland a few years ago, but as far as anyone else knew, he was selling insurance. Good for him.
7. Kevin Youkilis, Boston Red Sox
Fielding: 2.5
Hitting: 54.8
Base Running: 2.2
Total Player Rating: 59.5
An irate fan on another article called him Mr. Glass. So far, only Aramis Ramirez has put up better offensive numbers, and he had to have a career year to do it. Ignore him at your own peril.
6. Alex Rodriguez, New York Yankees
Fielding: 23.5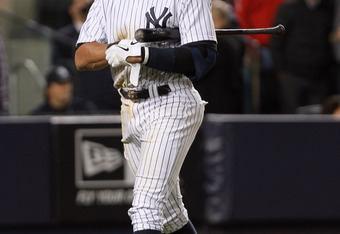 Nick Laham/Getty Images
Hitting: 35.2
Base Running: 3.4
Total Player Rating: 62.1
It's hard to feel sorry for an admitted PED user. In many ways, A-Rod brought all this on himself. That being said, he has worked very hard to make himself into a good third baseman. Even with a horrible year (for him), he was still almost in the top five at the position.
5. Alberto Callapso, Los Angeles Angels
Fielding: 39.7
Hitting: 25.5
Base Running: -1.6
Total Player Rating: 63.6
I do feel sorry for the Los Angeles Angels of Anaheim, Orange County and the state of California. They have a number of great players, but the Rangers still have more. Tony Reagins took the fall, but really, they just weren't good enough. There really is no shame in that.
4. Brett Lawrie, Toronto Blue Jays
Fielding: 25.6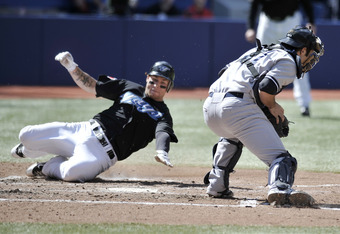 Brad White/Getty Images
Hitting: 36.6
Base Running: 1.9
Total Player Rating: 64.1
If you saw the numbers Lawrie put up, you wouldn't protest this position. It isn't difficult to envision the Blue Jays being the Rays of the next decade. They have a great lineup in place. All they need is the pitching.
3. Pablo Sandoval, San Francisco Giants
Fielding: 34.3
Hitting: 78.1
Base Running: -2.2
Total Player Rating: 110.2
Sandoval is the highest rated National League third baseman by a large margin and you rarely ever hear anything about him. I suppose he'd be okay keeping it that way. He would just as soon you continue forgetting about him if he can continue to produce this way.
2. Adrian Beltre, Texas Rangers
Fielding: 34.3
Hitting: 73.6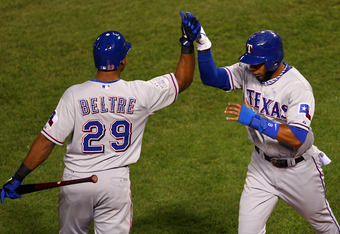 Dilip Vishwanat/Getty Images
Base Running: 3.8
Total Player Rating: 111.7
Those adept at math know that half of a run separates Sandoval and Beltre once you convert these into real runs. This despite the fact that Beltre missed more than a month this past season. Simply put, Beltre really is this good, and it wasn't until this year before most people finally believed.
1. Evan Longoria, Tampa Bay Rays
Fielding: 31.9
Hitting: 86.1
Base Running: -2.5
Total Player Rating: 115.5
Let's remember that Longoria had a "down" year this year. With better production and a little luck (he had a low BABIP this season), he could be among the top five players in all of baseball. Given his penchant for the dramatic (see game 162), he could be the AL MVP in 2012.
Bottom Feeders
Casey McGehee, Milwaukee Brewers
Fielding: 8.1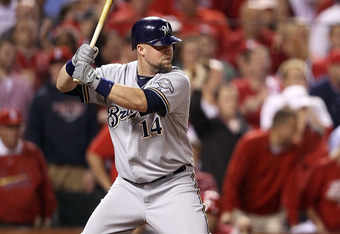 Christian Petersen/Getty Images
Hitting: -67.4
Base Running: -15.5
Here's the question for Doug Melvin. Do you assume McGehee's season was simply the product of a season where everything went wrong, or do you assume his 2010 season was a flash in the pan? If you believe the former, you simply pencil him and exercise faith that he will become productive again. If you believe the latter, you use some of the Prince Fielder money to shore up that spot.
Danny Valencia, Minnesota Twins
Fielding: -30.6
Hitting: -28.6
Base Running: -4.3
Total Player Rating: -63.5
Valencia was not as bad as a hitter or base runner as McGehee, but he was an equal opportunity offender. Simply put, you don't lose 99 games as a team without having a few guys lay some serious eggs.
Chone Figgins, Seattle Mariners
Fielding: 10.1
Hitting: -64.1
Base Running: -2.3
Total Player Rating: -56.2
It is hard to imagine a major free agent signing turning out worse than the Chone Figgins signing. Honestly, it was partially foreseeable. He wasn't going to be as good as he was in 2009, but you couldn't foresee this in a million years. This is sub-replacement level bad.