Week 10 Fantasy Football: Fire Players & Ice Players
November 10, 2011
Scott Cunningham/Getty Images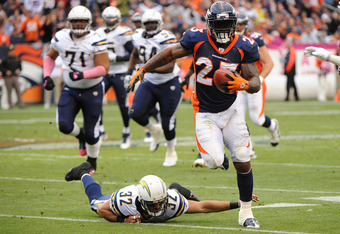 Bart Young/Getty Images

Every week people ask "Who do I start this week?", "Do I start A or do I start B?"  Now no one can make that decision for you, but you can seek help, and by coming here, that is exactly what you have done.  
Let me explain the process.  This is a list of players who I think will be on Fire this week and players who I think will be Ice Cold this week.  It is not an exact sit / start process, just players I have a feeling will do good and some thoughts why.
Fire Players
Philip Rivers (San Diego Chargers)
The past two weeks he has thrown for 369 yards and two touchdowns and 385 yards and three touchdowns.  Now he goes up against an Oakland Raiders team who was made silly by Tebow & Company.  Oakland is sending out Carson Palmer who has now thrown six interceptions in two games. That will equal a short field for Rivers to work with.  He may throw some interceptions, but I expect about four touchdowns and over 300 yards again this week.
Michael Vick (Philadelphia Eagles)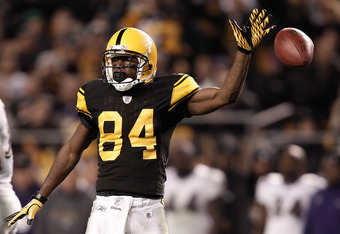 Jared Wickerham/Getty Images
We have all been waiting for him to bust out and be his 2010 self.  He has shown grit playing through injuries, yet he hasn't run the ball as much as he used to.  Not what we wanted when we drafted him in the first round of our drafts.  He goes up against a weak Arizona Cardinals team with the NFL leading rusher behind him in LeSean McCoy.  If this doesn't spell field day for Michael Vick, than I fear this ship may have sailed.  I feel a big day coming.

 
Willis McGahee (Denver Broncos)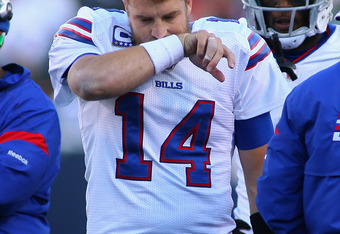 Rick Stewart/Getty Images
McGahee is coming off a 165-yard two touchdown performance against the Oakland Raiders last weekend, which was amazing seeing how he just came off surgery on his hand and healed faster than Wolverine.  Tim Tebow is a big help in McGahee's stock.  Much like Vick helps LeSean McCoy, expect Tebow to help McGahee in the same way.  It is to hard for defenses to have to deal with a QB that scrambles and runs but add in a back that looks rejuvenated?  Give me that stock any day.  The Chiefs defense is nothing to worry about here as teams have been running on them all year.  Now I do not expect another 160-plus performance but triple digits and a TD I do.
Ben Tate (Houston Texans)  
I did not expect Ben Tate to be this good, especially with Arian Foster still playing as good as he is. The Houston Texans are running all over people and teams cannot stop either of these two backs.  Ben Tate amassed 115 yards last week on 12 touches (9.8 yards per carry).  He may not warrant a RB2 spot but if you're in a league with flex players (and really who isn't these days) he is a flex player you should be starting.  Like the Kansas City Chiefs, the Tampa Bay Buccaneers are allowing running backs to run all over them. 
Dez Bryant (Dallas Cowboys)
With Miles Austin out for two to four weeks and DeMarco Murray playing at an amazing level, expect Dez Bryant to benefit here.  He has been somewhat of a bust this year but with Buffalo giving up over 4.6 yards per carry it should open up the secondary and give him plenty of chances to score. 
Antonio Brown (Pittsburgh Steelers)
Antonio Brown is going up against a relatively tough defense this week and a team that has won five in a row, but going up against the Baltimore Ravens this past week he put up 109 yards on five receptions.  The Bengals defense is not as good as the Ravens defense.  Ben Roesthlisberger has shown he has trust in this young fella and he has shown he can handle it.  If your league counts return yards, you get an extra boom for the week.  He has 709 return yards on the year.  He may not be a threat to score touchdowns each week (he only has one) but I do expect one this week and around 80-90 yards with 50-plus return yards.  A decent flex play if you are in need.
Rob Gronkowski (New England Patriots)
The New England Patriots go up against division rival New York Jets this weekend in a pivotal showdown.  Darrelle Revis will most certainly have his focus on Wes Welker, which leaves one of the game's best tight ends to benefit.  New England will have to make some quick decisions and some snap throws.  I expect Gronk to benefit the most from this.  He is always a threat for a touchdown and good yards.  I see him having the best day out of Patriots players.  He is a must start tight end this weekend.
Ice Players
Ryan Fitzpatrick (Buffalo Bills)
Rob Ryan.  I expect the Dallas Cowboys defense to be able to contain Fitzy and bring Buffalo to a halt.  
Matt Ryan (Atlanta Falcons)
This is more a gut feeling than anything else, I think New Orleans can handle Ryan who has been suspect the entire year.  I have a feeling he is going to throw at least two interceptions and have a lot of pressure on him.  I think they lean heavily on Michael Turner.
Larry Fitzgerald (Arizona Cardinals)
Oh Larry Larry.  You used to be the best of the best.  A wideout no one ever thought of not starting but here we are.  Kevin Kolb has been nothing special this year and while you're putting up semi-decent numbers, I don't expect much this week against a Eagles defense that is starting to come together. Their corner-backs are too good and will contain you.  Not a fun week for L. Fitz owners.
Sidney Rice (Seattle Seahawks)
One word: Baltimore
Cedric Benson (Cincinnati Bengals)
The Pittsburgh Steelers are hitting midseason form and can stop the run.  Benson isn't a back that has explosive power or quickness.  I don't expect much out of him and if you have other options, I may try those instead.  It gets rough for Bengals players these upcoming weeks with four games with the Steelers and Ravens looming.
Marshawn Lynch (Seattle Seahawks)
If you enjoy starting inconsistent players, then by all means.  But he has done well in two games this year and been terrible in five.  Ignore him and find someone else please.
Vernon Davis (San Francisco 49ers)
The new style of play the 49ers have installed has not benefited him much. He catches everything that comes his way, but not many are.