2012 NFL Draft: Top Quarterback Prospects Not Named Andrew Luck
November 10, 2011
Brett Deering/Getty Images
With all the talk about Andrew Luck, who will select him with the No. 1 overall pick in the 2012 NFL Draft and whether or not he's the best quarterback prospect since Peyton Manning, it's easy to forget that there are, you know, other talented signal callers who will get snapped up.
Assuming, of course, that nobody figures out how to clone the Stanford star in the interim. In fact, the upcoming draft class is shaping up to be even deeper than last year's class, which has already yielded four rookie starters (Cam Newton, Andy Dalton, Blaine Gabbert and Christian Ponder) and a fifth (Jake Locker) who will get his shot soon if his team continues to tank.
In other words, there should be plenty of consolation prizes for the runners-up in the "Suck For Luck" sweepstakes.
Landry Jones, Oklahoma
As far as the non-Luck crop is concerned, Landry Jones is about as close to a prototypical NFL quarterback prospect as you'll find. At 6'4" and 229 lbs, Jones has the size and requisite arm strength to "make all the throws" in the pros. His accuracy under center—he's completed more than 60 percent of his passes during his three years at Oklahoma—also bodes well for Jones' success at the next level.
The remainder of the Sooners' season will make or break Jones' candidacy as the best alternative to Luck, as he'll have to get by without the services of injured receiver Ryan Broyles. If Jones continues to thrive, his stock as a potential Top Five pick will only grow stronger.
Matt Barkley, USC
If it weren't for Andrew Luck, Matt Barkley may well be the most celebrated quarterback in college football today. The junior has had a sensational season for the Trojans thus far, having already set a new career-high with 28 touchdown passes and well on his way to establishing new bests in completion percentage and passing yards for a season.
All while throwing just six interceptions, by the way.
Unfortunately for Barkley, he's coming out of a USC program whose quarterbacks, namely Matt Leinart and Mark Sanchez, have struggled in the NFL of late. There are also questions about Barkley's arm strength, not to mention whether or not he might actually stay for his senior season.
All that being said, Barkley has shown tremendous maturity during his time in college (aside from his remarks about Vontaze Burfict) and won't be intimidated by the bright lights of the NFL.
Robert Griffin III, Baylor
If Robert Griffin III is taken in the Top 10 of the 2012 NFL Draft, he will owe a debt of gratitude to Cam Newton.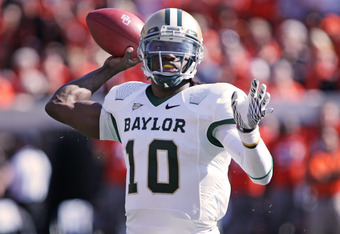 Brett Deering/Getty Images
Thanks to Newton's success in Carolina this season, general managers and front office folks won't likely be as hesitant to select a one-year-wonder, dual-threat quarterback of RG3's caliber as they otherwise would have.
In fact, RG3 might actually be a better NFL prospect than Newton was coming out of Auburn last season. Griffin comes equipped with vastly more experience as a starter and a more accurate arm—74 percent on pass completions compared to 66.1 percent for Newton.
And while RG3 would be hard-pressed to replicate Cam's tremendous success on the ground, the Waco kid can still scoot when he needs to, having piled up 386 yards and four touchdowns in spot scrambling duty.
In other words, RG3 is shaping up to be a more polished version of Newton, which any team looking for a quarterback early in the first round has to be excited about.