Wisconsin vs. Minnesota: Last Minute Spread Info, Line and Predictions
November 10, 2011
Jonathan Daniel/Getty Images
The Wisconsin Badgers hit the road this Saturday, looking to make it eight straight victories over the Minnesota Golden Gophers. 
Minnesota lost a close one to Michigan State, a team that Wisconsin lost to earlier in the year. One would think that the Golden Gophers have a chance, especially at home. 
However, the Badgers know they can't afford to lose, and their offense will be very difficult to stop. 
With that said, let's take an in-depth look at this Big Ten showdown. 
When: Saturday, November 12 at 3:30 p.m. ET
Where: TCF Bank Stadium, Minneapolis, MN
Watch: Big Ten Network 
Spread
The Badgers are favored at -27, which is no different from the other lines Wisconsin has seen this year against subpar teams. However, given the way the Golden Gophers have been playing the last few weeks, I wouldn't feel safe expecting Wisconsin to cover by that much. 
Key Injuries 
For Minnesota, DL Eric Jacques (ankle), K Chris Hawthorne (leg), OL Ryan Orton (back), DE Leston Simpson (head), DL Harold Legania, OL Jimmy Gjere (concussion) and CB Troy Stoudermire (wrist) are listed as questionable. 
The Badgers don't have any recent injuries to report. 
Jonathan Daniel/Getty Images
BCS/Top 25 Implications 
At 2-7, the Golden Gophers have no shot of reaching the Top 25 this season. Although, a big upset victory over Wisconsin would give this program a much-needed boost of confidence moving forward. 
The Badgers are ranked No. 18 in the BCS, and they must win out this season and get a little luck in order to win the Leaders Division of the Big Ten. Wisconsin still has a chance to play for the Big Ten title, but the Badgers cannot afford to lose another game, especially to Minnesota. 
Keys to Wisconsin Win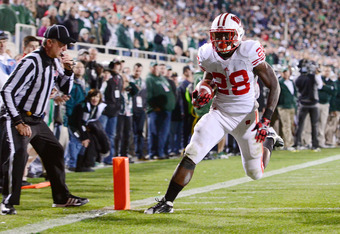 Mark Cunningham/Getty Images
All the Badgers have to do is stick to their game plan of running the ball. While the Golden Gophers are starting to play better, stopping Montee Ball, James White and Russell Wilson is no easy task.
The Golden Gophers rank No. 92 in the country against the run, allowing 5.1 yards per carry. Ball is averaging six yards a carry, so he should have no problem pounding it down Minnesota's throat on Saturday. 
If Wisconsin can't get the run game going, it will place a lot of pressure on Wilson to step up and make plays. He is capable of doing that, but it's much easier when the run game is having success. 
Keys to Minnesota Win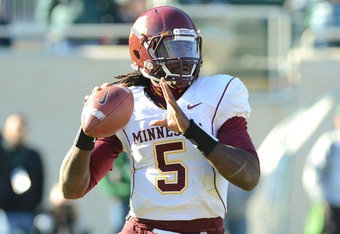 Mark A. Cunningham/Getty Images
The Golden Gophers will need their star player, Marqueis Gray, to play out of his mind on Saturday if they want a chance at winning.
Gray leads Minnesota in passing and receiving, making him a big target for the Badgers' defense. If he has a stand-out performance, the Golden Gophers will be able to be competitive against the mighty Badgers.
Minnesota also has to find a way to stop the run, something the team isn't very good at. If Montee Ball gets into the secondary too much, the Badgers will eat up the clock and limit the number of times Gray and the Golden Gophers have the ball.
Prediction 
The Golden Gophers will put up a fight, but the Badgers will prevail in the end. Not having an answer for Montee Ball will be Minnesota's downfall, as he will easily surpass 100 rushing yards on Saturday. 
Give credit to the Golden Gophers for not quitting on the season and playing tough, but the Badgers' offense will be too much to handle this weekend.
Wisconsin easily wins by two touchdowns. 
Badgers 38, Golden Gophers 21