New York Rangers Center Derek Stepan Emerging as True Force
November 11, 2011
Bruce Bennett/Getty Images
Of all the the things that went right for the New York Rangers a season ago, and there were many, there was one component of the team that went indisputably wrong. Marian Gaborik—who provided inspirational play during the 2009-2010 season, scoring 42 goals despite being the only Rangers player on the ice that opposing coaches were concerned with—was almost non-existent during the 2010-2011 season and into the playoffs.
Gaborik did of course miss 20 games last season due to various injuries; however, when you break his numbers down in terms of per game averages the year over year comparison is stunning.

In 2009-2010, Gaborik average 1.13 points per game (PPG) and included in that number was a .55 goals per game (GPG) average. That .55 GPG number, of course, translated into the 42 goals we mentioned earlier, an amount that was more than double the next highest scoring player on the team, Vinny Prospal, who chipped in 20.
In 2010-2011, Gaborik's PPG number fell considerably, to .77  to be exact. His GPG fell to .35 per game, and even if Gaborik had not played the 14 less games than he did the year before he still would have been roughly 15 goals below his previous year's total. He looked timid, his hands seemed to have lost their speed and he wasn't creating his own opportunities with his outside speed or puckhandling skills.
This development was in no doubt a major consideration in the Ranger's offseason pursuit of Brad Richards. The thinking was that Richards would finally be the one to provide Gaborik with the kind of playmaking partner Gaborik would need to thrive, and in the process the Ranger's would have a legitimate number one line as a result.
So much for that.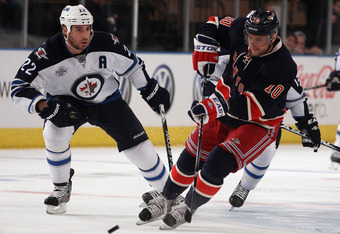 Bruce Bennett/Getty Images
While Richards and Gaborik were by no means dysfunctional when paired through much of the early slate of games, the reality is that there was not that immediate click a coach hopes for when putting his combinations together.

Much of this was chalked up to the lack of a left winger to round out the group, however in the final analysis Richards and Gaborik would never get the opportunity to discover if that was indeed the true missing piece.
The opportunity never presented itself because John Tortorella, the impatient and finicky head coach of the team, ignored conventional wisdom and decided on an alternative approach that, above all, clearly demonstrated that if you look everywhere for something at least once you may actually find what you're seeking.
First, Tortorella moved Derek Stepan, a 21-year-old second year centerman, off the third line and into the pivot role between Gaborik and Anisimov. In doing so, Tortorella broke up the Richards-Gaborik pairing and, as a byproduct, also broke up the one line that the team could bank on from a season ago, specifically the Anisimov-Dubinsky-Callahan trio.
Fans, observers and pundits alike, yours truly included, bemoaned Tortorella's early season line juggling and cried foul when the Anisimov line was originally scrapped by the use of Dubinsky on the left of Richards and Gaborik. This concern was justified to a degree, it should be said, as Tortorella's decision to dismantle the Aninsimov line from a season ago was a classic case of robbing Peter to pay Paul.
The placement of Dubinsky on the left wing of the Richards-Gaborik pairing served only to essentially negate the effectiveness of Anisimov and Callahan both, leaving the team with one effective line—Richards, Gaborik, Dubinsky—and three lines that struggled to produce anything of value.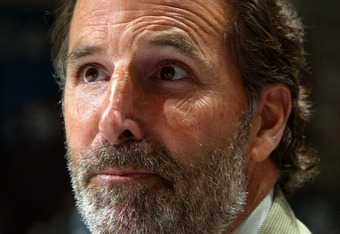 Jim McIsaac/Getty Images
In conjunction with the promotion of Stepan to top-six forward status, though, Tortorella also shifted Richards between Dubinsky and Callahan. The pieces, as they say, started to fall into place. While Gaborik started to benefit from being combined with a center and opposite winger who could skate with him, Richards began benefiting from having wingers who, though possessed of speed, tend to focus more on the game below the hashes.
The key to this entire process, though, has been Stepan himself. Having been rescued from his own personal version of hockey purgatory, namely a role on the grinding third line, Stepan began to fly.

He began to demonstrate the skills that earned him a spot on last season's club—as a 20-year-old, no less—if not a role that suited him best. And perhaps most importantly, he has provided the spark for Gaborik that was so desperately needed if this team is to move beyond the level they've been the past several seasons.
The emergence of Stepan is not just a key development for this season's team, because it could also be an indication of what's in the pipe personnel-wise for the organization. While every organization likes its own prospects, of course, having one begin to play a prominent role on the big club serves to justify the scouting and drafting construct that the organization has in place.

With a number of highly-touted youngsters on the way, perhaps the team can look forward to supplementing from within for years to come.
Stepan's early run here with Gaborik and Anisimov will need to be tested further to see if it can stand the scrutiny of opposing coaches. The various schemes they'll employ to neutralize the line will no doubt expose whatever weaknesses the trio may collectively possess, and it will up to Stepan, as the pivot, to make the necessary adjustments.
With that said, though, it would appear as if Stepan has the mental game required to make whatever adjustments need to be made. He has always played older than his birth certificate would suggest he should, and this bodes well for him and the team going forward.
In the end, it will be Tortorella who perhaps plays the most critical role in this process. Will he return to form and make line adjustments shift to shift, as he has in the past at times, or will he give his players the time they'll need to settle into a rhythm? The good news on that front for Rangers fans is that Tortorella doesn't have many line options left to try, and so perhaps he will recognize that he should stick with a good thing.
Either way, though, the Rangers have found themselves a player in Stepan.