49ers vs. Giants: 6 Reasons New York Has No Chance vs. San Francisco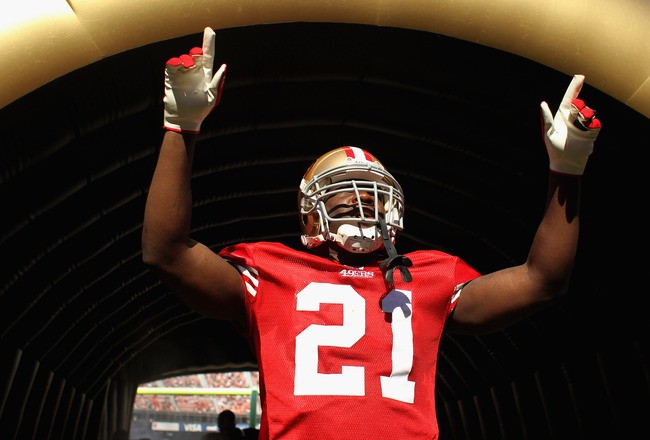 Ezra Shaw/Getty Images
It's one of the premier games of the second half of the 2011 season, and many are calling it a possible playoff preview.
When the Giants visit Candlestick Park on Sunday, many expect to see a game that reveals whether the SF defense is for real, whether 49er coach Jim Harbaugh can guide quarterback Alex Smith through the demanding straits of the Giants pass rush and whether Eli Manning can take another step to becoming an "elite" quarterback.
A closer look, however, reveals a New York team that's overrated and lucky to be leading the NFC East. Here are six reasons why New York has no chance Sunday against the 49ers.
A Real 6-2?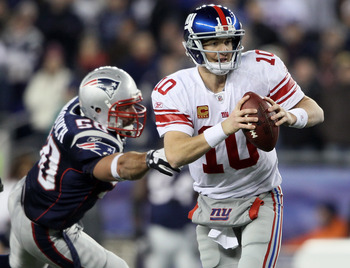 Elsa/Getty Images
This week, much of the NFL talk has been about how Eli Manning (10) guided the Giants down the field for the game-winning TD in last week's 24-20 win over the Patriots. But what's overlooked in all that is a drop on a relative easy interception of Manning by the Patriot secondary. If that ball is caught, New York gets stopped and we're no longer hearing how Eli has moved into the "elite" category.
On Oct. 2, the Giants were trailing the Arizona Cardinals by four late in the game. Manning again drove the team down the field, but a controversial call that went in the Giants' favor helped significantly. If the officials called Victor Cruz's leaving the ball on the ground a fumble, like the Cardinals felt he had done, then that game also ends differently.
This team could very easily be 4-4, and the fact that they lost 36-25 at home to a less-than-inspiring Seattle team suggests this is team more than capable of going off the rails for any number of reasons, some of which we will talk about here.
Finally, for all the talk about the "weak" NFC West, let's take a closer look at the team's respective schedules. The Giants have played teams whose collective record is 22-41. The Niners foes are 31-32. That alone might suggest that the Giants are lucky to be 6-2.
Rush Defense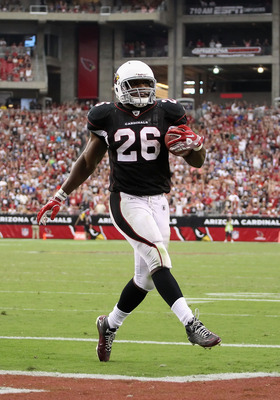 Christian Petersen/Getty Images
Meeting with the media on Wednesday, Harbaugh was asked what stood out about the Giants' 24-20 win over the Patriots. Here was his reply (courtesy of the 49ers PR staff):
"So many things," Harbaugh said. "What a good football team they have. How well they play on the defensive front, same with the offensive line. Just a really good team in the lines. Very good, elite quarterback and the skill position at receivers and backs, outstanding. Just across the board, linebackers, secondary, it's an outstanding football team. Very good at special teams, very disciplined team, very physical team. They play well together."
Take that as pre-game hokum. Coaches always play up a team's strengths without revealing what they want to focus on. But a little deeper look suggests that the Giants, whose defense is known for its pass rush capabilities, have trouble against the run. For a hint, consider Beanie Wells.
Here's a list of the Giants rush defense's performances so far:
Week 1, held the Redskins to 74 yards rushing in 28-14 loss.
Week 2, held a Steven Jackson-less Rams to less than 60 yards rushing in easy win.
Week 3, Philly's LeSean McCoy busts out 128 yards on 24 carries, but Eagles lose to Giants.
Week 4, Beanie Wells (26) for Arizona posts 138 yards in 27 carries, but Giants win late in the fourth quarter.
Week 5, Marshawn Lynch leads the way as Seattle—Seattle?—racks up 145 yards in easy win over Giants, thanks in part to five Giants turnovers.
Week 6, Buffalo's Fred Jackson goes for 124 on 16 carries in 27-24 loss to Giants
Week 7, Reggie Bush of the Dolphins—the Dolphins?racked up 103 yards on 15 carries in loss to Giants.
Week 8, the Patriots, whose running game is anemic at best, totaled 103 yards rushing.
Frank Gore, gimpy ankle and all, should be, uh, motivated, to say the least.
The Giants play the 49ers on their home turf. There won't be any crowd noise to distract the 49er offensive linemen from getting off quickly at the snap. Furthermore, this is a team who looks to run first, run well and run often. Moreover, it has a defense that can limit the Giants offense so it won't have to get away from the run.
A Real Defense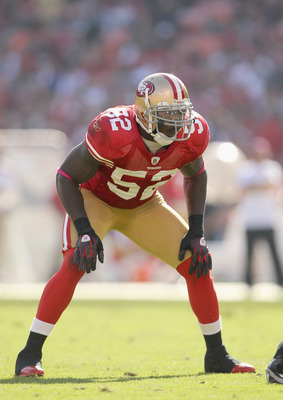 Ezra Shaw/Getty Images
We'll see how well the Giants offense, ranked 13th in points and 11th in yards, does against a real defense. Consider the schedule again.
Washington's defense was good before injuries took over, and it showed in limiting the Giants to 14 points. Philly's defense is one of the worst, and Arizona's is ranked in the lower 20s.
Seattle? C'mon.
Buffalo and New England give up the most yards of any NFL team.
Now they go against a team that is No. 1 against the run, hasn't given up a 100-yard game since November 2009, limits teams to 1-in-3 third down conversions and can rush the passer in both base and nickel sets. He gets to face the best pair of inside linebackers in the game, Patrick Willis (52) and NaVorro Bowman.
Eli Manning hasn't seen a defense like this, playing on its own homefield, in windy Candlestick.
It will be the Giants' toughest test, and the evidence (schedule, in-depth look at lucky breaks) suggest that the Giants won't hold up.
Giants Can't Run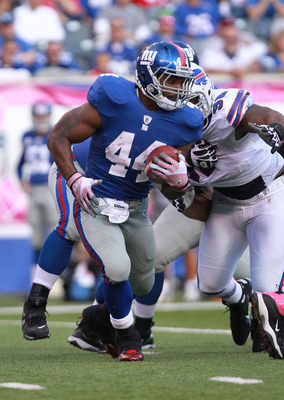 Nick Laham/Getty Images
At 3.3, New York ranks 29th in yards per rush attempt. What's more, running back Ahmad Bradshaw (44), the No. 1 back with 111 carries for 440 yards, is banged up. Backup Brandon Jacobs (60-198) hasn't been happy, nor all that effective.
Look for the Giants to offer a lot of three wide receiver sets. But No. 1 receiver Hakeem Nicks (37 catches, 575 yards, 3 TDs) isn't 100 percent and may miss the game. Harbaugh expects him to play.
If the 49ers defense plays as it has, the Giants will find out early in the game that they will have to abandon the run. But, Manning will have to throw fast to beat the rush, and he's throwing into a secondary that's No. 1 in passes defensed. Also, the 49ers are a good tackling team, which means limited YAC (yards after catch).
That makes the Giants one-dimensional on offense, and one thing the Niners can do this year is rush the passer. Another reason why this will be Manning's toughest test of the year.
Chip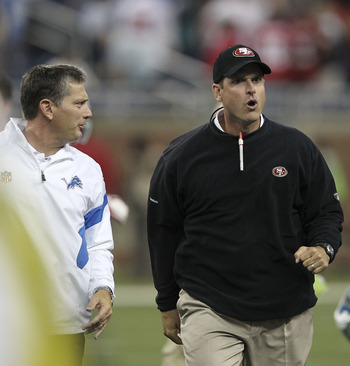 Leon Halip/Getty Images
Let's go way back to the Week 1 against Seattle. Harbaugh made a comment in his Monday-after-the-game press conference that he couldn't find any highlights of the 49ers on the sports shows (read: ESPN).
Now the 49ers are called the surprise team of the NFL season. But I would bet a lot of money that Harbaugh and staff are constantly reminding the players that no one respects the team yet. That the carryover from the poor seasons for eight years, the lingering stigma of a so-called failed No.1 draft pick at quarterback, that no one takes this team seriously.
Respect, lack thereof. It's a great motivating force.
So Harbaugh and staff no doubt are reminding the players that this is their coming-out game. Forget the win over Philadelphia and Detroit; they don't mean as much as this one because it's the team with the best record to face the 49ers. (Note that I didn't say the best team; just the one with the most wins, thanks to some lucky breaks, so far).
Read between the lines of Harbaugh's answer to the question about this game being so important because of possible playoff implications:
"There's great significance to this game," Harbaugh said. "The biggest thing is it's the next game. That always makes it the most important game."
No. This one's a little bigger. Expect the Niners to be peaking with enthusiasm.
Grinding out Respect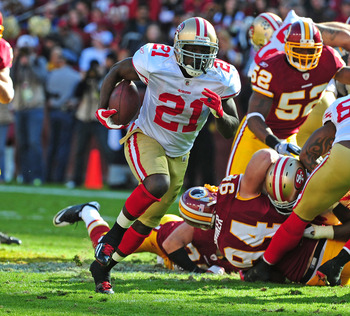 Scott Cunningham/Getty Images
Here's one final stat to chew on.
The Giants are 11th worst in giving up running plays longer than 20 yards. They have given up seven. The Niners are tied for fourth in rushing plays that gain more than 20 yards, with 11.
So, in watching Harbaugh mold this team into the NFL's equivalent of a slow-moving road-grader team whose passing attack serves not even as a side dish, but more as a spice to the entrée of Frank Gore right, middle and left, I expect this game to be an SF coming-out party of all things run.
The Giants have a record of not stopping it, and the Niners have a team that can do it all game with one of the game's best inside runners in Frank Gore (21). It's going to be Harbaugh's attempt to say that this year's 49er team is old-school, old-fashioned and definitely not among the passing elite that grabs so much time on ESPN and sports talk shows.
That way, they'll have to respect the 49ers.
Keep Reading

San Francisco 49ers: Like this team?