Jonathan Papelbon Exit Is Ben Cherington's First Gamble for Boston Red Sox
November 11, 2011
Jim Rogash/Getty Images
Jonathan Papelbon is shipping down to Philly.
Papelbon reportedly agreed today to a deal with the Philadelphia Phillies for four years and $50 million. 
Papelbon is Boston's biggest free-agent loss since Johnny Damon bolted for the Bronx after the 2005 season. 
Papelbon's exodus is actually very reminiscent of the Damon situation.
In Oct. 2005, then-GM Theo Epstein sat down at Fenway for the annual post-mortem press conference and said, "You can't be afraid of change. You have to embrace it and you have to turn it into a positive."
On Wednesday, current GM Ben Cherington, speaking on Papelbon's discussions with other teams, said the following to ESPN Boston:
Those things can happen fast sometimes. [Papelbon] doesn't owe us a call. I don't think we expect that. We expect we'll keep the door open and keep talking. But if he gets something that he really wants and there's a deadline on it he can take it.
Not much sugar-coating there, huh?
Johnny Damon ended up proving his doubters on Yawkey Way wrong. In four years in pinstripes, Damon never played fewer than 141 games in a season. His numbers with New York are actually quite similar to his numbers with Boston.
Like Epstein with Damon, Cherington is taking a gamble with letting Papelbon walk.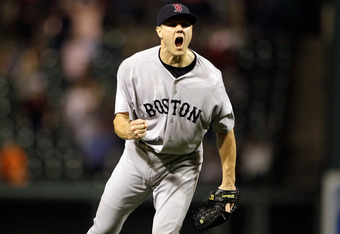 Rob Carr/Getty Images
It would be foolish for the Red Sox to pursue either Ryan Madson or Heath Bell. The Phillies have set a high market price for closers with Papelbon. Neither of these guys will be worth the money they command. 
If Cherington is smart enough to stay away from these kinds of bad deals he'll be doing better than Epstein.
For every savvy move he made, Epstein had an equally dumb one up his sleeve. 
In his final four years in Boston, Epstein signed J.D. Drew, John Lackey and Carl Crawford via free agency and awarded Josh Beckett a four-year, $68 million extension in April 2010, with Becket a month away from turning 30. 
Cherington stuck to his guns with Papelbon. 
The best move he can make now is trusting Daniel Bard in the closer role. After that, aggressively pursuing other bullpen arms like Mike Gonzalez would be savvy.
Boston's chief bullpen issue last season was a lack of depth. The subtraction of Papelbon only highlights this issue. 
Getting a "name" free-agent reliever like Madson, Bell or Francisco Rodriguez would be a waste of money and would fail to address the depth of the relief staff as a whole.
While Cherington may be taken aback by just how quickly the Papelbon situation unfolded, he needs to trust his internal options and his initial instinct.
Over the next couple of months Cherington's gall and discipline will be tested. Sox fans better hope he's made of the right stuff.