Penn State vs. Nebraska: How Un-Happy Will the Mood of This Game Be?
November 10, 2011
Rob Carr/Getty Images
We now know that Joe Paterno has been fired amidst the sex scandal that involved former defensive coordinator Jerry Sandusky. We also know that University President Graham Spanier has also been given the ax. From what we saw last night, we know that the student body is more than upset at what happened to their beloved JoePa.
So what will the mood be in Happy Valley?
How dangerous of a situation could this be for both those in the stadium and the acting coaches, including Mike McQueary?
On the field this should have been a potential Big Ten Championship preview, with all the talk being about what has to be done for each team to win. Instead it has become a media circus with questions about ethics and morals.
If all of the allegations are indeed true, how does Penn State allow Mike McQueary, the man who allegedly saw Sandusky with a boy in 2002, to coach on the sidelines? Is Penn State that naive to think that he will not be at risk by just showing up on Saturday?
The mood will definitely not be "Happy." It will be a bit surreal, not having the legendary coach on the sidelines. It will also be a bit sad, sad for those who virtually have had their lives ruined. Sad, in that a major institution of higher learning basically swept alleged criminal acts under the rug for the betterment of their athletic program.
But all should not be sad and somber.
This is a day where Nittany Lion seniors take the field for the final time at Beaver Stadium. This is a game they should be able to remember for the rest of their lives.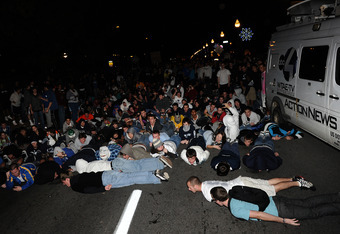 Patrick Smith/Getty Images
These kids had nothing to do with what happened due to adults not acting like adults. They deserve better than what they will get on Saturday, as the victims deserved better from such a distinguished university.
So what can you expect the atmosphere to be on Saturday?
Expect a lot of mixed emotions. There will be a lot of boo-birds toward the acting coaching staff, as many of the students and fans in general are still up in arms over the firing of Coach Paterno. Expect a ton of heat on assistant Mke McQueary, as many feel letting him coach is another major mistake by the program.
Hopefully after the initial bursts of negativity, the folks in Happy Valley will settle down and support a group of student athletes who deserve none of the blame and a lot of credit for what they have done on the field and in the classroom.