Michigan State vs. Iowa: Last-Minute Spread, Line, BCS Impact and Predictions
November 10, 2011
David Purdy/Getty Images
It may not get the hype that Ohio State and Michigan does, but the Michigan State Spartans and Iowa Hawkeyes are starting to develop a pretty big rivalry in the Big Ten.
Nobody really knows what makes a rivalry, but it goes without saying that both of these teams seem to hit a little harder and run a bit quicker whenever they play each other; perhaps it's the Spartans' gradual rise to the top of the Big Ten and the Hawkeyes' resistance to giving up a big win to the growing program.
Or, maybe it's Michigan State's inability to win at Kinnick Stadium, where they haven't won a game since 1989.
Either way, whenever these two teams meet up, it seems to make for great football, and that's exactly what you can expect this time around.
Where: Kinnick Stadium; Iowa City, Iowa
When: Saturday Nov. 12., Noon EST
Watch: ESPN2, ESPN3
Spread (Bodog.com): Michigan State -3
This will be a closely-contested game, and the Spartans have trouble at Kinnick. If they win, it will be a close game.
Over/Under (thespread.com): 47
These two teams play tough, grind-it-out football. I'd go under on this bet.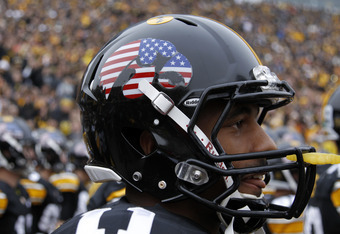 Joe Robbins/Getty Images
Key Injuries:
Michigan State: CB Darqueze Dennard, probable (undisclosed); C Travis Jackson, probable (leg); LB Chris Norman, questionable (shoulder); RB Larry Caper, questionable (concussion). 
Iowa: LB Anthony Hitchens, questionable (knee); OL Nolan MacMillan, questionable (hernia); RB Maka'il McCall, questionable (ankle); DL Dominic Davis, doubtful (knee).
BCS/Top 25 Poll Implications:
At 6-3 Iowa may still have a shot at getting in the BCS, especially if they beat the No. 17 Spartans. Michigan State could find themselves with an easy road to the Big Ten title game with a win.
Keys to a Michigan State Win: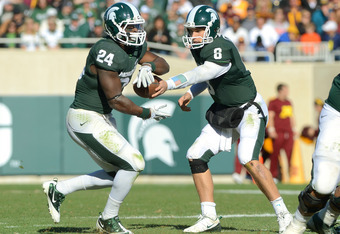 Mark A. Cunningham/Getty Images
The Spartans need to run the ball and control the possession if they want to win this game, so running back Le'Veon Bell is going to have to play a huge role in the offense.
As of late, Michigan State has had a tendency to move away from the run game, but it is a must on the road in this situation.
Keys to an Iowa Win:
Joe Robbins/Getty Images
The Spartans seem to be susceptible to giving up big plays. This is the perfect opportunity for junior quarterback James Vandenberg to step up and continue the tradition of beating Michigan State. 
He will have to have a big game through the air to do so.
Prediction: Michigan State 24, Iowa 16
Michigan State needs this game too much, and they are the far better team—especially in experience.