2012 NFL Draft | First Round Mock Draft, November Edition
November 10, 2011
Kevin C. Cox/Getty Images
With the NFL regular season more than half way gone, and the NCAA football season starting to wind down, it is time to prep for the 2012 NFL Draft.
There are a lot of players rising and falling off of draft boards, and there will be constant change between now and April of 2012.
Side note: Yes, there are like 4 same conference teams in a row. This mock draft order does not play any playoff games or conferences into effect.
It's November, so we are simply going by record.
Here is NFLSoup's first 2012 NFL Mock Draft | November Edition.
1.
 Indianapolis Colts – Andrew Luck, QB, Stanford
Not that this warrants an explanation, but one of two things will happen: A) Luck starts almost right away for the Colts or B) Manning gets healthy enough to play and he sits under Manning for a bit of time.
Either option will work for the Colts, I'm sure, just so long as he's on their team.
2.
 St. Louis Rams – Matt Kalil, OT, USC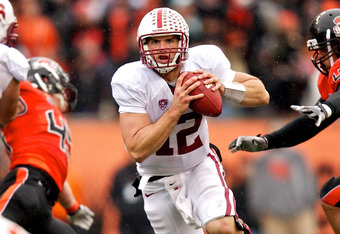 Craig Mitchelldyer/Getty Images
In six games, Sam Bradford has been sacked 25 times by the opposition.
Roger Saffold just isn't getting it done on the blind side, and while it'd be frustrating to draft yet another tackle in the top five (Jason Smith), it's too hard to pass up on Kalil.
Kalil is an exceptional athlete with outstanding intangibles, and has all of the tools to become the next great left tackle in the NFL.
3.
 Miami Dolphins – Matt Barkley, QB, USC

Two USC boys go back-to-back in this draft, as the Dolphins absolutely need to get themselves a true quarterback.
The quarterback position has plagued the 'Fins since the retirement of Dan Marino, and this is the year to get it fixed.
Neither Matt Moore or Chad Henne is the long term answer.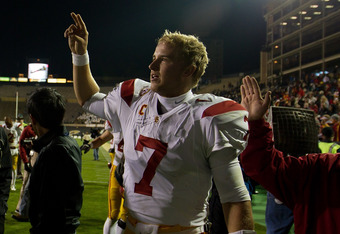 Justin Edmonds/Getty Images
4.
 Arizona Cardinals – Jonathan Martin, OT, Stanford
I'm not fully convinced that Martin is a Top five draft pick, but the Cardinals can't afford to sit and watch Kevin Kolb get sacked week in and week out.
Levi Brown isn't an NFL left tackle, and protecting your investment in Kolb is the main priority.
If he doesn't get protection, you can't expect results.  
5.
Carolina Panthers –  Morris Claiborne, CB, LSU
The Panthers' defense needs some work, especially in the secondary.
Claiborne was often overshadowed by the play of Patrick Peterson and, in 2011, even Tyrann Mathieu is getting more attention.
But you can't discount the former wide receiver's ability to be a shut down corner at the next level. He has excellent size, speed and hands, with outstanding upside.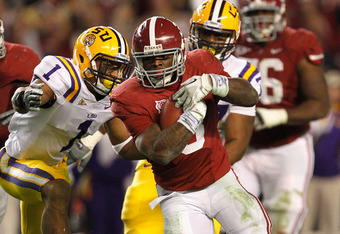 Streeter Lecka/Getty Images
6.
Jacksonville Jaguars – Justin Blackmon, WR, Oklahoma State
The 2011 NFL Draft gave the Jaguars their future quarterback in Blaine Gabbert, and now it's time for Gabbert to get a few weapons.
Let's start with Blackmon, who is an outstanding overall receiver.
Blackmon isn't a pure burner, but his combination of size and speed, as well as physical play is what makes him special.  
7.
 Seattle Seahawks – Landry Jones, QB, Oklahoma
I think Pete Carroll would have a tough decision to make here whether or not to go with Robert Griffin III or Jones.
The point is that Seattle needs a quarterback before they improve offensively.
They have weapons at wide receiver like Sidney Rice, Doug Baldwin and even Mike Williams.
Now they just need somebody to get them the football accurately.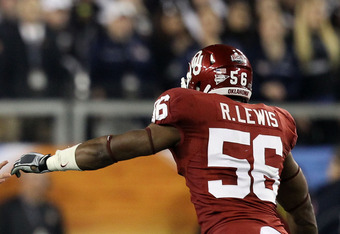 Christian Petersen/Getty Images
8.
 Minnesota Vikings –  Dre Kirkpatrick, CB, Alabama
While the pick of Kirkpatrick is a bit of a reach, the Vikings just can't afford to go into the 2012 NFL season without upgrading the secondary.
Asher Allen, Antoine Winfield and Cedric Griffin are all average options, and you just can't have that while facing Aaron Rodgers, Matthew Stafford and Jay Cutler twice a year.
There aren't any other glaring players that stand out, outside of Alshon Jeffery.  
9.
Philadelphia Eagles – Vontaze Burfict, LB, Arizona State
One of the biggest issues in 2011 with the Eagles is the fact that they just can't seem to stop the run and make tackles, and they can't dial up any blitzes with their backers.
Burfict is everything that you look for in a prototypical NFL linebacker. He has the size, the speed, the intangibles and the tackling ability.
While he could be problem child in the NFL with penalties, he's well worth the risk.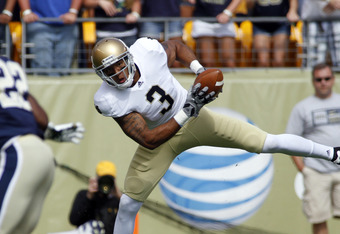 Justin K. Aller/Getty Images
10.
 Washington Redskins – Robert Griffin III, QB, Baylor
Griffin has shown excellent physical ability and intangibles in each starting year for the Baylor Bears.
He's a play maker that can throw well for a scrambler and make plays with his feet.
The Redskins needs to figure out their future at the quarterback position, and Griffin is an awfully nice player to groom.  
11.
  Cleveland Browns – Trent Richardson, RB, Alabama
With running backs not as highly coveted in the NFL Draft, Richardson slips out of the top 10 and lands with the Browns who have had huge running back woes.
Richardson is a top five talent and an exceptional running back with great vision, excellent strength and team leadership ability.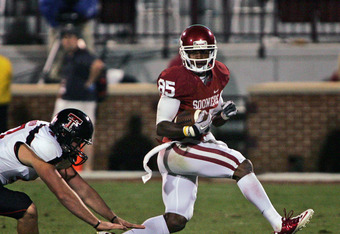 Brett Deering/Getty Images
12.
 Denver Broncos – Quentin Coples, DE, North Carolina
The Broncos grabbed Von Miller in the 2011 NFL Draft, and Von Miller has made an impact.
Now it's time to replace Robert Ayers, who has been disappointing, and hasn't made the impact that the Broncos wanted him to have when they selected him in the first round of the 2009 NFL Draft.
Coples has taken a small step back in 2011, but his pass rushing skills are exceptional, and his upside is quite high.  
13.
 Tennessee Titans – Alshon Jeffery, WR, South Carolina
The Titans drafted Jake Locker in the first round of the 2011 NFL Draft, and need to look to help him out in the future.
Kenny Britt needs a legit No. 2 receiver opposite him, and Jeffery is an exceptional red zone receiver with play making ability.
Jeffery is a big, physical receiver with strong hands.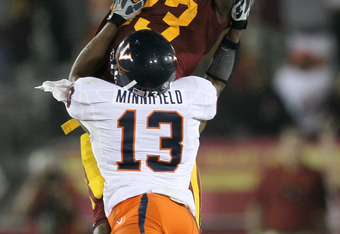 Stephen Dunn/Getty Images
14.
 Dallas Cowboys – Stephon Gilmore, CB, South Carolina
The Cowboys need to improve their secondary is getting more and more crucial the more disappointing their seasons get.
Gilmore is a physical corner who excels in man coverage, and has good enough speed to keep up with majority of the wide receivers in the NFL.
Janoris Jenkins is an option here, and would fit just as well, but Gilmore is better suited for the NFC East.
15.
 Tampa Bay Buccaneers – Janoris Jenkins, CB, North Alabama
The Bucs need cornerback depth, and a future replacement for Ronde Barber.
They are familiar with dealing with problematic corners, and may opt not to add another one to the team, but the upside to combine Jenkins with Talib is exceptional.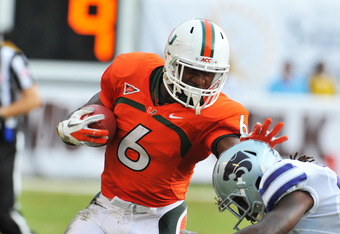 Al Messerschmidt/Getty Images
16.
 Kansas City Chiefs – Dontari Poe, NT, Memphis
The Chiefs need to beef up the defensive line, while adding depth.
Poe is a 6'5", 350-pound nose tackle at the next level who has very good athleticism and is quite strong at the point of attack.
The Chiefs' 3-4 defense has shown improvement, and having a big man in front of linebackers like Derrick Johnson and Jovan Belcher could result in even bigger plays, and more stops behind the line of scrimmage.  
17.
 San Diego Chargers – Ronnell Lewis, LB, Oklahoma
The Chargers have taken a bit of a hit with Shaun Phillips down, and they could use another outside linebacker that can make plays opposite of him.
Lewis is an undervalued defensive end/linebacker who can line up at different positions, and excel at rushing the passer.  
18.
Cincinnati Bengals (from Oakland) – David DeCastro, OG, Stanford
Everything points to the Bengals trying to beef up the offensive line, and adding depth to the unit overall.
They've done a solid job keeping Andy Dalton off of the ground, but they aren't running the ball like they have the ability to.
Even though Cedric Benson isn't a great running back, he should be performing better than he is.
19.
  Cleveland Browns (from Atlanta) – Zach Brown, LB, North Carolina
Brown is as good a sideline to sideline tackler as you would desire in the NFL.
He has exceptional upside, and could likely play each 4-3 linebacker position at the next level, most likely sticking on the strong side with Cleveland, where veteran Scott Fujita lines up.
With the Browns likely to sign D'Qwell Jackson long term, they could have the makings of a strong group of tacklers behind the big boys in Phil Taylor and Ahtyba Rubin up front.  
20.
 New York Jets – Michael Floyd, WR, Notre Dame
The addition of Plaxico Burress has helped the Jets out, but not to the extent that most had hoped.
Santonio Holmes continues to be a solid No. 1 receiver, and having Floyd opposite him could create the necessary mismatches to help Mark Sanchez transition into a real NFL quarterback.  
21.
 Chicago Bears –Alfonzo Dennard, CB, Nebraska
We're seeing a run on corners in the first round, and for good reason.
Dennard brings the physical play at corner that the Bears desire and need in the NFC North, while having good coverage ability.
Charles Tillman hasn't been getting it done lately, and there is a severe lack of depth in the secondary.  
22.
New England Patriots – Melvin Ingram, DE, South Carolina
Ingram's versatility makes him an exceptional option for the Patriots here.
They have struggled to generate a pass rush, and it has come at the expense of the secondary, which has been pathetic in 2011.
Ingram can play with his hand on the ground, or standing up, with his athleticism and ability.  
23.
 Buffalo Bills – Riley Reiff, OT, Iowa

I'm not 100 percent convinced that the Bills will go with a tackle here due to the solid play of Demetrius Bell, but Reiff sliding this far is hard to pass up on.
Reiff is an exceptional pass blocker, who can hold his own in the run game as well.
Reiff could come in on the right side and move over to the left if Bell disappoints in the future.
24.
 Houston Texans – Ryan Broyles, WR, Oklahoma
Kevin Walter and Jacoby Jones are merely mediocre options for Matt Schaub.
While Arian Foster and Ben Tate control things pretty well on the ground, you can't help but wonder what Broyles could do on the receiving end playing with Andre Johnson.
Broyles ACL tear is of some concern, but he should be able to rebound, and I think a team may still take a chance in the first round.  
25.
New England Patriots (from New Orleans) –  Alameda Ta'amu, DT, Washington
Ta'amu's finesse style may not suggest a 3-4 front for the big man, however, strength can be had, and he can be coached to play the position.
Ta'amu could try a zero technique at NT, or be a rotational DE for the Patriots.
Either way, he's an exceptional player that should be had in the first round.
26.
 Pittsburgh Steelers – Courtney Upshaw, LB, Alabama
With James Harrison battling injuries, the Steelers always come ready to reload with new pass rushers.
Upshaw has great pass rushing ability, and plays with great awareness as an overall athlete.
He's solid against the run, and does a nice job in contain as well. The transition would be simple, as Alabama already runs a base 3-4 defense.
27.
Cincinnati Bengals – Chase Minnifield, CB, Virginia
I've been a big fan of Minnifield for awhile, and I think he has the ability to slip into the late first round.
While he's not a sexy pick, he's a good corner to groom behind Nate Clements, who is aging and slowing down a bit.
Minnifield is a solid overall corner with zone and man coverage ability.
28.
 Baltimore Ravens – Manti Te'o, LB, Notre Dame
Te'o is a gifted athlete that plays very well sideline to sideline.
He's strong enough to work on his block shedding, and who better to learn from than the best in the business, Ray Lewis.
He's more of a project at the next level, but he will have a considerable amount of value with Baltimore.
29.
  New York Giants –  Luke Kuechly, LB, Boston College
The more and more I see this pick, the more and more I love it.
Kuechly is a straight-up tackling machine, and he will find the football to make a play.
He has excellent awareness and is a leader. With a bit of strength, he could become a perennial Pro-Bowl player.
30.
 Detroit Lions – Cordy Glenn, OG, Georgia
Glenn is a versatile big man that the Lions could use on their offensive line.
Naturally, he should be a guard at the next level, but he has experience at both guard positions and tackle as well.
He could fill in for Gosder Cherilus.
31.
 San Francisco 49ers – Jared Crick, DT, Nebraska
The 49ers could use some depth on the defensive line, and Crick is all that you look for in a 3-4 defensive end.
The issue here is with Crick's torn pectoral injury that has forced him to miss the rest of the 2011 season.
His stock could go down, although his talent screams first round value.
32.
 Green Bay Packers – Lamar Miller, RB, Miami (Fl.)
The Packers don't have many holes to fill, but they could always use depth.
Getting a running back like Miller could prove to be a difference maker for them.
Neither James Starks nor Ryan Grant have proven that they can carry the load and make big plays in 2011.
Miller can be a home run hitter at the next level if he gets in the right offense, and what better offense than one with Aaron Rodgers.  
Be sure to visit NFLSoup.com for all of your fantasy football and NFL Draft updates!
Follow me on Twitter @NFLSoupKeet!