SEC College Football Preview: Tennessee Travels to No. 8 Arkansas
November 10, 2011
Wesley Hitt/Getty Images
If the lyrics to "Rocky Top" were a prayer to the football gods, University of Tennessee fans would be singing day and night this week to help their Vols in a showdown against No. 8 Arkansas.
Tennessee head coach Derek Dooley is living on a prayer trying to keep his team's bowl hopes alive. After making two straight bowl appearances, 4-5 Tennessee is in desperate need of two wins in their final three games to reach the six-win plateau needed for postseason play. Playing Arkansas on the road does not help their cause.
Tennessee has been without starting sophomore quarterback Tyler Bray since October 8, when he broke his thumb against Georgia. Bray tweeted earlier in the week that he would be back for the Arkansas game, but Dooley was not optimistic in his weekly news conference about Bray's availability.
In Bray's place senior backup quarterback Matt Simms was named the starter. Against improbable odds Simms had to face No. 1 LSU and No. 2 Alabama in back-to-back games. After a poor showing in both games, Dooley replaced Simms with true freshman Justin Worley (Rock Hill, South Carolina) as part of an ongoing youth movement in Knoxville.
In Worley's first start against South Carolina he finished the game 10 of 26 for 105 yards passing with two interceptions, playing like a true freshman. Against Middle Tennessee Worley settled in for 291 passing yards on 23 completions in 32 attempts.
Not helping Worley's cause is senior running back Tauren Poole. Poole's production has been disappointing playing behind a young offensive line. Poole rushed 18 times for 38 yards against USC while the Blue Raiders held Poole to 13 rushing yards on 11 attempts. His two rushing touchdowns last week doubled his season total to four.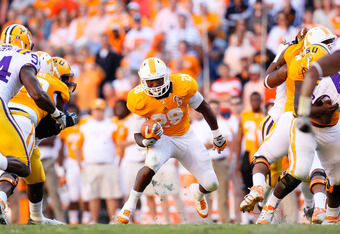 Kevin C. Cox/Getty Images
For the season, Poole is ninth in the SEC in rushing with 513 total yards, but his 3.5 yards per carry average tell a different story. His lone 100-yard rushing game came against the University of Buffalo after a bye week in Tennessee's fourth game of 2011.
Looking for a way to spark Tennessee's limited offense, Dooley started running the Wildcat offense with freshman Jaron Toney against the Blue Raiders. Toney rushed 19 times for 52 yards. True freshman Marlin Lane (Daytona Beach, Florida) returned to full-game action last week rushing for 37 yards on nine attempts.
Arkansas welcomed the friendly confines of Reynolds Razorback Stadium last week, when they hosted South Carolina, after spending four of their previous five games on the road. The Razorbacks had a somewhat sloppy yet dominating performance over the Gamecocks.
The Hogs accumulated 435 total yards of offense while only committing one turnover against a Gamecock defense that entered the game ranked sixth in college football. The offensive line gelled in pass blocking situations, limiting the Gamecock defense to one sack. With the extra time to throw, Razorback quarterback Tyler Wilson came one passing yard shy of 300.
The Hog running attack gained momentum again behind Dennis Johnson's game-high 86 yards rushing on 15 attempts. Broderick Green and Ronnie Wingo Jr. both added rushing touchdowns en route to amassing 136 total rushing yards.  
The offensive line still has room for improvement in short-yardage and goal line situations. Twice in the fourth quarter the Razorbacks failed to convert rushing attempts on fourth and one. Both attempts saw big back Broderick Green, a straight-up and down runner, stopped for a loss.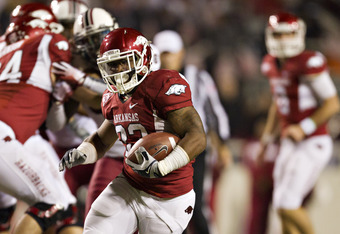 Wesley Hitt/Getty Images
The Razorback defense did a good job of containing the Gamecock offense and true freshman running back Brandon Wilds. Wilds gained just 21 rushing yards on 10 attempts.
The Hogs have continued to show a weakness at covering the opposing quarterback when he chooses to run on a busted pass play. The slow recognition of the safeties and linebackers has kept teams like Vanderbilt, Ole Miss and South Carolina in contention instead of stopping drives and limiting scores.
USC quarterback Connor Shaw rushed for two touchdowns against the Hogs last week, extending a three-game streak of rushing touchdowns allowed by the opposing quarterback.
The final 44-28 score against the No. 10 Gamecocks was not indicative of the performance the Razorbacks displayed. The Hogs dropped two would-be touchdown passes and Zack Hocker missed two field goals in uncharacteristic fashion.
Inside the Tennessee vs. Arkansas Game
Arkansas features the 23rd best total offense in the nation, averaging 450.89 yards per game, with the 15th best scoring offense, scoring 38 points per game.
Tennessee has the 31st best defense in college football, limiting teams to 343 total yards per game.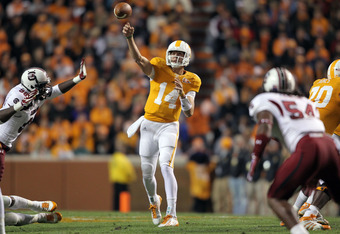 Andy Lyons/Getty Images
The unfortunate problem for the Vols is their lack of offensive production. The defense is SEC capable, but they tend to wear down in the second half due to time on the field and lack of depth.
Derek Dooley's offense sputters without Tyler Bray under center. Practicing the Wildcat against another team was smart but also a waste of a surprise option against the Hogs. Arkansas will prepare for running back Jaron Toney lining up as the Vols' quarterback.
With the return of key injured defensive players slowly matriculating back onto the field, the Hogs have increased their total defense ranking from a lowly 64th in the nation going into the Ole Miss game to 55th best after USC. Look for the Hogs to gain more ground in this statistical category on Saturday.
Tennessee's scoring offense is 90th in FBS, averaging 23 points per game.
The Hogs' rush defense has steadily improved as well. Once ranked 95th in the nation, they have improved to 79th in FBS, dropping the oppositions average rushing yards per game to 176 yards  instead of 189 just a few weeks ago.
Tennessee does a great job of limiting the opposition on kickoff returns, holding teams to 18.31 yards per return. Derrick Brodus will not be in an Arkansas fraternity house waiting for a phone call from Dooley this weekend. If starting kicker Michael Palardy is not fully healthy, the Hog's kickoff returner Dennis Johnson will give Tyler Wilson excellent starting field position all night. The Razorbacks enter the game with the 10th best kickoff return game in FBS.
Tyler Wilson continues to perform week after week for the Hogs. His 291.78 passing yards per game is 11th best in FBS. Wilson trails last year's starter Ryan Mallett by 1,243 total passing yards on the season. With four, possibly five, games left to play, Wilson could eclipse Mallett's 2010 record setting numbers by averaging 311 yards per game over the next four contests.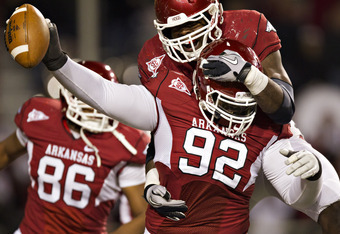 Wesley Hitt/Getty Images
Tennessee allows 187 passing yards per game. USC had the third best pass defense in the nation, holding teams to 136 passing yards per game.
Prediction
The Razorbacks seemed rejuvenated playing at home last week. They have two more games at home before traveling to Baton Rouge to take on No. 1 LSU.
Head coach Bobby Petrino appears to have his team hitting on all cylinders going down the back stretch of the season. Arkansas is still coming together as a team. The defense is starting to play better, the kicking game is solid and the running game is improving. They take another step closer this week.
Regardless if Bray, Worley or Simms is under center for the Vols, they will have a tough time keeping pace with Wilson and the Razorback offense.
Petrino has not gone for the jugular on any team in conference this year. He also has not abandoned the run, for better or for worse, in late game situations. His coaching tactics are starting to pay dividends, regardless of the style points he may have lost with AP voters and some fans. The Hogs will need some form of a running attack come November 25.
Should the Hogs hold a commanding lead by halftime, look for Dooley to get more playing time to his younger players, as has been the case for the Vols most of this season. Resting some of his starters in the second half against Arkansas, in preparation for their final two games, may seem like poor sportsmanship, but too much is on the line for Tennessee's program and Dooley's recruiting to miss out on a bowl this year.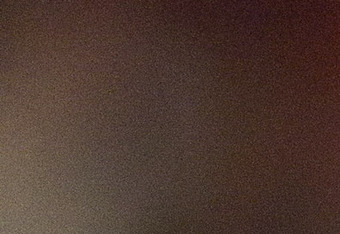 Wesley Hitt/Getty Images
The Vols expect Bray to be back for their final two games against Vanderbilt and Kentucky. His presence in the lineup would be an emotional lift for his team this weekend, but not enough of a lift to affect the outcome of the game.
Tennessee may attempt to blitz Wilson more than the Gamecocks did. Look for quick-strike pass plays instead of play-action passes once Vols' defensive coordinator Justin Wilcox tips his hand.
Petrino will keep the same game plan he has for weeks. Spread the opposition's secondary out, drag his receivers across, get one-on-one situations with his backs on the wings and keep pounding the ball on short yardage plays until the backs and offensive line click.
Final Score
Arkansas 45, Tennessee 17