Tom Bradley Press Conference: Interim Coach Will Sweat Bullets When Questioned
November 10, 2011
Penn State did not allow Joe Paterno to speak to the press on Tuesday, but upon Paterno being fired, interim coach Tom Bradley will take the podium at 11 a.m. ET today—but he has no way to prepare for the questions he'll be asked.
CBS Sports' Staff reports that Paterno is out and Bradley is currently in as Penn State's head coach. Bradley will try to focus on Saturday's football game, in which the Nittany Lions face the Nebraska Cornhuskers.
However, Bradley will obviously be flooded with questions surrounding the Jerry Sandusky child-sex scandal. Whether or not he will answer them is a completely different issue.
Having been around the Penn State football program for 33 years, Bradley has to have at least heard about the issues with Sandusky. I don't think I'd be far fetched in thinking he's spoken to others on the coaching staff about Sandusky behind closed doors.
If I were a reporter in that press conference, all of my questions would be about the scandal—not the football game. It's hard to think that anyone in that press conference doesn't have a notebook or computer filled to the brim with questions about Sandusky and the scandal.
Questions about football will occur, but I'm sure football won't be the takeaway from the press conference.
Can Bradley handle the heat? Unlike last night's press conference, this one will only contain proper media.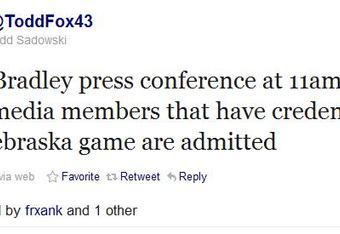 Bradley's appointment to the position will be announced, but once the floor opens for questions, the press would be doing the world an injustice by not asking questions about the scandal.
Maybe Bradley won't answer the questions, choosing to tiptoe around saying anything concrete, but the questions need to be asked.
I actually don't know why Bradley accepted the position, unless he feels he's the only person that can coach the team to victory. There's so much pressure on his every word from here on out.
If Bradley dodges the questions, they'll just keep coming. Answers will be had at some point, but will that day be today?