25 College Football Fight Songs That Get on Our Nerves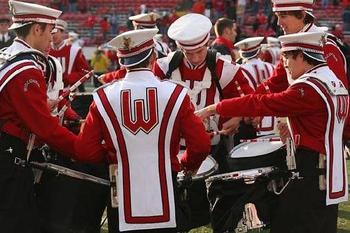 Let's be honest here.
College football fight songs are great...
...unless you are a fan of the opposing team.
This list runs down the top 25 fight songs that irritate the bejeesus out of opposing fans.
Besides this, they eventually get about as fun to listen to as nails scratching a chalkboard and/or a catfight outside your bedroom window at 3 a.m.
On a totally unrelated note, thanks to all out veterans, and please read this at your own risk.
You might get annoyed.
25. "Indiana, Our Indiana"

Video courtesy of YouTube

Maybe it's just me, but it seems to much of an irony that this song was composed by a circus member.
Sometimes the Hoosiers' pathetic attempts at football are nearly as entertaining as a circus, and they are usually as funny.
The song sounds too much like it belongs under a big top and too little like a football fight song.
24. "Sons of Westwood"

This video courtesy of YouTube

This one makes the list simply because the crap is played out of it around UCLA when the Bruins win anything, as if they did something great.
They won one game, settle down.
Other than that, the fact that it was "stolen" from Cal and UC Davis means it should get a bad rap.
23. "Maroon and Gold"

Video courtesy of YouTube

It just distracts from the scenery.
Why would you do that?
22. "Bow Down to Washington"

Video courtesy of YouTube

Look, I am all for projecting confidence.
However, the lyrics to this one seem a little bit of overkill.
Seriously?
Bow down to Washington?
The music itself is not bad and it's fairly well known, but those lyrics sting a little bit.
21. "Texas Fight"

Video courtesy of YouTube

Nothing against the Longhorns here, but this one needs to be played a little less often.
Especially now that A&M is gone from the Big 12 and Texas refuses to schedule them anytime in the foreseeable future.
Other than that, the only annoyance is that "The Eyes of Texas" gets all the press, while this is actually the official fight song of the university.
For the major inferiority complex that Texas A&M fans have toward the 'Horns, they will be happy to know that this song was in response to A&M's "Farmer's Fight."
20. "All Right Now"

Video courtesy of YouTube

"Come Join The Band" written in 1907 by Aurania Ellerbeck Rouverol is the official fight song of Stanford.
Leave it to the smart kids to replace it.
"All Right Now" has taken over as the unofficial fight song of the university, and "Come Join the Band" is not heard much at sporting events anymore.
It's likely the fact the music is played by such an unconventional group as the LSJUMB that causes this minor annoyance.
At least they play with a unique flair.
19. "The Minnesota Rouser"

Video courtesy of youTube

You probably recognized this one right away.
It's a solid piece, not at all abrasive.
Except for the simple fact that one out of every three high schools seem to use it for their fight song.
This is the perfect example of "too much of a good thing."
Let's not forget to mention that half of those high schools could beat the Goofers...
18. "War Eagle"

Video courtesy of YouTube

The whole eagle thing at the beginning of the game is immensely entertaining, and until recently, this one would have just missed the list.
However, it could be heard all over the place to excess last season, which is fair, because the Tigers were the best team in the country.
Not so much this season, and yet it persists, fans all over the place still believing the Tigers are a good team.
Please just let it die down for a bit, then try us again.
17. "The Fight Song"

Video courtesy of YouTube

Any song that references forcibly removing an opponent's scalp from their skull deserves a spot here.
But the Seminole faithful take it a step further.
This is not the only annoying song they like to feature.
That chant, which is thrilling at the beginning of the game, is enough to make one want to stop up ears and gouge out eyes by the end.
Is it really necessary to do the "Tomahawk Chop" when a three-yard pass is completed?
How about when the cornerback tackles a receiver after a 12-yard gain?
16. "Missouri Fight Song"

Video courtesy of YouTube

This one makes this list because of pure indecision.
Tiger fans are great people, and Faurot Field is a great venue.
That said, somebody needs to pick one fight song and not have a veritable musical goulash representing the university.
Or at least play them all at separate times.
Progress has been made, as "Fight Tiger" is sometimes played on its own, but the standard configuration includes "Fight Tiger," "Every True Son" and "Mizzou Cheer" played consecutively.
Neat little tradition, annoying for visitors to sit through at times.
15. "Oskee Wow Wow"

Video courtesy of YouTube

Oskee Wow Wow.
What does that mean, exactly?
The song is lively enough, but you would think something title a little more appropriately to be applicable to the team could be used.
I can't quite place this one, it could be simply that I am a Wisconsin fan, and hence the song annoys the crap out of me.
14. "The Fighting Gamecocks Lead the Way"

Video courtesy of Youtube

South Carolina is in the middle of a few good years after a decade or more of ineptitude.
They are making up for their shame by playing this thing incessantly at Williams-Brice Stadium.
Wait, I guess they played it as often when they sucked, too.
Anyway, the song was taken from a Broadway musical, which makes it seem somewhat out of place at a football game.
13. "Dear Old Nebraska U"

Video courtesy of YouTube

Other than the statements that the girls are the fairest and the boys are the squarest, the song itself is only mildly aggravating due to the amount of times one is forced to endure it.
However, most fans of the school can't even get the name right.
It is not "There Is No Place Like Nebraska."
Perhaps we are splitting hairs here, but maybe a little accuracy is in order.
12. "10,000 Men of Harvard"

Video courtesy of YouTube

It's not enough for these people that they are smarter than the average football fan.
No, they must rub it in by letting us know in Latin.
But even that is a fake.
Sneaky buggers, Harvard men.
11. "New Fight On, State"

Video courtesy of YouTube

No, this is not here because of recent events.
It finds its way onto this list because it had to be modified.
Back in the day, the fight song slowed down, then stopped between a touchdown and extra point, then resumed the song and finished up after the kick.
It has since been changed, the song does not continue through the kick.
Why mess with a good thing?
10. "Tiger Rag"

Video courtesy of YouTube

"The Song That Shakes the Southland" is actually a pretty good song....
...the first 75 times it's played.
However, the Tigers play it repeatedly at every sporting event, to the detriment of wonderful tune.
And if you really want to get the full effect, make sure to watch the thousands of fans dressed in that obscene orange bobbing around at a football game.
The first time, it's solid.
After the 10th, it's stale.
After the 25th, it's unbearable.
9. "On, Wisconsin"

Video courtesy of YouTube

No argument about the lyrics or the actual school here, but much like rival Minnesota's, this fight song has been adopted by a ridiculous number of schools.
It's catchy and fun to hear, but is heard way too often.
Besides that, Badgers fans can be obnoxious, and one response to any criticism about the team is to respond with an ear-splitting rendition of "On, Wisconsin."
8. "I'm a Ramblin' Wreck from Georgia Tech"

Video Courtesy of youTube

OK, I get dedication to the old alma mater, but seriously, a song about possibly having children?
Is this really what college students are worried about on gameday?
Pondering their future and where their kids will go to school does not seem the appropriate subjects for a day filled with tailgating and football in Atlanta.
7. "Aggie War Hymn"

This video courtesy of YouTube

Once again, we have a song that takes pot-shots at a rival, combined with inexplicable lyrics.
Seriously the entire song is a conglomerate of undecipherable gibberish, coupled with Texas bashing.
Now what are fans going to do, substitute the name "Auburn" every time it used to say "Texas."
6. "Notre Dame Victory March"

Video courtesy of YouTube

On the plus side, the song references cheering for Notre Dame and staying loyal, both important for a team in the throes of desperate mediocrity.
However, if I would rather listen to "What's New Pussycat?" repeatedly with the television on mute.
For those of you that are fans, and/or alumni, forgive me, but this song grates on the nerves.
5. "Buckeye Battle Cry"

Video courtesy of YouTube

Ironic, isn't it?
This piece references defending the honor of the university.
What honor?
If it weren't for the attention going to PSU, the Buckeyes "failure to monitor" charges would be at the top of every Sportscenter.
OSU fans, and Big Ten fans in general, are going to have a tough time convincing people of how "clean" the conference is thanks to OSU and PSU.
But back to the song, it's only annoying if your team has lost to the Buckeyes recently.
Which is true of every team in the Big Ten, and just about nobody else in a BCS conference.
4. "Hail to the Victors"

Video courtesy of YouTube

This baby's response pretty much sums it up.
For the rest of us, it has to be the repetitive nature of the song, and the band's tendency to play it every time something not negative takes place on the field.
Touchdown?
Let's play it.
Pass completion?
Play it.
Two-yard rush?
Heck, why not? Let's play it again.
3. "Fight On"

Video courtesy of YouTube

This is a beautiful piece.
It's one of the best fight songs in existence.
What makes it a major annoyance is the "V for victory" sign that constantly accompanies the strains of this tune.
Fans thrust the sign in a vigorous motion out from their bodies, and a hapless bystander may mistake this as repeated attempts to poke them in the eye.
We admire your loyalty and dedication in this difficult time for the program, but please try not to cause bodily harm to opposing fans.
2. "Boomer Sooner"

Video courtesy of YouTube

If you are not an Oklahoma fan, you probably hate this piece with intense passion.
It's repetitive, it's abrasive and it's a rip-off.
Yale and UNC both have songs using the same music.
If you are an Oklahoma fan, don't be offended, our passionate feelings toward this piece of musical annoyance are probably due to the fact that our teams lost to the Sooners at some point.
1. "Rocky Top"

Video courtesy fo YouTube

Volunteer fans seem to have this startling inability to survive without the strains of "Rocky Top" Being played roughly every six seconds.
The rest of us would rather not hear it more than once a year.
It's not the official fight song of the university, that honor belongs to "Here's to Old Tennessee."
Why don't we move toward playing that one a few times when you feel the urge to hear "Rocky Top"?
Keep Reading