Montreal Canadiens: Habs Need to Exploit Weaker Goalies
November 10, 2011
Richard Wolowicz/Getty Images
After just over one month of hockey played, the Montreal Canadiens' season has been a bit of a roller coaster ride up to this point, hasn't it?
Just when it looked as if the team had turned the corner after putting together four straight wins, they are on the verge of going on another slump.
I know, I know--it's just a two game slide at this point. But their next opponent, the Phoenix Coyotes, are playing surprisingly good hockey even after losing their star goaltender, Ilya Bryzgalov, to free agency and the Philadelphia Flyers.
If the Habs can't pull this one off, they are in tough over their next two games: facing off against the Predators in Nashville and hosting the Buffalo Sabres.
The Habs seem to have a hard time beating elite (or future elite) goaltenders as of late. Even when dominating games, they can't seem to get the puck past the likes of Ryan Miller, Nikolai Khabibulin or emerging talent Jacob Markstrom.
It looks as if nobody can really breach the 'Bulin Wall as of late, but Miller has struggled this season. Leave it to the Habs to make him shine.
Pekka RInne is going to be a very tough test and one that the Canadiens would probably be a lot more comfortable taking if they beat the Coyotes in Phoenix on Thursday night.
Mike Smith, granted, is playing extremely well for the 'Yotes (6-2-2, .926 save percentage, 2.36 GAA), but is by no means an elite goaltender in the NHL. He has profited from a very well-coached team by Dave Tippett, whose defensive mind has brought the Coyotes a great deal of success in recent years.
Mike Smith is not the reason that his team is winning games and his weakness can be exploited by what should be a very hungry, desperate Habs squad.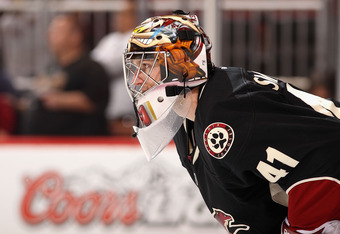 Christian Petersen/Getty Images
If they can dominate the game as they did against the Oilers, the Canadiens will be rewarded.
Hopefully, the power play will be able to get back on track, but it's doubtful: the 'Yotes are very disciplined and strong on the penalty kill. If they could manage to squeak one by Smith on the PP though, it may do wonders for their confidence.
Once again, this game is the most important one of the season. The Habs will come to play and, fingers crossed, will get back on track.
Jason is on Twitter: Follow @jhytel.