NFL Week 10: The 15 Craziest Stats as Season Passes Halfway Point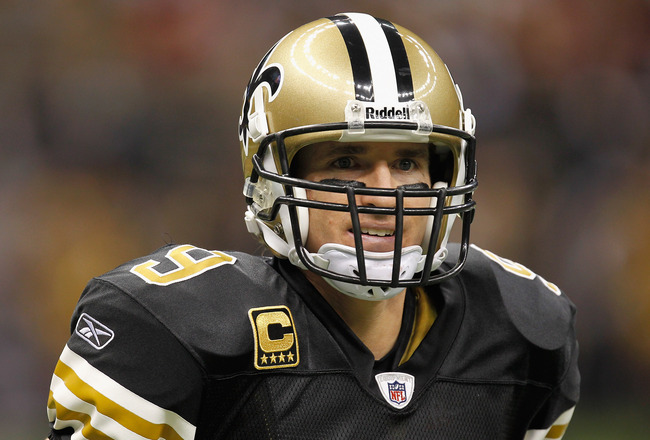 Streeter Lecka/Getty Images
The NFL comes up with crazy stats every week and the 2011 season so far has been no exception.
As the season reaches its halfway point here is a look at the 15 craziest stats from the first nine weeks of play.
This list features mainly those who have put up amazing total numbers so far but also those who have made some spectacular one-off plays this season.
Drew Brees' 3,004 Passing Yards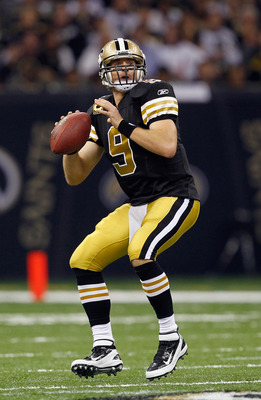 Streeter Lecka/Getty Images
New Orleans Saints quarterback Drew Brees has already passed for over 3,000 yards after the first nine weeks of the season.
Brees is averaging 334 passing yards per game and at that rate he is on course to break Dan Marino's single season NFL passing yards record of 5,084 set back in 1984.
Not far behind Brees in passing yards this year are Tom Brady, Ben Roethlisberger and Aaron Rodgers. It has been a good year for the top quarterbacks so far.
Aaron Rodgers' Passer Rating of 129.1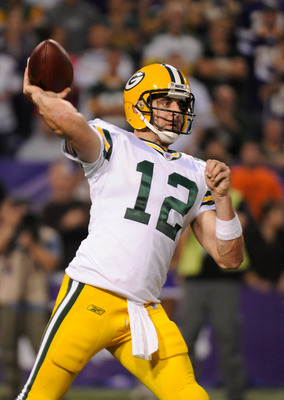 Hannah Foslien/Getty Images
The Green Bay Packers keep marching on after last season's Super Bowl winning effort and have moved to a 8-0 this year record without too much trouble.
At the center of their success is quarterback Aaron Rodgers, who just seems to go from strength to strength.
His consistency has turned the Packers into an almost unstoppable force and so far this season. Rodgers has a 72.5 percent completion rate, 2,619 passing yards, 24 touchdowns and only three interceptions which gives him a tremendous passer rating of 129.1.
Cam Newton's 2,393 Passing Yards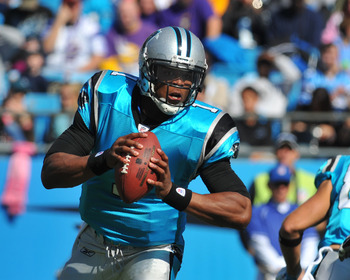 Al Messerschmidt/Getty Images
No one expected the Carolina Panthers' No. 1 overall draft pick Cam Newton to go this well so early in his career.
From only eight games the rookie has passed for 2,393 yards, which is the sixth most in the league.
His average passing yards per game is 299.1, and if he keeps that up he will smash Peyton Manning's record for most passing yards from a rookie of 3,739 which was set in 1998.
Cam Newton's 432 Passing Yards vs. Packers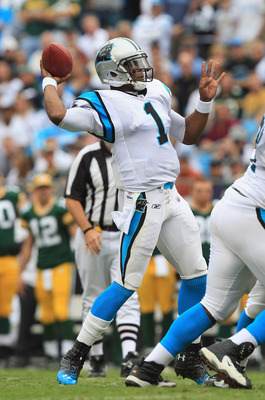 Streeter Lecka/Getty Images
In just his second pro game Cam Newton threw for a rookie record 432 yards against the Green Bay Packers.
Although he couldn't quite get the Carolina Panthers a win, he certainly left his mark on the game and took it to the defending Super Bowl champions.
This eye-popping stat came on the back of his debut performance in Week 1 where he threw for 422 yards against the Arizona Cardinals.
Tom Brady's 99-Yard Pass to Wes Welker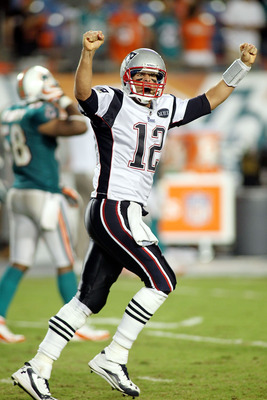 Marc Serota/Getty Images
New England Patriots quarterback Tom Brady was straight into his work this season with a 99-yard touchdown pass to Wes Welker in Week 1.
In the fourth quarter of an entertaining game with the Miami Dolphins, Brady hooked up with Welker for what was the 12th 99-yard touchdown pass in NFL history.
Tom Brady's Most Consecutive Passes Without an Intercept Streak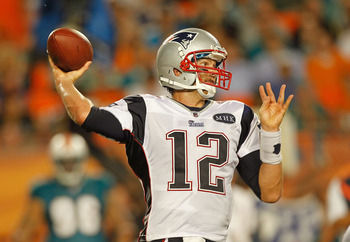 Mike Ehrmann/Getty Images
A stat from Tom Brady that possibly went unnoticed by many was a streak that dated back to last year and ended in Week 1 this season in that same game against the Dolphins.
Brady had an NFL record 358 consecutive passes without an interception between October 24, 2010 and September 12, 2011, before throwing an interception to Dolphins defensive end Jared Odrick.
Philip Rivers' 14 Interceptions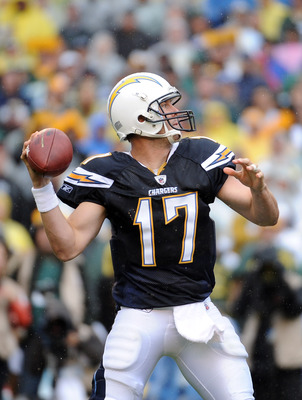 Harry How/Getty Images
San Diego Chargers quarterback Philip Rivers leads the NFL in interceptions thrown so far this season.
Rivers has thrown 14 interceptions in just eight games and in only one game has he not thrown any.
It has been a tough start for Rivers, who is supposed to be leading the talented Chargers deep into the playoffs. He still might, but his current ratio of 11 touchdowns to 14 interceptions will need improving.
Chris Johnson's 366 Rushing Yards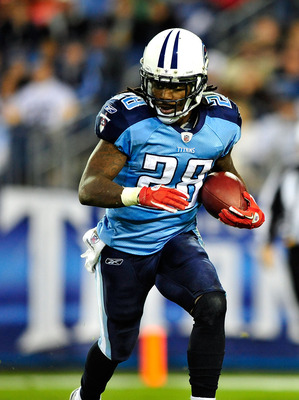 Grant Halverson/Getty Images
Not a lot of rushing stats stand out so far this year, but this one is worth a mention.
Tennessee Titans running back Chris Johnson, one of the most explosive players in the NFL in recent seasons, has rushed for just 366 yards in eight games this season.
That ranks him 28th in the league and also means the Titans are comfortably last in the league in rushing with just 560 yards in total.
Johnson is averaging just 3.0 yards per carry with a longest run of 25 yards, and only one touchdown.
Wes Welker's 960 Receiving Yards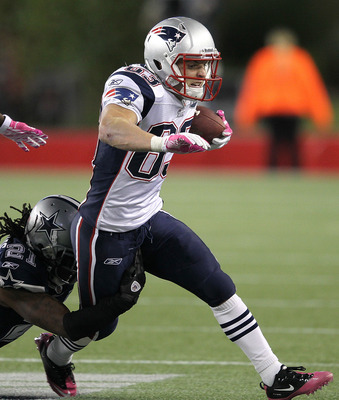 Jim Rogash/Getty Images
From just eight games this year New England Patriots receiver Wes Welker has already clocked up an impressive 960 receiving yards.
He is averaging 120 yards per game and 14.5 yards per catch. With that average he is on target to beat the NFL record of most receiving yards in a season which is currently held by Jerry Rice who made 1,848 receiving yards in 1995.
Another impressive season so far that should be mentioned is Carolina Panthers receiver Steve Smith, who has 918 receiving yards with a huge average of 20.0 yards per catch.
Calvin Johnson's 11 Receiving Touchdowns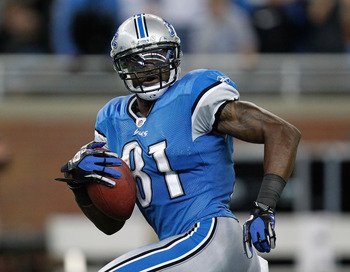 Gregory Shamus/Getty Images
After the monster start to the season from Detroit Lions receiver Calvin Johnson, he had to be mentioned somewhere on this list.
"Megatron" has reeled in 11 touchdowns this season in just eight games and he could threaten the most receiving touchdowns in a season record which is currently 23 set by Randy Moss in 2007.
Johnson has tied for another NFL record this season for most consecutive games with two or more receiving touchdowns. He equals the feat also set by Cris Carter in 1995.
Randall Cobb's 108 Yard Kick Return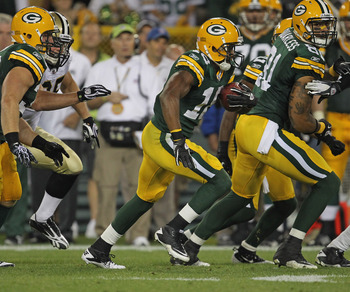 Jonathan Daniel/Getty Images
In a thrilling season opener the Green Bay Packers held on for a 42-34 win over the New Orleans Saints.
Among the number of big plays was a gem from the Packers' Randall Cobb in the third quarter, when he tied an NFL record by returning a kickoff from 108 yards.
The same feat was also accomplished in 2007 by Ellis Hobbs, while Antonio Cromartie managed a 109-yard return in the same year from a missed field goal attempt.
Ted Ginn Jr.'s Kickoff and Punt Return Touchdown Game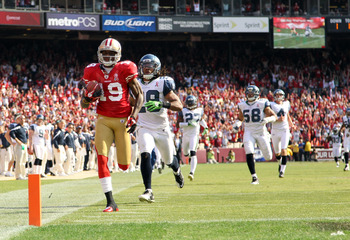 Ezra Shaw/Getty Images
In the San Francisco 49ers Week 1 win over the Seattle Seahawks, a rare feat was accomplished by Ted Ginn Jr.
In the fourth quarter Ginn returned both a kickoff and a punt for touchdowns, which has only occurred 12 times in the history of the NFL.
Sebastian Janikowski's 63-Yard Field Goal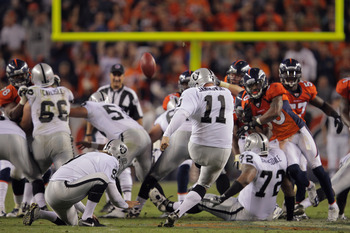 Doug Pensinger/Getty Images
Sebastian Janikowski has a reputation for being a very big kicker, and he lived up to that hype in Week 1 against the Denver Broncos.
After knocking over field goals from 37 yards and 21 yards, Janikowski then let rip with a successful attempt from 63 yards.
That tied the NFL record also held by Tom Dempsey (in 1970) and Jason Elam (in 1998).
Jared Allen's and DeMarcus Ware's Number of Sacks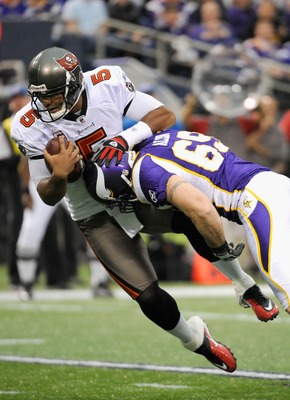 Hannah Foslien/Getty Images
Jared Allen (Minnesota Vikings) and DeMarcus Ware (Dallas Cowboys) are both on track to threaten Michael Strahan's single season sack record of 22.5.
Strahan set that huge number back in 2001, but after just nine weeks Allen (12.5) and Ware (12.0) are on target to break the record if they can maintain their form.
Darrelle Revis' 100-Yard Interception Return Touchdown
Nick Laham/Getty Images
During Monday Night Football in Week 6, New York Jets' star defensive back Darrelle Revis returned an interception for a touchdown from 100 yards.
A first quarter pass from Miami Dolphins quarterback Matt Moore intended for Brandon Marshall found its way into the arms of Revis, who took it all the way to the other end zone.
The Dolphins never really recovered from that play and went on to lose the game, 24-6.
Keep Reading