Cleveland Browns Midterm Grades: Not Going to Please the Parents with These
November 10, 2011
Jason Miller/Getty Images
We've all been there. Back in high school, you're in the middle of a sports season not really caring a whole lot about school. After all, there will always be time to pull up your grades after the season is over. It's no big deal.
But then at the end of some seemingly random school day, your teacher passes out to every student their midterm grades. And then it suddenly dawns on you...I have to take this back home and show my parents, and they probably don't care how well I'm doing in sports.
Luckily for the Cleveland Browns players, sports is their school. How they do playing football is how they get their grades.
Unfortunately is that for most players, their parents won't be too happy to see their midterm grades. There's still the second half of the season to pull them up, but for many, that will require a considerable amount of extra credit.
Without any further ado, the grades.
Colt McCoy: Incomplete
I wrote about this earlier this week. McCoy hasn't really had much of an opportunity to show what he can do this year. The offensive line is getting him killed every game. The running game is nonexistent. The current running backs wouldn't notice a blitzing linebacker if it was a train coming, horn blaring.
What McCoy has shown is heart, toughness and leadership. For that, I'd give him at least a C+. But he needs to start producing on the field. There a lot of excuses we can give him now though...but only for now.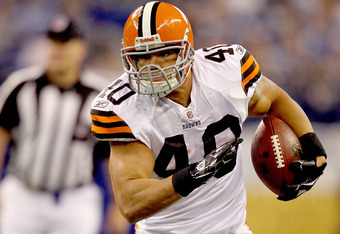 Matthew Stockman/Getty Images
Peyton Hillis: F
I always love it when the Browns actually get talked about nationally on ESPN TV shows like PTI and Around the Horn. But this year, the only they've talked about our little ball club is when discussing what a mess Hillis has been this year.
Evidently, the Madden Curse didn't appreciate the fans picking its next victim and decide to ape-crap with Hillis. I hope that Hillis is actually the good guy we thought he was and that he can get back to his impressive form from last year. But at this point I'm not optimistic.
Montario Hardesty: D-
When we drafted this guy, the first thing everyone brought up was his injury issues. Well, it looks like everyone was right. Hardesty just cannot stay healthy. When he was on the field this year, he looked decent, but nothing too special.
I'm a little more optimistic about Hardesty than I am about Hillis going forward. But the Trent Richardson banter has already started amongst Browns fans. Hardesty needs to get healthy and prove that TR won't be necessary.
Joe Thomas and Alex Mack: A
Rest of the Offensive Line: F
Too much late-round youth. Too much old washed-up crap. If it weren't for Mack and Thomas I'm not sure that McCoy would still be able to walk at this point. The offensive line is in heavy competition with the running game for the most crappy unit on the team.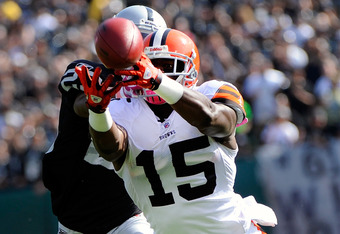 Thearon W. Henderson/Getty Images
Greg Little: B
I really like what I've seen from Little so far. Unlike Hardesty (so far), this is one Tom Heckert second-round chance that is working out. He still has a lot of work to do to become a more consistent and reliable option option for McCoy. But he has all the tools and potential to be great. That's right, I said great.
Joshua Cribbs: B
Cribbs gets my "Most Improved Award" through the first half of the season. He really has been McCoy's most reliable option at receiver this year and looks better every game. His 13.5 average yards per catch is the best on the team. Cribbs is really the only playmaker this offense has right now, and Pat Shurmur needs to find more ways to get him involved.
Other Receivers: D+
Mohamed Massaquoi can't stay on the field and is erratic with his production when he is healthy. Jordan Norwood is nice but nothing special. Brian Robiskie now plays for the Jags. And Carlton Mitchell tweets a lot.
Tight Ends: B-
Benjamin Watson has been a reliable option at receiver. But he hasn't really blown anybody away when run blocking and needs to shoulder some of the blame along with the line for the running game not working. The other guys, despite all the excitement we had about them coming into the season, are just guys. Evan Moore can probably still be good, but he needs to work a little harder to get on the field more.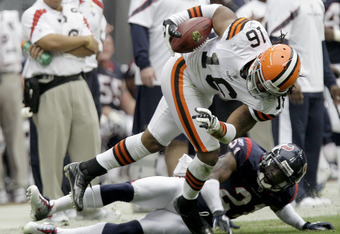 Thomas B. Shea/Getty Images
Defense as a whole: A
The past couple regimes have come in with a lot of pomp and circumstance but haven't produced much. Rob Ryan's awesome defense can best be summed up by this quote from Macbeth:
"Life's but a walking shadow, a poor player that struts and frets his hour upon the stage and then is heard no more: it is a tale told by an idiot, full of sound and fury, signifying nothing." (Only we still have to hear old Rob because he coaches is big bad Dallas now.)
Dick Jauron has come in and quietly turned a crazy ineffective mess into the fifth rated defense in the NFL.
Ahtyba Rubin: A-
When I watch Rubin play, it seems like he's a complete beast who makes plays literally all over the field. I was initially inclined to give him an A+ grade as he also has the stats to back up his play. But the Browns rank 30th in the NFL against the run and in a 4-3 defense, a lot of that falls on the guys up front.
It's definitely not all Rubin's fault. It might not be his fault at all. He has almost twice as many solo tackles (30) as rookie Phil Taylor (17). Some of the blame also falls on the linebackers who we'll get to in a moment.
Phil Taylor: B-
Taylor was played very well for a rookie far with three sacks and three tackles for loss. But the run defense does also fall on his shoulders. So, I had to knock him down a bit for that.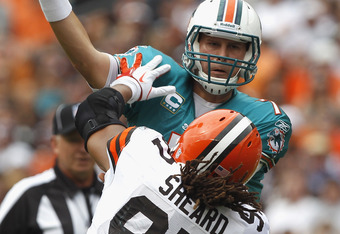 Matt Sullivan/Getty Images
Jabaal Sheard: B+
Run defense needs to improve once again. But Sheard has the look of being a superb pass rusher. Twenty-seven total tackles, 2.5 sacks, five tackles for loss and two forced fumbles. I really like the look of our defensive line for the future.
They're going to be a force to be reckoned with. And to think that the Browns are able to generate a pass rush by simply just drafting a good DE and rushing four guys. Evidently, you don't need the LB's to prowl around like hungry lions and have everyone in a two-point stance and send blitzers from crazy directions. Who knew?
D'Qwell Jackson: A+
I was a little skeptical of Jackson coming into the season. I knew that he was more of a prototypical 4-3 Mike LB as opposed to a 3-4 ILB. But despite racking up tons of tackles, he hadn't really made any actual plays thus far in his career. Plus his health was a major issue. Well he's answered all of my tests and comes out with flying colors!
74 total tackles (59 solo), 2.5 sacks, 6 tackles for loss, 1 interception and 1 forced fumble.
He's basically doing it all for the Browns defense right now. And maybe the biggest plus: he got mentioned on the ESPN show Numbers Never Lie by Aaron Schatz as leading the NFL in some crazy combination stat. Bottom line...DQ is very good. Should get a Pro Bowl nod.
Chris Gocong: C
Scott Fujita: D+
I'm not terribly impressed with either player. I can't think of a single significant play that Fujita has made all season thus far. He has no sacks and only one tackle for loss. Gocong at least has 1.5 sacks and three tackles for loss. Neither guy is blowing anybody away, and both deserve a lot of the blame for the crappy run defense this year.
Matt Sullivan/Getty Images
Joe Haden: A++++++++++
If you aren't voting almost daily for Joe Haden to go to the Pro Bowl then you should be ashamed of yourself. Just log onto NFL.com and select Haden and Jackson and be done with it (Thomas and Mack too if you're so inclined).
Scouts Inc. on ESPN.com has Haden rated as the 34th-best player in the NFL, second among DB's behind only Derelle Revis (Joe Thomas is ranked 19th overall). He just might be the best player on the Browns. I could go on about how he's dominated every team's top receiver and held several of them either without a catch or only to a couple, effectively eliminating them from the game...but I won't bother because you know that already.
Sheldon Brown: A-
Despite being picked on by many Browns fans during the preseason, he's played very well this year. I really have to no complaints especially considering that the Browns have the best pass defense in the entire NFL.
T.J. Ward: B+
Third on the team in tackles to go along with two tackles for loss, a sack, three passes defended and a forced fumble. Once again, he's an integral part of the best pass defense in the NFL. My only complaint is that he's been victimized twice in the red zone for touchdown passes. He needs to clean that up. And he needs to get healthy.
Phil Dawson: A+
Same old boring Phil, knocking in 50-plus yard field goals like it's nothing.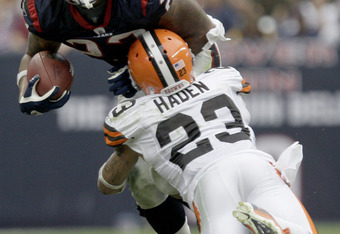 Thomas B. Shea/Getty Images
Brad Maynard: B?
I confess that I know little about punting and really don't know how I should accurately judge Maynard's play. I can't think of anything major that I felt he did wrong though. However, one thing I do know about punting is...
Richmond McGee: F-
Only because there's nothing lower. I know he was hurt, but that was terrible and may have cost us that first game.
Overall Team Grade: D+
The defense gets an A, but the offense is an abject F right now. And when the record is only 3-5 with those wins coming off the worst teams in the league, I can't even force myself to give the Browns a C-.
The good news? We have the second half of the season to pull those grades up!
The bad news? Four games against Pittsburgh and Baltimore.
Well...at least we get Arizona in between.
Go Browns!
Believeland.
You can follow me on Twitter @ClevelandFlack.